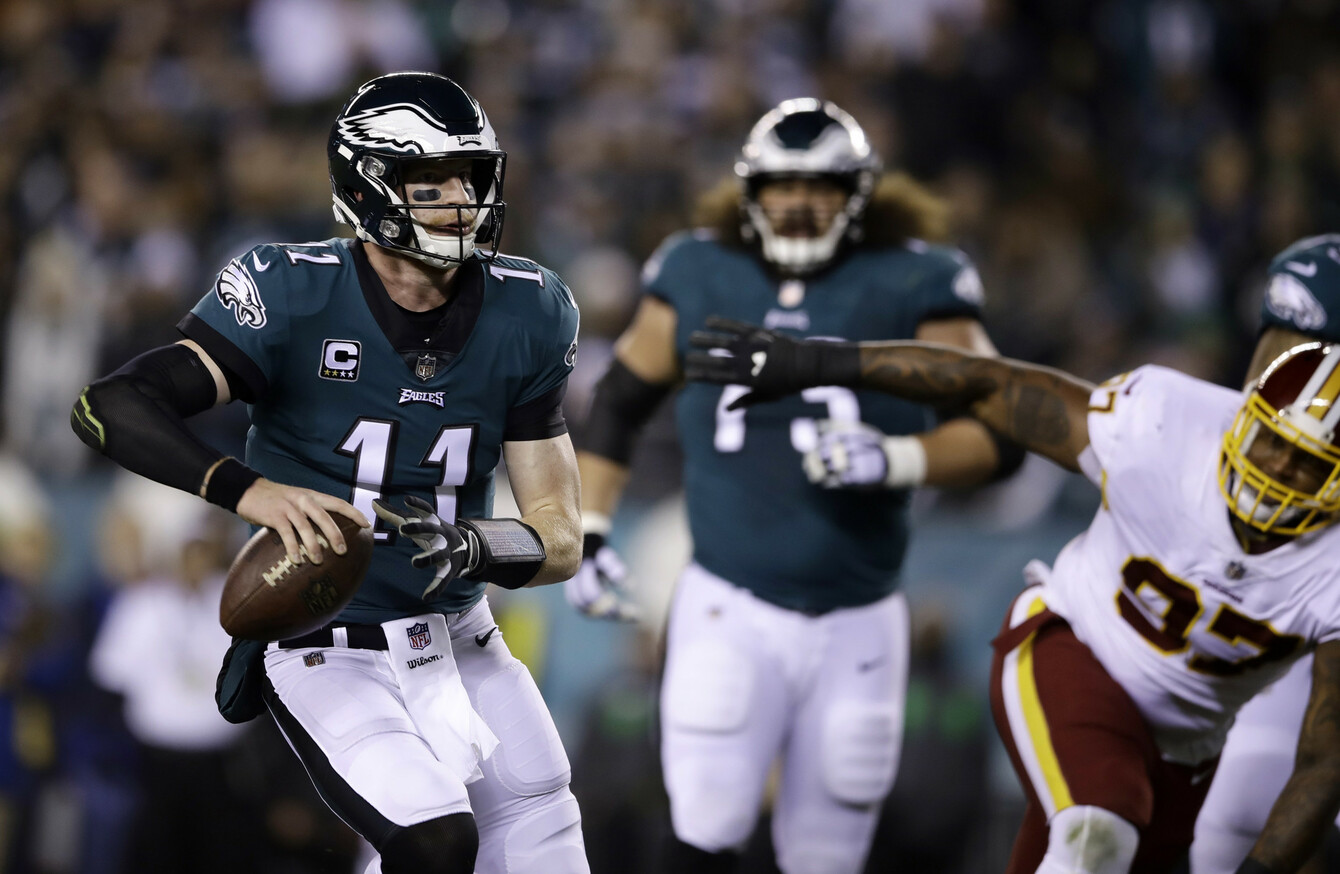 Image: Matt Rourke
Image: Matt Rourke
CARSON WENTZ CAME out firing and finished with two touchdown passes as the Philadelphia Eagles looked to be back in top form with a 28-13 victory over the Washington Redskins on Monday.
The defending Super Bowl champions have clawed their way back into the hunt for first place in the NFC East as Wentz looked like his old self and tight end Zach Ertz continued to enjoy a career year.
"It is big to come out here and get a win against a divisional opponent," said Wentz. "We had our backs against the wall for a little bit but we are a resilient team.
"We definitely left some plays out there, but we are coming together and putting the right things on tape.
"We feel we got a lot of weapons that we can pass ball to. We never try to emphasize one guy."
But if they did, it a good bet they would key on Ertz, who is compiling one of the best seasons ever for a tight end in the league.
"We were desperate to win these last two weeks," said Ertz, whose catches and yardage totals are both career highs. "The season wasn't going how we wanted when we were 4-6, but there wasn't any panic."
The Eagles (6-6) won consecutive games for the first time since Nick Foles led them to a Super Bowl victory over the New England Patriots.
Wentz finished 27 of 39 for 306 yards. He led the Eagles to a score on their opening drive. He connected with Golden Tate for a 19-yard pass down the sideline and finished the drive with a six-yard toss and run to Tate again.
The shorthanded Redskins continue to be snakebit at quarterback. On Monday, they lost backup quarterback Colt McCoy to a serious right leg injury in his second game replacing Alex Smith, who broke his right tibia and fibula on November 18.
Veteran Mark Sanchez took his place, but couldn't get the offence moving the way coach Jay Gruden would have liked.
"Our job is to get him ready and find a package of plays he is comfortable with and he can handle," Gruden said. "Our offence has to step up around him and make it easier for him."
Gruden said after the game that McCoy likely fractured his fibula and will miss the rest of the season.
Adrian Peterson ran 90 yards for a touchdown on Sanchez's first play, giving the Redskins a 10-7 lead. It was the longest run Philadelphia has allowed in franchise history but Washington's lead didn't last long.
Dustin Hopkins kicked field goals of 47 and 44 yards for Washington.
Subscribe to our new podcast, Heineken Rugby Weekly on The42, here: