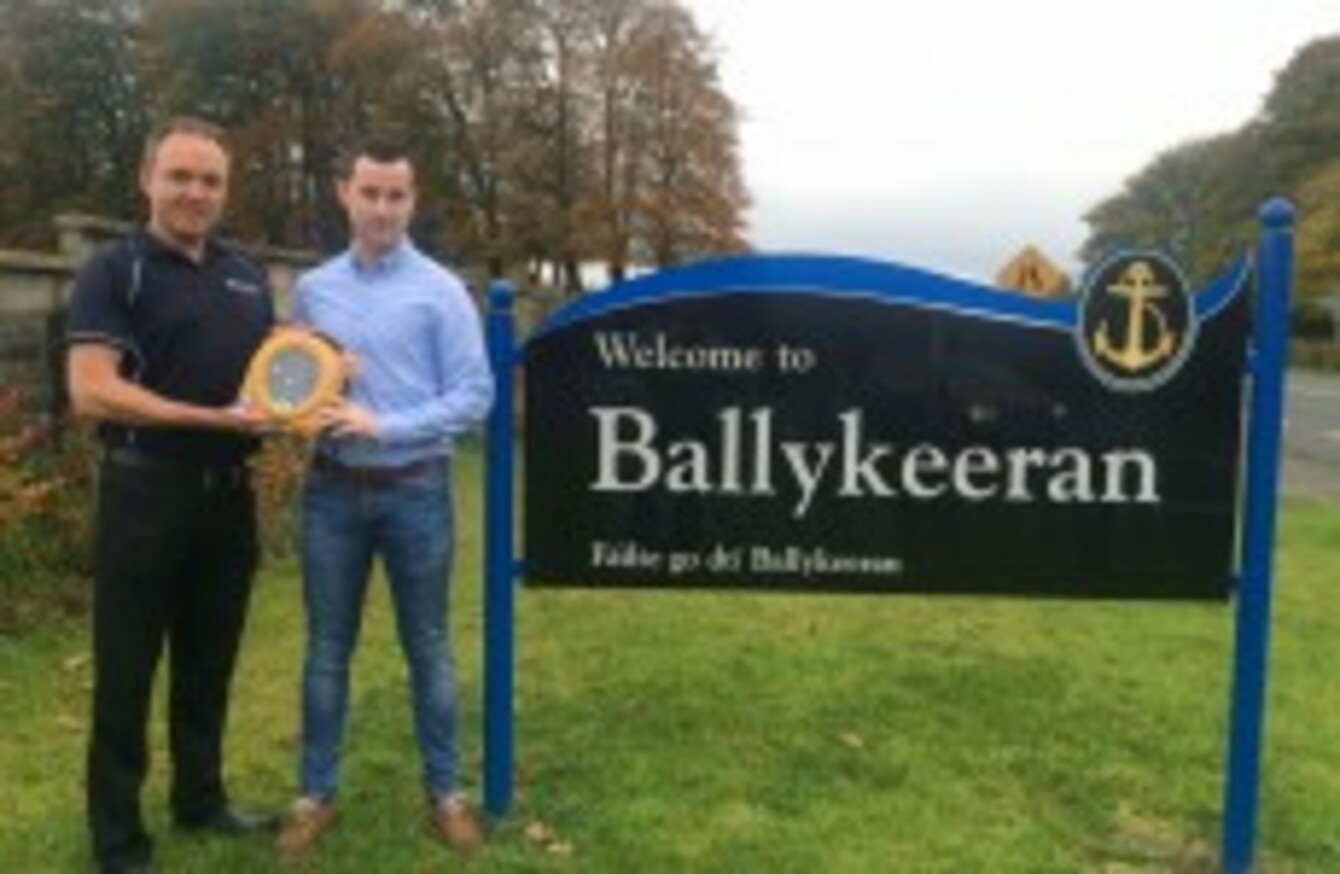 Cathal Joyce receives a defibrillator for his local area from David Greville, Managing Director of
Cathal Joyce receives a defibrillator for his local area from David Greville, Managing Director of
IT'S SIX WEEKS to the day since Cathal Joyce had an ICD implanted in his chest.
An ICD, or implantable cardioverter-defibrillator, is now performing cardioversion, defibrillation and pacing of the 25-year-old's heart, after he suffered a cardiac arrest playing for Athlone in September.
Thankfully, this is one such story that has had a happy ending and this afternoon, Joyce did something absolutely brilliant for his local community, donating a defibrillator from Heartsafety Solutions that will cover the residents of the Ballykeeran area in Athlone, his home.
The defibrillator will be situated outside Cathal's house, and monitored by CCTV.
Cathal himself is slowly getting his life back to normal, has returned to college at Athlone Institute of Technology but sadly he won't be playing contact sport ever again.
"It's six weeks today since I got the ICD in my chest," he told The42. 
"It's a defibrillator, under my left collarbone, and if the heart goes off rhythm or I need a shock, it will give me on and put my heart back on rhythm."
On Sunday, Athlone continue their quest for Leinster intermediate club glory, having regained senior status in Westmeath by capturing the county title.
Cathal admits that it's frustrating looking on from the sidelines but he'll still tog out and will be listed among the substitutes in the matchday programme.
"It's only started annoying me not being able to play sport," he admits.
"It's a big part of my life gone. I can't play contact sport because I can't get hit where the ICD is. 
"I can cycle, do normal gym, play tennis and golf. I'll take the golf more seriously now."
He's playing off 15 but plans to get that figure lower.
Swimming is exercise he can also complete, but there's a proviso.
"I have to be accompanied in case anything happened. My heartrate can't go above 170 or 180, I have to monitor it.
"If my heartrate goes up, the blood can't get flushed through it. It's like cardboard now where it should be paper thin. That's why I went dizzy, the blood wasn't getting through."
Joyce admits that there were few warning signs of the fate that was about to befall him on that Sunday afternoon.
"Not at the start but when I think back, I was suffering what I was putting down to a flu, a chesty cough.
"I was putting Vicks on my chest to help breathing but getting a tightening in my chest.
"You never think it's your heart when you're 25."
SEE SPORT
DIFFERENTLY
Get closer to the stories that matter with exclusive analysis, insight and debate in The42 Membership.
Become a Member
After undergoing a series of necessary procedures, Joyce is well on the road to recovery and this week, he was back on the driving range, hitting a few balls.
"I was like a child let into the par the first time, being able to get back doing a bit," he smiles.
And Cathal explains that his plight has led to increased awareness of heart conditions in his local area.
"I'm working in the college here at the moment, the graduations are one and I was chatting to one of the girls' mothers.
"She was sitting at the right of the table and there was a defibrillator on the wall.
"She commented that 'they're up everywhere at the moment' and I asked here did she really think that or was she noticing it more because of what happened to me. There is more awareness of them now but there's no point in having them if they're not maintained."
Cathal was AIT's intermediate player of the year last season and while he can't be involved again, he plans to keep his hand in with the college. 
"I'm helping with the Sigerson team and the intermediates, it's more the craic with the lads than anything.
"Watching the college football, that's annoying me after winning the intermediate player of the year last year.
"But I'd just like to thank everyone for their support. I've even had letters from Cork and other places, get well wishes from all over Ireland."