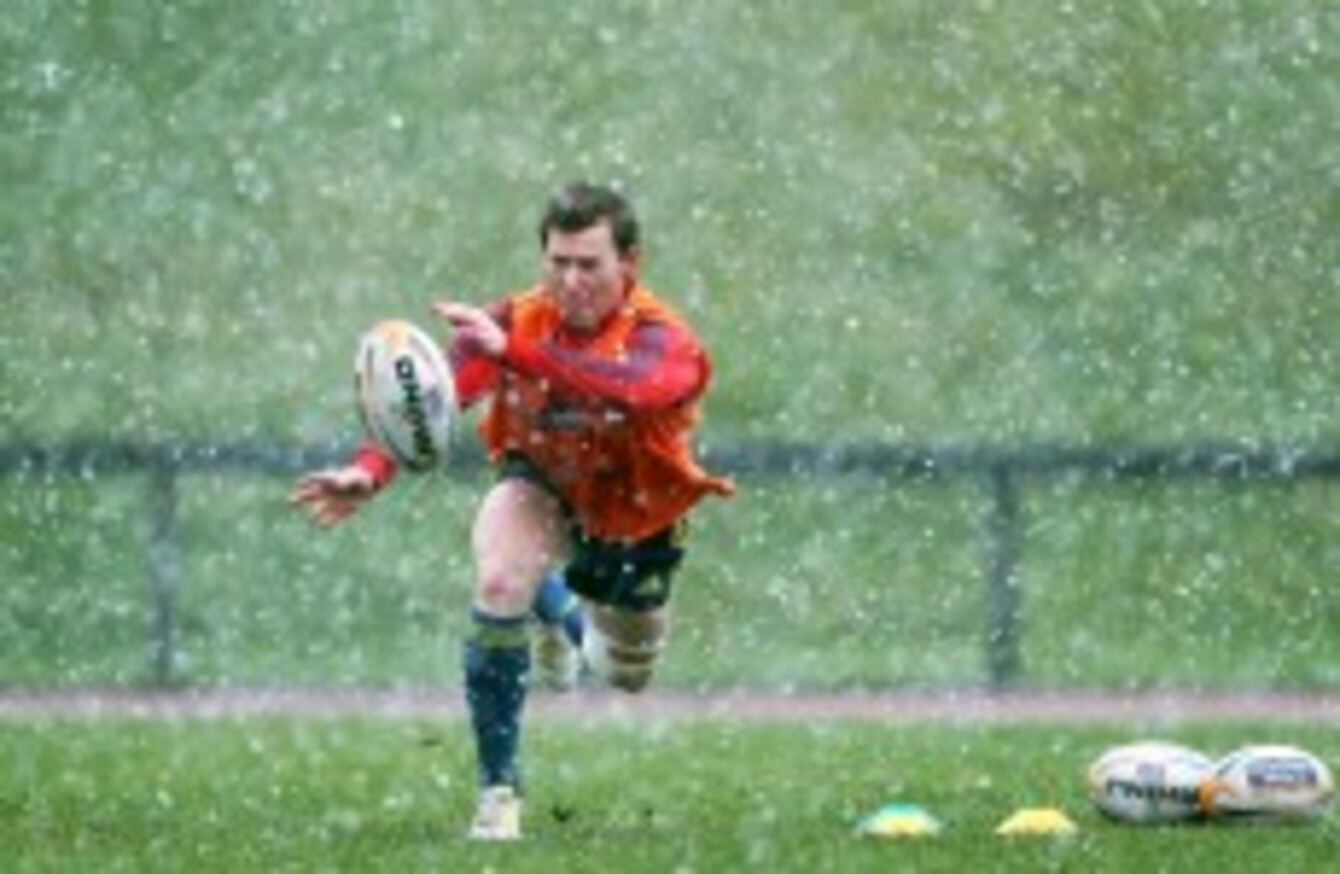 Sheridan fires a pass away at Munster training in UL.
Image: ©INPHO/Dan Sheridan
Sheridan fires a pass away at Munster training in UL.
Image: ©INPHO/Dan Sheridan
BEING FORCED TO bide your time on the fringes of the provincial squads can be turned into a true positive.
Cathal Sheridan provides the latest example at Munster, following swiftly in the footsteps of former UL Bohemians' teammate Tommy O'Donnell in establishing himself as a pillar of the squad. At 25, Sheridan is held in such esteem by the coaching staff that there was no trepidation in starting the Sligo native in the Heineken Cup tie away to Perpignan in December.
During that remarkably dramatic victory at the Stade Aimé Giral, Sheridan delivered another muscular performance to add to the other five impressive starts he has enjoyed this season. Having had to wait longer than some for extended chances, the Munster academy product took the opportunity to ready himself for the challenge physically.
Definitely. I remember saying to people a few years ago that I could have done a fitness test and knocked out a great score in it. But as far as conditioning-wise, it's about the length of the season, taking the knocks and things like that.
"You notice it with the guys you look up to when you're in the academy. You're thinking 'How are these guys still so fit come January, February, March?' I think it's just a few years of doing that work that will stand to you."
Having added valuable kilogrammes to his frame and prepared his body to deal with the demands of a full professional season, Sheridan has shone for Munster when given the chance during the current campaign. Penney has rotated between himself and Duncan Williams in the back-up scrum-half role, but Sheridan's 13 playing involvements compare favourably with last season's eight.
The Sligo man says that "nothing in particular" has changed in the personal approach that has resulted in the upward curve of form he finds himself on, but instead highlights that Munster's game plan suits his abilities.
Sheridan faces the media in relaxed form at the University of Limerick. ©INPHO/Dan Sheridan.
"Obviously for a nine, there's quite a lot of running, but maybe there's been little aspects that we've changed. We've been able to get a bit more involved in the tighter aspects of the game, which I know that myself, Conor and Duncan are all fans of.
"I think it's possibly playing to our strength a bit more in that aspect. We've tried to take the pressure off the 10s, as they try to take the pressure off us."
Sheridan's rise with his adopted province has coincided neatly with Rob Penney's time at Munster. The Ireland club international is of the belief that the Kiwi "will leave Munster in a better place than when he got here," pointing to the manner in which players can switch in and out of the team seamlessly.
However, in typically candid fashion, Sheridan admits that having recovered from the surprise news that Penney will depart the province, there will be little effect on the remainder of Munster's season.
In all honesty, not really. I think there's no point in lying about it; we were all quite shocked. I mean we heard only a couple of hours before it went public but I think Rob and Simon, as they have been since they came in here, were incredibly professional.
"There was no point in having a shake of hands and saying goodbyes. We're only halfway through the season really, and that's what they said to us. We've still got months ahead, we've a Heineken Cup quarter-final to look forward to, we've a Rabo semi-final to try and secure.
"We'll say the goodbyes and everything like that at the end of the season."
Munster play Zebre on Saturday evening at Musgrave Park [Kick-off 6.45pm].