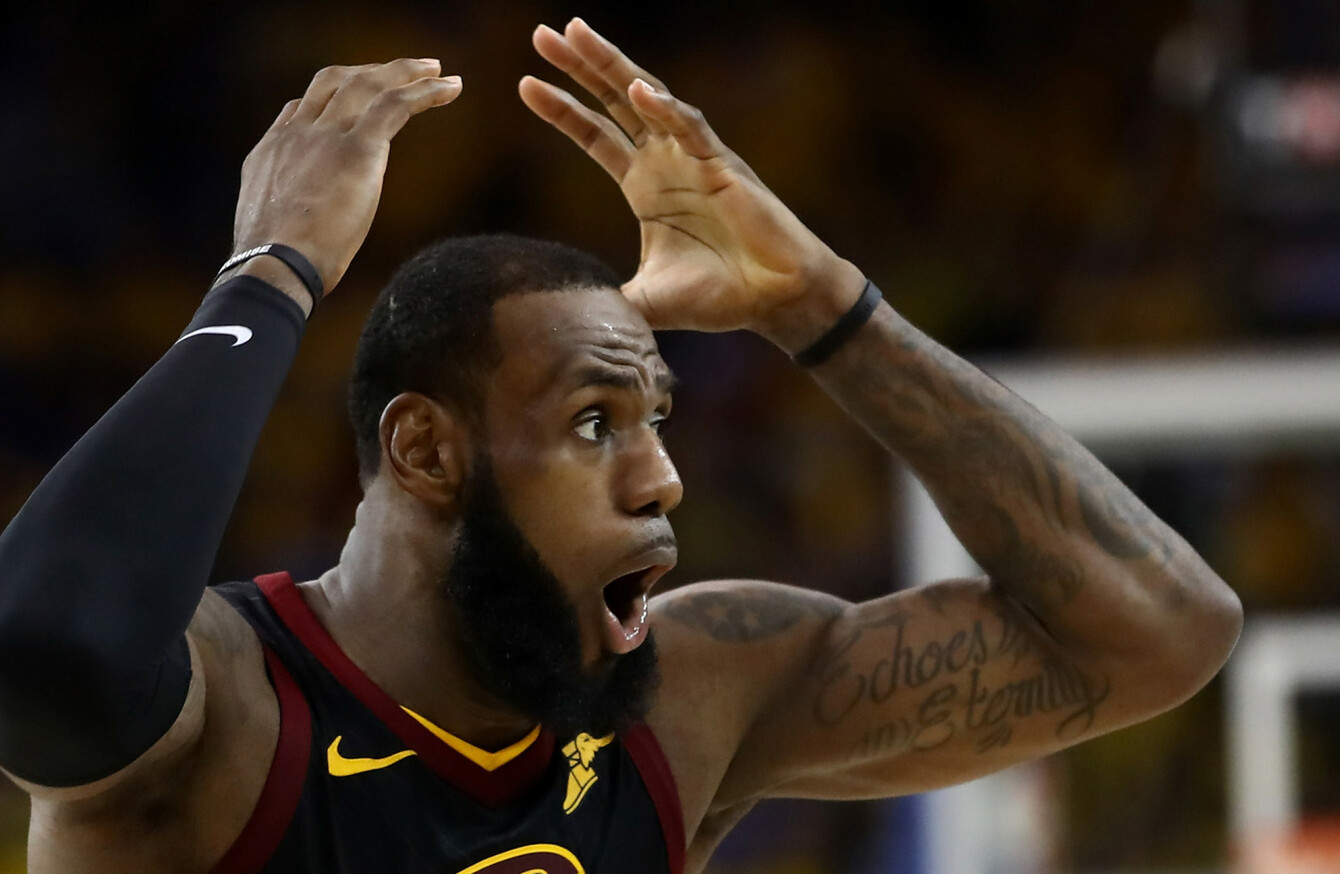 LeBron James: Cavs had the chance to draw first blood.
Image: Ezra Shaw
LeBron James: Cavs had the chance to draw first blood.
Image: Ezra Shaw
A HOWLER OF a mistake from JR Smith proved costly as LeBron James and the Cleveland Cavaliers suffered a 122-114 overtime loss to the Golden State Warriors in game one of the NBA Finals.
James scored 51 points but his work was undone by Cavs team-mate Smith, who had the chance to end the Finals opener in regulation on Thursday.
With the game tied 107-107 with 4.6 seconds remaining, George Hill missed a free throw but Smith grabbed the offensive rebound. All he had to do was call time out or just get a shot up.
Smith instead ran the ball out past the three-point line and attempted to run the clock out before the Cavs urged him to attack the basket. However, it was too late.
The Warriors outscored the Cavaliers 17-7 in OT to draw first blood on home court in the Bay Area, where Tristan Thompson and Draymond Green were both ejected in a fiery end to the contest.
Source: spence/YouTube
Golden State were able to overcome a less-than-stellar shooting night for the victory as two-time MVP Stephen curry led the way with 29 points, nine assists and six rebounds.
"Game one's are always weird because you come off a series playing a certain team for seven games and there's a feeling out process trying to get used to [playing] against the old foes that we've been facing the last four years," Curry told ESPN after the game.
"So glad to get the win and now we can really adjust."
AND ONE!
James, once again, was the heart and soul for the Cavaliers on the road. Showing no signs of slowing down following a gruelling playoff campaign, the 33-year-old took it to the Warriors throughout, including this two-point shot and the foul.
CAVALIERS (0-1) AT WARRIORS (1-0)
The Cavaliers just gave the Warriors their best shot. Cleveland were  6-1 this postseason when James scored at least 40 points and they lost when he did just that. But the supporting cast were not great as they shot a combined 37 per cent from the floor and scored 57 points. Cleveland are 3-4 in the postseason when the role players score 60 or less. But if everyone other than James can get going the Cavaliers could bounce back with a win on Sunday.