THE SCHOLAR
THE dates aren't clear, but it matters little – what's important is what happened. Mullahoran is a rural parish, circular in shape and rustic in nature. Football is the social and sporting outlet in one, always has been and remains so.
Mullahoran's style of play hasn't changed in a century; they are hard men. Around Loughduff and Kilcogy and Killydoon, the game is like a family business, handed down through the generations.
Old stagers stay on, young guns, honed in the house style, are promoted to the firing range early and the show stays on the road.Mullahoran play it ferociously hard but, off the field, the community is close-knit, the people engaging and warm.
That was the Mullahoran way. The pot simmered and, sometimes, boiled over. Once, it almost tipped and the county board were called in. A melee, the latest in a series of incidents, had alerted the authorities and it looked ominous. There was talk of fines and bans and whispers that the Mullahoran club was on the way out of business.
It was going to take something special, so Mullahoran sent out the best man they had, John Wilson, to plead their case. Faced by a hostile room of delegates and officials and given little hope of earning a reprieve for his club, Wilson took off, speaking at length, as Gaeilge, on the situation.
Mullahoran were innocent, he said, of the charges. They were simple people, just playing a game and keeping a tradition alive. There were shades of Canon Hamilton as the mood changed in the room. To sum up, he delivered the matador's final thrust.
"Who dares," he asked, scanning the room, "to throw mud at the little white-washed cottages of Mullahoran?" Case dismissed. That was Wilson, truly, a man in a million.
What was it Patrick Kavanagh wrote about Homer making the Iliad, Wilson's favourite book, from such a local row? In Cavan and Mullahoran, gods made their own importance.
* * *
Cavan folk are lucky — while many counties' records were destroyed in the Four Courts, much of the Cavan material was held in the county town's courthouse by the Grand Jury. The Wilsons' connection to Mullahoran, thus, can be traced back to the 18th Century.
John was born in 1923, one of eight siblings, and his rare promise was first noticed at Clonoose and Cloncovid national schools, where a teacher, a Mr Savage, spotted his potential. Encouraged by his mother, a farmer's wife in 1930′s rural Ireland but a woman who had lived and worked in the United States, Wilson landed a scholarship to St Mel's in Longford.
There he excelled, as a footballer and as an academic. A strapping lad, standing over six feet tall, he had an enormous intellect. After finishing school, he studied in UCG and UCD, gaining a degree in Classics and picking up a love of languages and of ancient Greece, which he would carry like a flame all his life.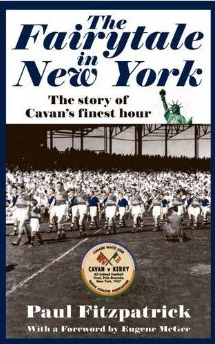 He made his debut for Cavan as a teenager in 1943 and floated around between the defence and midfield for a number of years. Around that time, he had been studying for the priesthood in Maynooth but dropped out, for his own reasons. When his wife asked him years later, he replied that he didn't think he had the humility for the role.
He would finish a career in politics, and this was perhaps his greatest achievement of all, admired and respected by all sides. Wilson was that rare combination, modest but confident, a gifted mind and a driven one. Handed the precious chance to gain an education, he grabbed it.
He began teaching in St Kieran's College in Kilkenny, having worked for a short time in St Mary's in Galway and Finchley Grammar in London, and soon graduated to the role of ASTI president, now a full-time position but then something working schoolteachers juggled with their school duties.
Often, Wilson would set off straight after the final class, chair a meeting in some far-flung location and drive through the night, crossing the Nore the next morning and striding into the classroom as the first bell sounded.
He was a man forever busy. He met his future wife, Ita Ward, a Londoner whose mother was from Galway, when he paid a surprise visit to the home of a lady – Ita's aunt – with whom he had boarded in the city.
They were married in 1953, by which time Wilson, still in his 20s, had moved on from sport, with two All-Ireland medals, five Ulsters and a Railway Cup gong tucked away, to the next challenge. He carried his love for Cavan football with him everywhere he went and his remarkable wit, oratory and grace went with him, too.
His was a life less ordinary. In Spain's Zaragoza University, he studied for a year and befriended two former Nazis who told him they had been brainwashed by the regime a decade earlier. "Extraordinary", he used to say, recalling it.
In Moscow, on government duty in the 1980′s, he would amaze local journalists and dignitaries by delivering a speech and hosting a press conference in the local tongue, of which he had taught himself the rudiments.
When teaching in St Eunan's College in Letterkenny for eight years, he single-handedly revived underage football in the county, coaching the school to a first-ever Rannafast Cup title, retaining it and leading them to a first MacRory final in 30 years.
Hugh Daly, father of Tom, who went on to be Ulster Council President, had a conversation with Wilson once. Donegal were bottom of the GAA pile yet Wilson, a renaissance man in every sense of the term, was beginning to enjoy unprecedented success in schools football.
"I wonder", asked Hugh, "will we ever make it in senior football?"
"Oh your time will come," assured Wilson.
"I don't know, John," replied a gloomy Daly, "I think the Queen of England will be in Croke Park before Donegal win an All-Ireland in it."
Pic: INPHO
* * *
His greatest gift of all, perhaps, was his ability to retain the common touch. He was held in huge esteem in his native county, not just for his football exploits. He was a prince among politicians but brought it all back home, all the time.
"We don't know," claimed John Joe Brady, then-Mullahoran chairman, once, "whether John Wilson has made Mullahoran or whether Mullahoran has made him."
A mesmerising orator, Wilson could speak fluent Irish, Spanish, Latin and Greek and was proficient in French, German and, of course, Russian.
He was head-hunted by the renowned Jesuit school Gonzaga College in Dublin, where he taught from 1961 until 1973, when his old football foe, future Taoiseach Jack Lynch, came calling. Politics beckoned.
Influenced by his father, who died that year aged 87 and whose own father had been a Fenian, Fianna Fáil was the natural fit. Being Wilson, he studied the party's history and founding at length before taking the plunge.
He called his wife from school to tell her that he had decided to throw his hat in the ring. "Good God, John, are you serious?" she asked.
"Is that the only encouragement I'm getting?" he grinned.
The couple, a pair of live wires, sparked off each other for half a century, the debates generally ending with a wisecrack from the husband. He wasn't one to take it easy, to retire to the fairways or the bar, although he was sociable and loved a singsong (despite an awful singing voice) and a glass of 1760 whiskey.
He would freely admit in later years that, as a political greenhorn, his football connections sealed that first nomination. Elected along with former Minister for Agriculture Paddy Smith, Wilson was made spokesman for Education by Lynch, against whom he played in the 1945 All-Ireland final, on his first day in the Dáil.
Four years later, after Fine Gael fell, he was on the front bench as Minister. Speculation as to who would make up the various portfolios was rife and, on the morning of the announcement, Wilson met Lynch passing through a doorway at Leinster House, the Corkman surreptitiously passing over a handwritten note.
On it were two words: "Bí ullamh", be prepared. Wilson was in.
In time he would hold seven minsterial portfolios. He was Front Bench spokesman on Education and the Arts from 1973-77; Minister for Education from 1977-81 and spent a year as spokesman in the same department in 1981.
He was later front bench spokesman on Communications from 1982-87, and was Minister for Transport and Post and Telegraphs from March-December 1982, and Minister for Tourism and Transport from March 1987-July 1989 before his last Ministerial post in the Department of The Marine in the Fianna Fail/PD Coalition Government of 1989-92.
Wilson wasn't one to court the media, maybe to his political detriment, but could take criticism with a shrug. And his one-liners, delivered often in Latin and razor-sharp, were legendary.
On one occasion in the Dáil, the tyro Labour TD John Horgan, a former editor of the Education Times and himself a very capable debater, hammered him for two hours about the lack of investment in education.
Later, as Wilson passed him on the steps of the house, he delivered a line from Cicero which cut the upstart in half:
"Proviniebant oratores novi, stulti adulescenti", which, originally delivered in relation to the Roman Senate, translated as "New orators rush forward [to air their views], stupid young men." Ouch.
If Wilson had said it in English, he would have been hauled up by the Ceann Comhairle. That was the genius of the man, the skills of the best courtroom senior counsel and as sharp as a dagger.

YouTube:
Bryansford Gael
Missing Medals
WILSON kept his medals in a Sweet Afton box, a battered little gold tin that sat in a drawer at his writing desk. Occasionally, his wife would see him with the box out, thumbing the little pieces of metal, his Railway Cup medals, his Celtic Crosses, his county medals.
Ordinarily, though, they were in the drawer, the tin clasped shut. There they lay for decades at his home in Churchtown, before they went missing. John took it badly. He wasn't the type to show emotion but tears would well up in his eyes when the subject of the medals came up.
They were his link to a previous life, a connection to a band of brothers, many of whom long since departed. The family frantically searched their home and, eventually, conceded that perhaps the box was burgled while they were out of the country. For 25 years, the medals were gone.
And then Wilson died, in July 2005. He turned 84 on a Sunday and passed away the following day. With family members delayed returning from France, it was Friday before he was buried.
On the Sunday, the Ulster final between Armagh and Tyrone was on television and, watching at home, John's son and daughter-in-law became emotional at an unexpected minute's silence.
They called John's wife who, lonesome and still mourning her loss, was sifting through files and drawers, a lifetime of achievement stored away in holdalls, presses, bags and filing cabinets.
Ita's eye was drawn to one particular briefcase, one she had searched before again and again. She tried to open it but found it fastened shut and put it down. A few moments later, she felt compelled to try it again, with the same result. The third time, the buckle snapped open. Reaching in, her hand felt the cold, tattered metal.
The medals were inside. Nothing, Ita recalled later, upset her husband, but that did. To find them again was poetic – fitting for a man reared on the Classics.