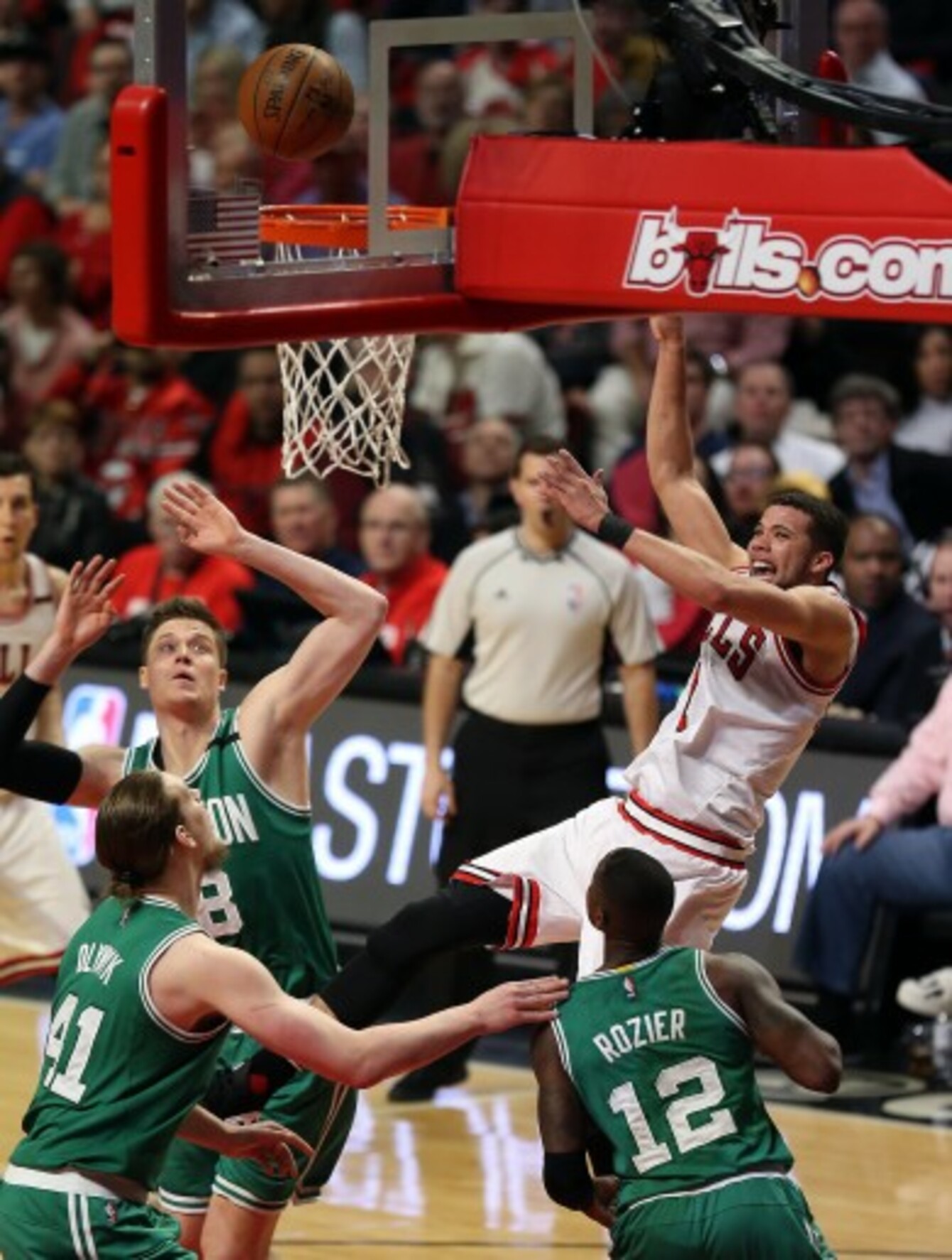 Bulls and Celtics: Chicago lead 2-1, with Game 4 to come on Sunday night.
Image: SIPA USA/PA Images
Bulls and Celtics: Chicago lead 2-1, with Game 4 to come on Sunday night.
Image: SIPA USA/PA Images
RUSSELL WESTBROOK PRODUCED yet another triple-double and the Oklahoma City Thunder held on for a crucial 115-113 victory over the Houston Rockets in the NBA playoffs last night.
With the win on their home court, the Thunder avoided falling behind 3-0 in their best-of-seven Western Conference first-round series, narrowing the deficit to 2-1.
Eastern Conference top seeds Boston also clawed back from 2-0 down, beating the Bulls in Chicago 104-87 after dropping the first two games of their series at home.
"That was our only goal for this game, just get the win no matter what for us to have a chance to make it a series," the Celtics' Jae Crowder said.
"You go down 0-3 and it's really, really tough for you to fight back, but we just wanted to take it one game at a time and get this game and give ourselves a chance."
Al Horford scored 18 points, Isaiah Thomas and Crowder added 16 each as five Boston players scored in double figures.
Dwyane Wade scored 18 points and Jimmy Butler chipped in 14 for Chicago, but the Bulls offense looked stagnant without point guard Rajon Rondo, who is sidelined indefinitely with a broken thumb.
"We're not going to put this all on us missing Rondo because if that's the case we might as well not show up anymore because it looks like we're going to be missing him for a while," Wade said. "We have to figure out a way to be better."
In Oklahoma City, Westbrook became the first player to notch back-to-back triple-doubles in the same playoff series since Jason Kidd in the 2002 Eastern Conference finals.
But even his 32 points, 11 assists and 13 rebounds were barely enough against the Rockets, who had a chance to win at the buzzer only for James Harden to miss a three-point attempt.
In Salt Lake City, Los Angeles point guard Chris Paul scored 24 of his 34 points in the second half as the Clippers rallied for a 111-106 victory over the Utah Jazz.
The Clippers took a 2-1 lead in the series, despite losing Blake Griffin to a toe injury late in the second quarter.
Griffin scored 11 points and pulled down six rebounds before departing, and Clippers coach Doc Rivers said immediately after the game that the extent of Griffin's injury was unclear.
"We should have more news tomorrow," Rivers said.
The42 is on Instagram! Tap the button below on your phone to follow us!