THE FOLLOWING PASSAGE is an extract from Centaur: The Memoir of the Jockey who came back from the dead by Declan Murphy and Ami Rao.
It all began with a man.
There are those we meet during the course of our lives who shape our destiny.
Sometimes, these are the people we are most conscious of.
Other times, they are just an idea.
I first met him on a Saturday night in the spring of 1984, sitting on the sofa of my living room. I was leading amateur jockey in Ireland at the time, all of 17 years old. He was on the other side of my TV screen – tough, inscrutable, intelligent – star of The Late Late Show.
At this time, I was in my final year at school and every Saturday night, as a matter of course, I would go to the disco in either Galbally or Ballylanders or Kilballyowen with my friends John Farrell and Gerry Gallagher.
Purely by chance, the night in question happened to be that rare one time when I didn't end up going out with my friends. And so, much against my adolescent will, I was subjected to The Late Late Show by my mother, who watched it religiously every Saturday night.
When you think about the fact that we had only two TV channels in the whole of the country at the time, RTÉ 1 and RTÉ 2, you will understand why The Late Late Show was such a phenomenon.
The presenter, Gay Byrne, was a renowned, well-respected public figure, and whether or not it was intended this way, the show had become a forum where previously taboo social-interest topics were discussed openly, along with book reviews, music acts and guest visits from famous and interesting people – politicians, actors, authors and others with stories to tell.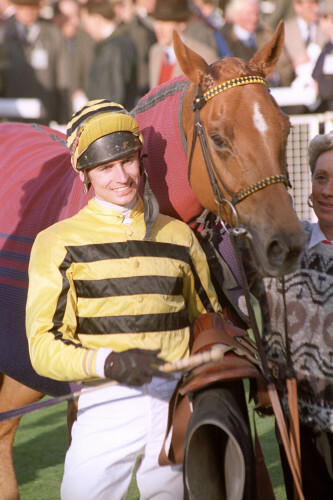 PA Archive / PA Images Declan Murphy with Deep Sensation after winning the Queen Mother Champion Chase at Cheltenham in 1993. PA Archive / PA Images / PA Images
Even then, he was a controversial figure – shrewd, outspoken and articulate, the perfect foil to the charismatic Gay Byrne and though I had started off watching the show reluctantly, the dynamic duo had me hooked. He was being featured on the show because he had just successfully raffled his mansion in Mullingar and was talking about the gambles he had pulled off – some of the biggest betting coups in racing history.
I sat glued to the television, awestruck, filled with admiration and wonder. Here was a man who did his own thing, kept his own counsel.
He had originally studied to become a Jesuit priest. Now he was one of the most famed people in racing, a legend of a punter. He had successfully outsmarted the system in ways that no one could even imagine, let alone execute, and all entirely legally. All of this struck a chord within me; I was totally, completely fascinated.
He went on to tell Gay Byrne that he had decided to move to England, and that he was taking all his horses with him. Then, he said – and my ears pricked up like a horse's – 'I'm going to take the best jockey that I consider in Ireland or England to ride them.'
Now, here's the thing about me, about my life, the fundamental truth that might surprise you, even shock you, and now's as good a time as any to tell you, and it is this: in all my life, I have never, ever harboured any ambition of making a career out of racing horses.
There, I've said it. I didn't ever want to be a jockey, and this truth hasn't changed from the moment I got on my first horse to the moment I got off my last. It was a glorious hobby. I was riding for fun. And, for me, that's all there was to it.
But on hearing him make that remark on The Late Late Show, it sparked something within me. I remember saying to my mother, without even thinking about it, the words tumbling out almost as an automatic reflex, 'If I were ever to ride horses, I'd love to ride them for him.'
Why would I say this, you ask, a young boy of 17 who had no interest in becoming a career jockey? What was it about this man that drew me to him in this way?
I don't know, is my honest answer. How can you say what's in a man? Only that whatever there was in him, I was fascinated by it. It was as simple as that. If he sold chickens, I would have wanted to sell chickens for him. It so happened that he needed someone to ride horses, and I could ride horses. And I could ride them as good as anyone else.
And so it began with a man.
A man who was unusual. A man who was ingenious. A man who was cleverer than anyone I could think of. A man who was like nobody I'd met before, like a character out of a novel or a movie – only he was real.
A man who changed my life.
That man was Barney Curley.
Centaur: The Memoir of the Jockey who came back from the dead by Declan Murphy and Ami Rao is published by Transworld. More info here.
The42 has just published its first book, Behind The Lines, a collection of some of the year's best sports stories. Pick up your copy in Eason's, or order it here today (€10):