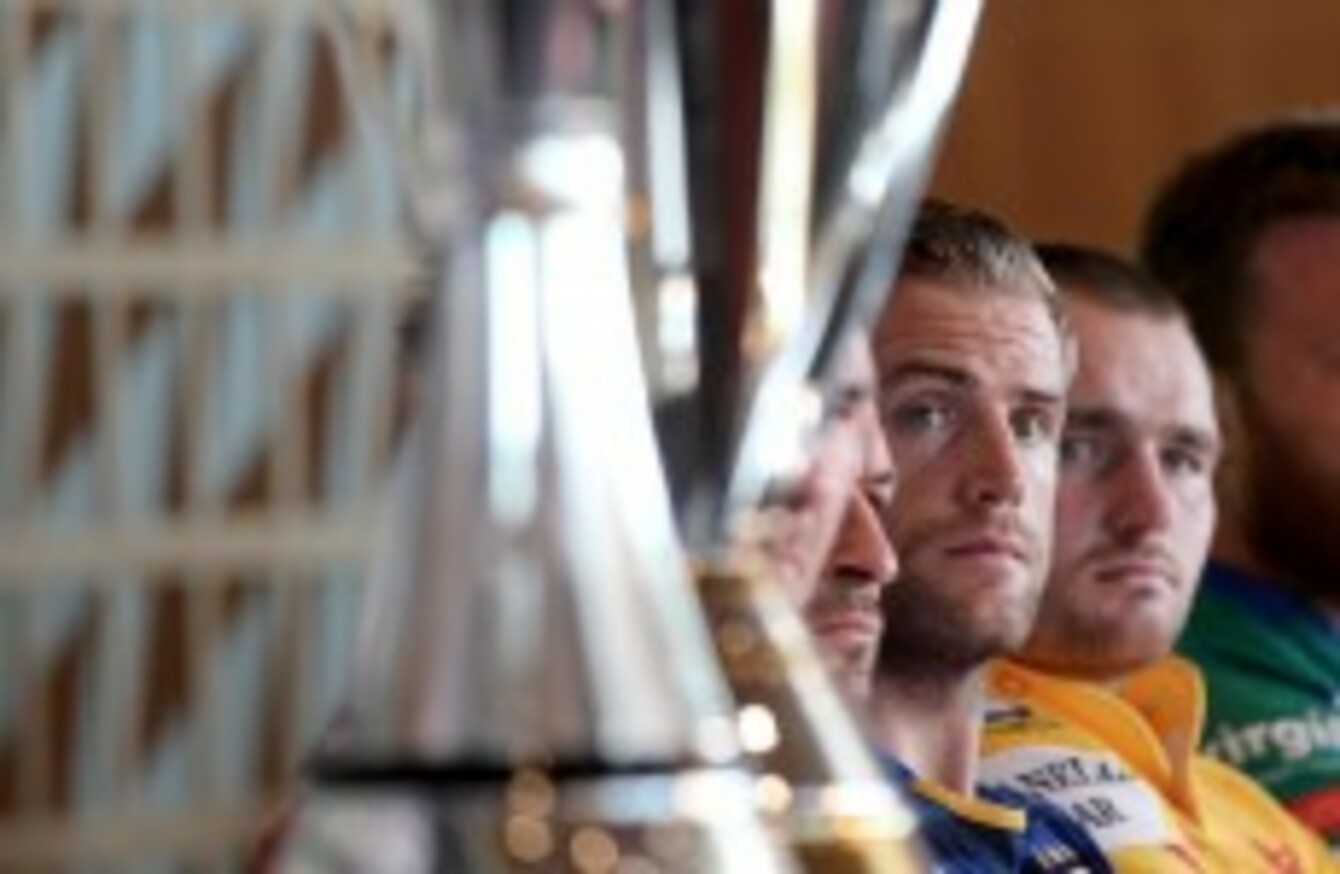 Leinster captain Jamie Heaslip and Scarlets skipper Ken Owens at yesterday's EPCR launch.
Image: Dan Sheridan/INPHO
Leinster captain Jamie Heaslip and Scarlets skipper Ken Owens at yesterday's EPCR launch.
Image: Dan Sheridan/INPHO
EUROPEAN PROFESSIONAL CLUB Rugby [EPCR] expect to name their new independent chairman before the Champions Cup and Challenge Cup get underway in two weekends' time.
Brian O'Driscoll was linked with the role during the summer months, although EPCR have underlined the need for the ideal candidate to have "substantial business experience."
While the likes of the IRFU's Philip Browne, Rob Andrew of the RFU, the PRL's Bruce Craig and Roger Lewis of the WRU are already part of a 12-man board of directors for the newly-created EPCR, the official position of 'Independent Chairman' remains unfilled.
"We've gone through a process, a serious interview process, and we are hoping to have an appointment by the start of the tournaments," explained Paul McNaughton, also a member of the board of directors.
We're looking for someone that has substantial business experience, substantial business track record and also substantial interest and knowledge of rugby."
"We're looking for a guy who's had experience of business and boards at the top level, someone who also has an interest and track record in rugby as well. Under the head of the agreement he wasn't to be a part of existing union structures or indeed existing club or league structures.
[image alt="Paul McNaughton speaking at the launch" src="http://cdn.thejournal.ie/media/2014/10/paul-mcnaughton-speaking-at-the-launch-2-630x419.jpg" width="630" height="419" class="alignnone" /end]
"He will sit on the executive committee but he will be chair of the board, a non-executive chairman. We're expecting the role to take up a couple of days a week, certainly in the first year, because we want that guy to get out to all the clubs, and be very visible at games on weekends."
McNaughton outlined that at least 15 people were initially considered, before a shortlist of five candidates was drawn up. EPCR's board are now set to make a final decision within the next fortnight.
SEE SPORT
DIFFERENTLY
Get closer to the stories that matter with exclusive analysis, insight and debate in The42 Membership.
Become a Member
Meanwhile, McNaughton confirmed that EPCR expect to have their own full-time staff operating by the start of the 2015/16 season, with staff from the ERC – organisers of the now defunct Heineken Cup – having been sub-contracted to run the Champions Cup and Challenge Cup for 2014/15.
I think the timescale is to have an organisation up and running, and efficient, by the start of the next cycle, or by the end of this tournament," said McNaughton.
"We have an agreement with the ERC to provide services to the tournament until the end of this tournament and most of the staffing will be staying on in the ERC until May.
"Therefore, over the next several months, we will be looking at who wants to move to Neuchâtel, and who doesn't, and trying to draw up recruitment to develop a team that will be in place by, let's say, April or May of next year."
That EPCR will base themselves in Neuchâtel, Switzerland from next season, rather than in Dublin where the ERC have traditionally been located, makes any individual moves from the ERC into EPRC extremely complicated.
"I'm very conscious of that scenario," said McNaughton. "Unfortunately when the agreement was done, compromises were made and agreements were done by all of the nine stakeholders in relation to the commercial elements and also in relation to the location.
I think everyone is well aware that everyone is trying to organise this as sympathetically as possible. Everyone is super conscious of the effect it's having on staff, and more so because they've done a fantastic job over the last 19 years.
"So of course we have [sympathy], but our job now as the current board and executive committee is to really execute what was agreed by all of the stakeholders. And we're going to try to do that as well as possible, and take on the concerns and situations of the ERC employees.
"The vast majority of the jobs that will be created in Switzerland have been offered to all existing staff. Depending on people's circumstances, we don't know what take up is going to be."