ALL TOGETHER NOW: murmur some noises approximate to what the words might be and then……THE CHAAAAAAAAMPIONS!
It's back, and there is no show in football quite like the Champions League Knockout Phase.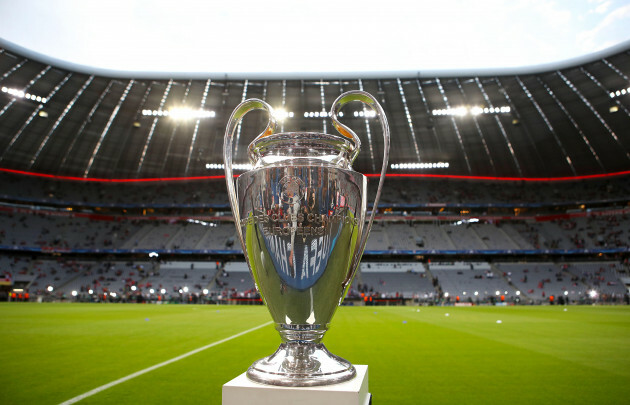 Alamy Stock Photo The biggest prize in club football. Alamy Stock Photo
These few cut-throat midweeks are increasingly all that is really left in the elite club game for the players and the fans: these games are the precious distillation of owners' squeezing of profit margins and wringing of players' energy levels through the bloating, turgid group phase and skewed domestic leagues. 
The latter's excess and lack of jeopardy guarantees financial profit, whereas the knockout phase is sharp, often random, and trades more in glory. Which, you know, was once the entire point of the sport. 
Not anymore, and like all Good Things in football, the Champions League knockouts are under threat amid football's nuclear storm of wealth, inequity, debt, and self-interest. Its prospective abolition was among the Super League's most offensive traits. 
Nonetheless, the knockout stages till abide, and, in a rarity for the modern game, this year's edition has the look of a democracy about it. Rarely have the Premier League sides looked so vulnerable, with a pall of scandal over Manchester City and the other three English sides in various states of crisis. Plus, Barcelona and Arsenal, two of Europe's best sides, find themselves in the strongest-looking Europa League in the competition's history.  
Man City, for all their off-field distractions, remain firm contenders. If the architect of their litany of disasters in this competition has been Pep Guardiola and his errant obsessions, the signing of Erling Haaland allows them more room to improvise in games going awry. Still, they have spluttered since the group phase ended and Joao Cancelo has been allowed to leave in the name of squad harmony, thus strengthening a direct rival in Bayern Munich and leaving City with the sum total of no senior left-backs.
Bernardo Silva found himself covering that position out of possession against Aston Villa at the weekend, but it will be fascinating to see how Guardiola compensates for his sacrifice to Squad Vibes. City landed one of the easier last-16 opponents in RB Leipzig, who have improved since hiring former Dortmund boss Marco Rose but will be without goalkeeper Peter Gulacsi and are hoping striker Christopher Nkunku returns to fitness having missed the World Cup with a knee injury.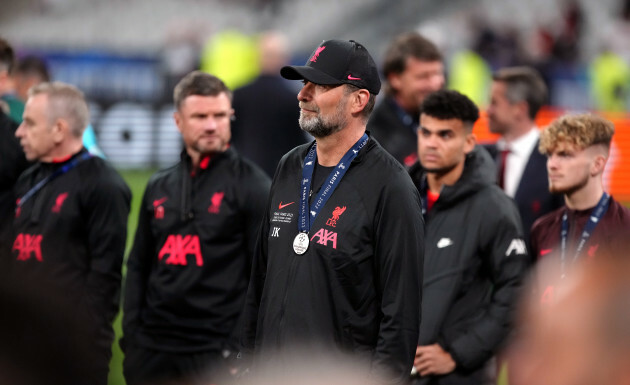 PA Jurgen Klopp with his runners-up medal after last year's final defeat to Real Madrid in Paris. PA
Elsewhere, Liverpool's season hinges entirely on this competition, so it's quite the pity for them that they arrive at the last-16 in bewildering freefall and ravaged by injury. Worst of all is the identity of their opponents, for Real Madrid are the nightmare from which Liverpool cannot wake. Madrid have beaten them in two finals, knocked them out of a separate quarter-final, all while signing the midfielders that were supposed to replenish Liverpool's dwindled energy reserves. First Eduardo Camavinga, then Aurelien Tchouameni, and, who next, Jude Bellingham? 
This year's final being in Istanbul means Liverpool won't have to look far for a reminder that wretched league seasons can be salvaged in Europe, but it's difficult to see how Jurgen Klopp's once-brilliant but now browbeaten side can find another ignition spark.
Madrid are stuttering in La Liga and are shorn of options at left-back, where Camavinga has been recently deployed in Ferland Mendy's absence. Perhaps if Mohamed Salah can finally find form on that side but 'perhaps' is just the problem. For the first time in years, Klopp leads a Liverpool side into the Champions League more in hope than expectation. 
Like Liverpool, Chelsea's best hope of being in the Champions League next season is by winning it this time around. But where Liverpool worry that missing out means they might not be able to fund a squad rebuild, Chelsea are in the dicier place of wondering how to pay for the rebuild that's already happened. Their absurd spending has collected a squad of sensational individual talents but it remains to be seen whether Graham Potter – or indeed any manager on Earth – can make them cohere. Dortmund have won every game they've played since the World Cup with results sometimes better than performances, and remain a side much better when attacking than defending. But with the propulsion of Bellingham in midfield and their wealth of attacking options, they are in a great position to bloody monied noses here. 
Chelsea's spending has deprived Benfica of Enzo Fernandez, but they have lost just once all season under Jim McGuinness' old boss Roger Schmidt and should still have enough to qualify ahead of Club Brugge, whose new manager Scott Parker, was last seen losing 9-0 at Anfield. Benfica topped their group ahead of PSG on goals scored away from home, so drawing Club Brugge is a fair reward. 
Bayern Munich, by contrast, won every game in a group featuring Barcelona and Inter Milan and have landed Paris Saint-Germain. Still, it's a less daunting prospect than it was a couple of months ago, with PSG arriving in full-blown crisis mode. They have lost their last two games and won just twice in the league since the World Cup, while Kylian Mbappe and Leo Messi are battling to be fit for this tie. Bayern were beset by injuries after the World Cup – Lucas Hernandez suffered a serious injury playing for France, while Manuel Neuer inexplicably went skiing and broke his leg – but they have more than compensated by signing Cancelo and Yann Sommer. Sadio Mane may not be fit until the second leg, but Julian Nagelsmann's side look like they have the upper hand in the round's glamour tie. 
thibault camus Kylian Mbappe writhes in pain with the injury that may keep him out of tonight's first leg with Bayern. thibault camus
Spurs and AC Milan is the classic case of a highly resistible force meeting a very movable object. Spurs have been laid low by injuries, and will be without their captain Hugo Lloris and their entire midfield for the first leg of this tie (Hojbjerg is suspended with Bentancur and Bissouma injured) but they can console themselves that their form is red-hot in comparison to Milan, who have collapsed since the turn of the year. They have bookended their recent run with wins over Torino, but in between have lost twice to Inter while shipping four goals to Lazio and five to Sassuolo. 
Inter, by contrast, have been in reasonably good form since the turn of the year, distinguishing themselves as the only team to beat Napoli in Serie A this season. Don't expect to see Romelu Lukaku leading the line against Porto, mind: his baffling decline has continued in Italy, with Edin Dzeko instead partnering Lautaro Martinez, who is a different player for Inter than the leaden-footed profligate we saw at the World Cup. 
Which brings us to the official Dark Horses, Napoli. Remarkably, they have pretty much sewn up the league already – they lead by 15 points with 16 games to go – which means they can shift more emphasis to the Champions League than they might have anticipated when the draw was made. Serie A is a comparatively weak league but Napoli's dominance may be a sign they can contend with the best in this competition. Eintracht Frankfurt are tricky but relatively benign opponents: their danger man is the French striker Randal Kolo Muani, at whom Irish fans will probably get more than just a glimpse in Dublin next month.
Napoli should have too much for Eintracht, though, and they may in fact have too much for everyone they meet. Their winning the competition is a plausible thing, and it would be irresistibly romantic in a sport increasingly contemptuous of that kind of outcome. 
Champions League last-16 first leg ties (all kick-offs at 8pm)
Tuesday 14 February
PSG vs Bayern Munich 
AC Milan vs Spurs 
February 15 February 
Club Brugge vs Benfica 
Borussia Dortmund vs Chelsea 
Tuesday 21 February 
Liverpool vs Real Madrid 
Eintracht Frankfurt vs Napoli 
Wednesday 22 February 
RB Leipzig vs Manchester City 
Inter Milan vs Porto