THEY KNOW EACH other more intimately than any other Champions League finalists in history, but that in itself means this showpiece match has rarely represented a greater contrast between the teams.
For all the base emotion that underscores this truly unique Madrid derby, it is difficult not to boil it down to the figures.
On the one side, there is Real Madrid, and all the grandiose European Cup history they entail. The club are aiming for that mythic 10th trophy, while Carlo Ancelotti is himself looking to be the manager to finally match Bob Paisley's record of three with Liverpool.
Those are the kind of white-gold-standard achievements that a billion euro worth of expenditure can bring, which is what the club are estimated to have spent since their last victorious Champions League campaign in 2002.
As obvious as it is to say, the trophy is the club's obsession, probably above another club on the planet.
Atletico's concerns are much more base, in possibly every sense. Both they and their manager Diego Simeone are hoping for a first ever Champions League.
Should they win it, they will also be the first club since FC Porto in 2004 to do so from outside Europe's 20 wealthiest clubs. It would be a modern football economic miracle. The contrasts with Real Madrid have been commonly repeated. Atletico's wage bill is 27% of their rivals, the annual revenue 21%. In the summer, Simeone was forced to sell his best player in Radamel Falcao, while Real broke the world transfer record in purchasing Gareth Bale.
Despite that, it was still Atletico who lasted the pace, and went on to win the Spanish league in remarkably impressive fashion.
It is also that victory that lends only another dimension to this game. It is interesting to ponder how Atletico would have reacted had Diego Godin not got that goal in Barcelona on the final day, or Leo Messi's offside strike been allowed to stand. Would all this famous intensity finally have seen an implosion? Would they have been deflated before this game?
Instead, they will only be soaring. They have done the hard part, they have already secured one genuinely sensational achievement. As such, they will come to this game with clear mind, while the pressure on Real only increases.
It is now Ancelotti's side in danger of losing everything, rather than Atletico.
Sure, Real may have won the Copa Del Rey but that simply fades to nothing in comparison to the Champions League for a club like this. Worse, there is the club they would be losing to: the supposedly inferior neighbour always in their shadow.
The stakes are now close to apocalyptic for Real, at least in football terms. In the build-up to the game, there has already been the first speculation about Ancelotti's failure if he fails.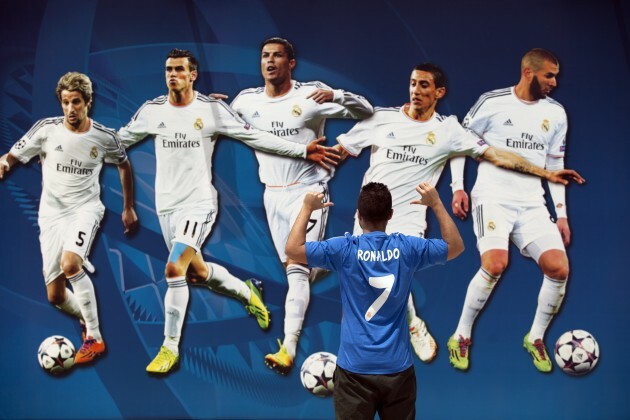 AP / Press Association Images A Real Madrid supporter poses for a photograph in front of a billboard in Lisbon. AP / Press Association Images / Press Association Images
That is what this means to Real.
Worse, they will to attempt it with so many key players either off full fitness or completely absent. There are question marks about all of Cristiano Ronaldo, Pepe and Karim Benzema while Xabi Alonso is suspended.
For all the furore about Ronaldo, the absence of Alonso cannot be overplayed. Diego Simeone has already described him as the most important player in the squad.
"Xabi Alonso meant that Madrid found the famous 'balance' their coach was looking for," Simeone said. "But the balance is Xabi Alonso, not the others."
The Atletico manager will no doubt seek to tilt that balance further, even though he may be missing Diego Costa and Arda Turan through injury.
All of that means that, for two teams that know each other so well, it is only possible to guess how they will respond to all these issues.
On Saturday, in the first ever one-city Champions League final, we'll finally find out.