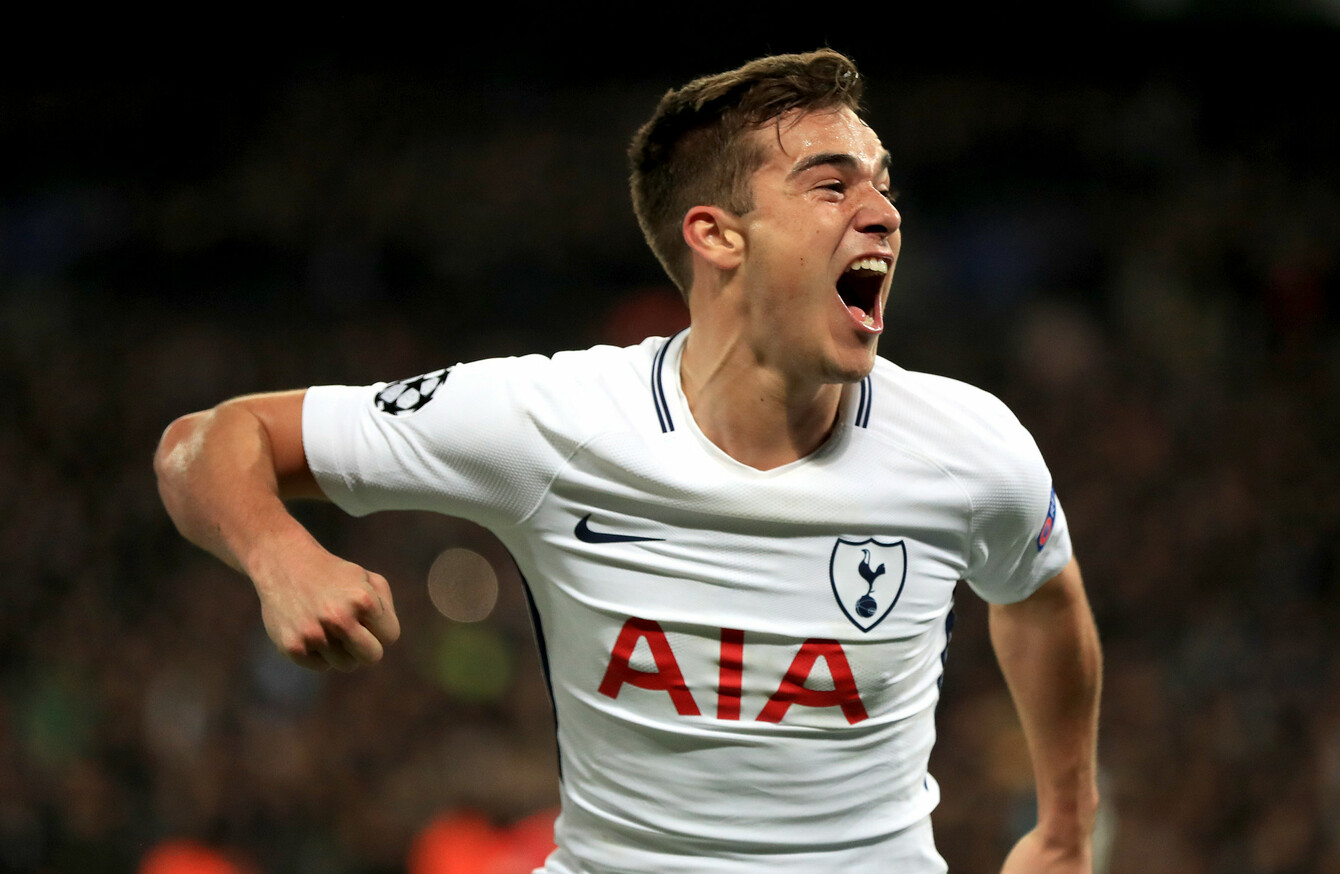 Tottenham Hotspur's Harry Winks celebrates after Tottenham Hotspur's Christian Eriksen (not in picture) scores his side's third goal.
Image: Mike Egerton
Tottenham Hotspur's Harry Winks celebrates after Tottenham Hotspur's Christian Eriksen (not in picture) scores his side's third goal.
Image: Mike Egerton
1. Tottenham's 21-year-old unsung hero
SPURS' ATTACKING TRIO of Harry Kane, Dele Alli and Christian Eriksen were all highly impressive in the 3-1 triumph over Real Madrid this evening and their star turns mean the players in question will likely grab the majority of the headlines as a result.
Nevertheless, a less high-profile 21-year-old midfielder was arguably just as crucial to the win at Wembley tonight.
One of the reasons that Spurs were doubted prior to the new campaign was their lack of squad depth.
And with both Mousa Dembele and Victor Wanyama unavailable for the majority of the season's opening months owing to injuries, many will have suspected that their absences would be keenly felt.
Yet Eric Dier and Moussa Sissoko have both stepped up to the plate in their stead, while Harry Winks has perhaps been the biggest surprise package of all.
So apparent was the lack of faith in Winks that prior to the away game against Real Madrid, some strongly doubted Mauricio Pochettino's decision to start him in the cauldron that is the Bernabeu.
"It was amazing because some people very close to us said, 'Can we be honest with you?' I said, 'Yes'. They said, 'When we saw the starting XI… what the f***? What happened? What is going on in his mind?'" Pochettino revealed afterwards.
"And then after 10 minutes at the end of the game, they say, 'Oh, you are a genius'. I say, 'OK, thank you.'"
Against Real tonight, Winks once again enhanced his reputation, not looking out of place despite coming up against world-class stars such as Luka Modric and Toni Kroos.
Moreover, the inexperienced youngster offers a level of creativity and technical ability in midfield that neither Dier nor Sissoko can provide.
Dembele, meanwhile, is now 30 and closer to the end than the beginning of his career. Expecting a player of his age to compete week in week out amid the intensity of the Premier League is a big ask.
However, if Winks can stay fit and maintain his current level of performance, Spurs may just have found a natural successor to the Belgian international.
2. Is the Premier League back to its best?
As the Champions League's opening round proper approaches its climax, the Premier League sides appear to be in rude health.
Man United, Liverpool, Man City and Tottenham are all topping their respective groups. City and Spurs have secured qualification, while Man United are effectively through as well, and Jurgen Klopp's men are expected to follow suit.
Despite a comprehensive 3-0 loss to Roma on Tuesday, Chelsea are also more than likely to progress, as they sit four points ahead of third-place Atletico Madrid with two games to play.
There is plenty of doom and gloom when Premier League teams underperform and English sides have certainly been below their best in recent years when it comes to the Champions League.
However, this season looks to be different, as encapsulated in particular by City and Spurs' impressive results tonight.
No British side has made the Champions League final in the last five seasons, with Chelsea's fortuitous penalty-kick victory over Bayern Munich in 2012 the last time this outcome transpired.
Up until recently, the 2008 all-English final between Man United and Chelsea seemed a distant memory, but on the evidence of recent results, the Premier League clubs finally seem to be justifying their exorbitant spending and look capable of challenging Europe's elite again.
3. Mourinho unwise to take on Man United's fans
Of all the things a manager of a football club can do, taking on the fans is among the least advisable options.
Yet Jose Mourinho, in typically dogmatic fashion, has not hesitated in condemning those at Old Trafford who have the supposed temerity to disagree with his decision-making.
On a couple of occasions in the last few days, the Portuguese coach has made his dissatisfaction with the United faithful clear.
After their 1-0 defeat of Spurs, he made the 'shush' signal as the Sky camera panned in on the victorious manager.
He subsequently spoke of his unhappiness with the lack of faith supporters have shown in Romelu Lukaku of late, while he also used his programme notes prior to Tuesday night's win over Benfica to have a dig at the club's ostensibly hard-to-please fans.
Quite what Mourinho is trying to gain from this behaviour is not easy to decipher.
Has he secretly decided United cannot compete with Pep Guardiola's Man City? Is he already trying to orchestrate an exit to PSG or another of Europe's elite clubs, using the perceived ingratitude of the Red Devils followers as a convenient excuse? Or is he just being his usual grumpy self, devoid of any ulterior motive whatsoever?
You could argue he is trying to take pressure off his team by making himself the centre of attention, but is this tactic really necessary, given that his side's results have actually been pretty impressive overall this season?
If you were to subscribe to the Diego Torres portrait of Mourinho as football's ultimate Machiavellian character, then the PSG theory might not seem quite so far-fetched. Either way, the experienced coach's recent behaviour has been odd even by the Special One's standards.
4. Salah already a vital player for Liverpool
There has been plenty of focus on who Liverpool didn't buy this summer, namely a top-class central defender.
Even Jurgen Klopp would surely admit that missing out on Southampton's Virgil van Dijk was a costly blow to their hopes of building on a sporadically impressive 2016-17 campaign, particularly in light of their woeful showing against Tottenham at Wembley the other week.
But one player who they did buy was Mo Salah, for a fee of €42 million (potentially rising to €50m) from Roma.
Already, it seems, the Egyptian winger has developed into a key player for the Reds.
The 25-year-old has scored 11 goals in 18 appearances for his new side, enjoying a much more memorable time than his previous Premier League spell with Chelsea, where he was hardly given much of a chance to impress in the two years he spent at Stamford Bridge (plenty of which encompassed loan spells elsewhere).
And not for the first time in his brief Anfield career, Salah got Liverpool out of jail tonight.
Needing a goal against a defensively stubborn Maribor outfit, it was the summer signing who stepped up to the plate, cleverly flicking home on 49 minutes, after a first half that yielded no goals depsite the hosts enjoying an incredible 83% of the possession.
As a consequence, they now have one foot in the knockout stages with two games to play, in the process providing a welcome distraction from their indifferent Premier League form.
5. Aguero consolidates legendary status at Man City
Not for the first time, Sergio Aguero inspired Man City to an impressive victory, as his goal to make it 3-2 proved crucial against a formidable Napoli side who are currently unbeaten domestically and top of Serie A.
The goal was Aguero's 178th in City colours, finally seeing him break Eric Brook's longstanding club goalscoring record.
It continues a fine series of achievements from the Argentina international in the six years since he moved to England, joining in 2011 for what now seems a bargain of €45 million from Atletico Madrid.
As it stands, he is 12th on the all-time list of Premier League top scorers with 129 goals and he will surely move higher up this table before his distinguished career in England ends.
Since joining City, he has won two Premier League titles and two League Cups, while few would bet against him adding to the trophy haul this season, given how impressively the club have been performing of late.
Currently, the Champions League trophy is the one accolade conspicuously absent from Aguero's CV, but it does not seem too improbable to picture him lifting the trophy in May.
Yet regardless of what happens between now and then, the 29-year-old striker has already secured legendary status at City.
In the years since the Etihad outfit became one of England's elite sides, it is hard to think of a player who has been more influential for the team than the prolific man they call 'Kun'.
Subscribe to The42 podcasts here: