IT WOULD BE too cruel to say Leinster's Pro12 semi-final loss to 14-man Scarlets summed up last season for the eastern province. They were better than that.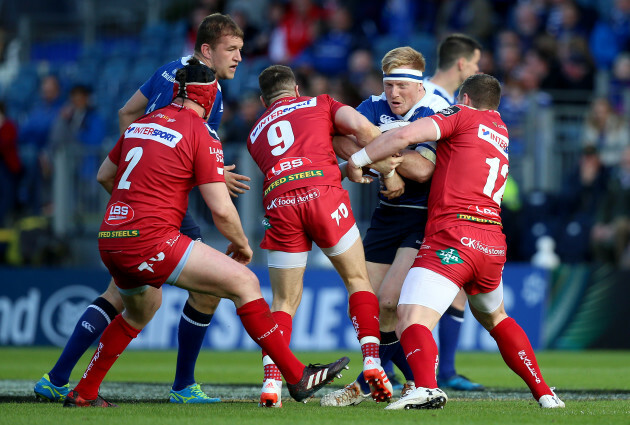 Tommy Dickson / INPHO Tommy Dickson / INPHO / INPHO
Yet such was the bitter aftertaste left by the frustrating home defeat that it defined Leinster's approach to this campaign, sharpening their focus on basic skills and off-the-cuff play to fuel their bid to go two better in two competitions.
As luck would have it, Scarlets unleashed their brand of brilliance on Europe this season. So thanks to exceptional home performances against the considerable power (monetary and otherwise) of Toulon and La Rochelle the Welsh side are back in Dublin neck and neck with Leinster and the race to silverware once more.
"It's experience," says hooker James Tracy when asked what the difference is in the Leinster squad between then and now.
Not necessarily experience in the form of greater years, but young team-mates like Dan Leavy, James Ryan, Joey Carbery and Jordan Larmour are the tip of an iceberg of Grand Slam-winners with first-hand knowledge of what it takes to edge big moments to dominate big games. For the rest, there are the lessons picked up from the tough days in blue last season.
"For myself, getting to play in those semis and realising the pressure that comes with them. And the preparation you have to put in, and that doesn't mean it is going to happen on the day. It is actually performing on the big stage.
"It gave a lot of the young guys the calmness. Either with Ireland or Leinster last year, you do learn from those disappointments and, then, those victories."
'Comfort in chaos'
Pre-season, Stuart Lancaster lamented that Leinster 'assumed' a breakthrough would come in the lost RDS semi-final against Scarlets rather than truly forcing the issue. 11 months on they have shown, particularly through seven straight wins in Europe, that they are a different animal this time around.
"It comes down to our training. Stuart, and Joe similarly, will try put you under pressure when you are under fatigue. I suppose it is becoming comfortable in the chaos.
"It doesn't mean that you will get it right. Look at the Saracens team and the players they have, a lot of unbelievable English internationals, they're always going to have purple patch.
It's making the best decisions you can while you are wrecked and don't know where your next breath is coming from."
The north star guiding all this effort on the training field is… well, a star – the embroidered golden emblem Leinster use to denote their European Cups.
Lancaster took the notion of wearable rewards (medals probably shouldn't be worn more than 12 hours after a trophy is lifted) from the garish rings used in American sports and has attached the same reverence to the stars which exist on Leinster's jerseys.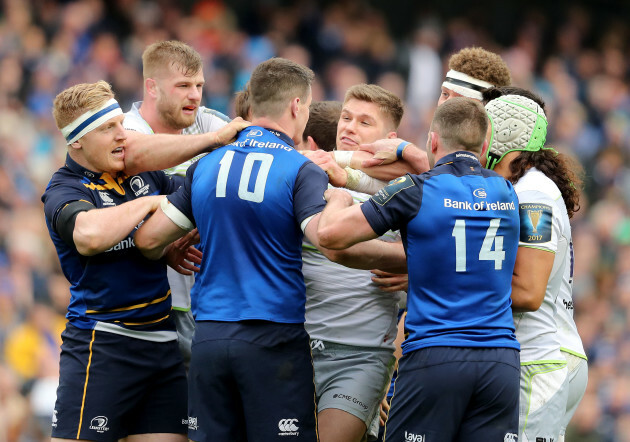 Dan Sheridan / INPHO Dan Sheridan / INPHO / INPHO
Tracy is one of the growing number in Leo Cullen's squad who have not been part of earning a new star for the jersey. But everyone is pushing to bridge that five-year gap, whether they have tasted recent history with a Grand Slam success or not.
"In fairness to the lads they have come back in and we are all striving for the same thing.
"Looking in from the outside you might be worried that the lads would put the feet up after winning the Grand Slam, but when you finish up you want to look back at your legacy and maybe even put a star on the jersey.
"That's something we strive towards every day and those lads are just as hungry now as they were at the start of the year and I am too.
"It's the only tangible thing nobody can ever take away from you is that star. That's something we're all striving toward – something that I can have that I can say 'I was proud of that'.
I'm obviously extremely proud of the lads that have gone before me, but I wasn't lucky enough to play in those games, and I want to be involved in those in the future and hopefully leave something behind I can be proud of."
Before the pursuit of a fourth star resumes in the Aviva Stadium on 21 April Leinster have the far less glamorous hurdles of Italian opposition to get across.  While Munster are on the road in South Africa, Leinster's back-to-back home matches seem the perfect preparation to wind them back up to the right pitch for a semi-final.
Of course, that's not exactly how Leinster players and staff present the immediate tasks ahead. Once yesterday's review of the Saracens performance was boxed off, attention turned to Saturday's visit of Zebre.
"We have a mantra of SUMO, Shut Up and Move On, we are on to the next bit. There will be a few fresh faces in and everyone is looking forward to what we can do in the league because if we don't win these games…"
It's an unlikely scenario, but having notched just two wins over their last five Pro14 games, it's worth touching on how helpful a double figure points haul would be in the next fortnight in the eastern province.
Three points behind Leinster in Conference B are Scarlets. Stay ahead of them in the Pro14 and it will earn Leo Cullen's men a weekend off after the final round of regular season fixtures.
Stay one step ahead of them in Europe too and that bye week becomes the perfect preparation for the Champions Cup final.