IT WAS NO way for Davy Russell to presumably ride Cheltenham for the final time – but there are worse ways to bow out.
Russell only abandoned his retirement because Jack Kennedy suffered another leg break and he probably knew it was not meant to be after Pied Piper was touched off in the County Hurdle. Much of the race had been vintage Russell, as he nursed a tricky horse into what seemed a winning position, yet the veteran jockey seemed unbalanced up the Cheltenham hill and, though he rode in the next (pulling up Search For Glory), that would be that.
Strangely, Russell was due to ride lively each-way chance Conflated in the Gold Cup – what a departure that would have been, especially as the horse is owned by Michael O'Leary, who Russell had a searing pop at on ITV yesterday morning. O'Leary had said Russell was wrong to come back from retirement; Russell said he had as much respect for the Ryanair boss' opinion as he had of Russell's.
Gordon Elliott, trainer of Conflated, was asked for an explanation.
"Davy was sore, I didn't get much chance to talk to him but he just told me he was too sore to ride our horse so it looks like he was kicked," he said.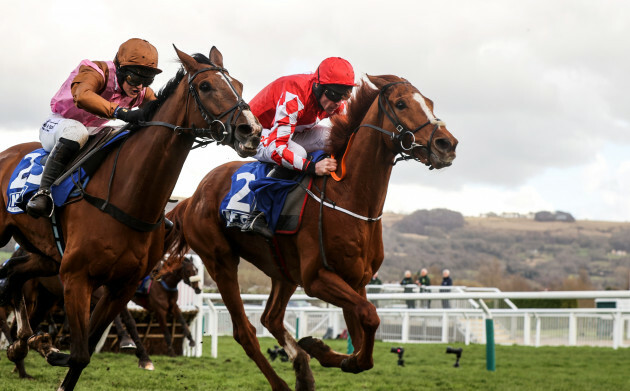 Tom Maher / INPHO Davy Russell (right) on board Pied Piper. Tom Maher / INPHO / INPHO
It would have been some kicking if Conflated had prevailed under last-minute sub Sam Ewing, whose dad Warren once trained Constitution Hill, in the big one. The 22-1 chance only ran a blinder in third but nothing could live with Galopin Des Champs, Paul Townend's ride prompting Tony McCoy and Ruby Walsh, both Gold Cup winners in the past, to extol the talents of the man who replaced Walsh when he retired for the first and only time.
Rumours did the rounds of another high-profile retirement yesterday. They came to nothing, like the hopes of all who tried to live with the jolly in a race that will be 100 years young next year.
Townend decided to hold up the 7-5 favourite nearly in last place, a really hazardous ploy in the Gold Cup: they jump 22 fences, with virtually no respite, and Rachael Blackmore will tell you of the pitfalls as her mount, A Plus Tard, was all but brought down by the gallant leader Ahoy Senor, who fell at the seventeenth.
Not for Russell nor the Henry de Bromhead runner would there be an encore – and Townend takes the plaudits this week. It seemed unfair that Willie Mullins criticized him at the Dublin Racing Festival. Whatever was said privately, Townend focussed on riding horses, and five of those were Grade One winners this week.
The Gold Cup steer, Townend only taking it up after around 21 of those 22 obstacles, was, according to McCoy, "as brilliant a ride as I've ever seen in any horse race".
Townend doesn't do many interviews. "We got the rub of the green, I suppose," said a man who tends not to waste his words, "with fallers and that.
"I had full faith in him," he told Off The Ball. "Every day when you are riding for Willie you have big-pressure rides."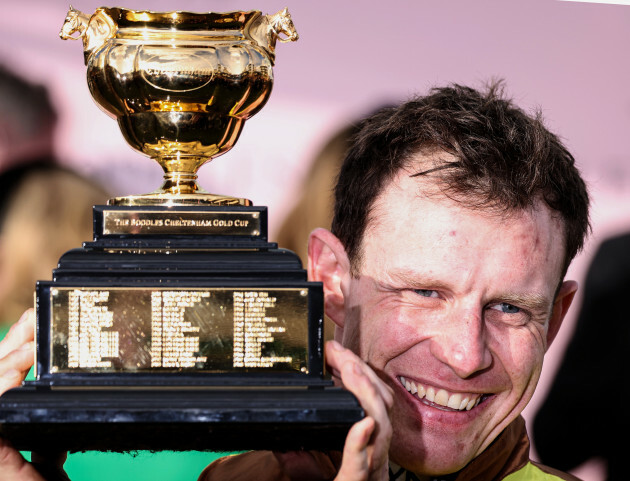 Tom Maher / INPHO Paul Townend celebrates with the Cheltenham Gold Cup. Tom Maher / INPHO / INPHO
How was the festival's leading jockey of 2023 going to celebrate?
"I'm riding at Thurles tomorrow."
There would have been particular satisfaction for Townend, too, that he picked the right one in the Triumph, with Lossiemouth justifying good support, though it should be noted that main market rival Blood Destiny flopped in a race in which Mullins still saddled the first four.
Mark Walsh's Festival was a mixture of the great and the bad. Today, Corbetts Cross decided to run out through the gap between the last hurdle and the railing in the Albert Bartlett. He may not have won; he made sure of that by running off the track.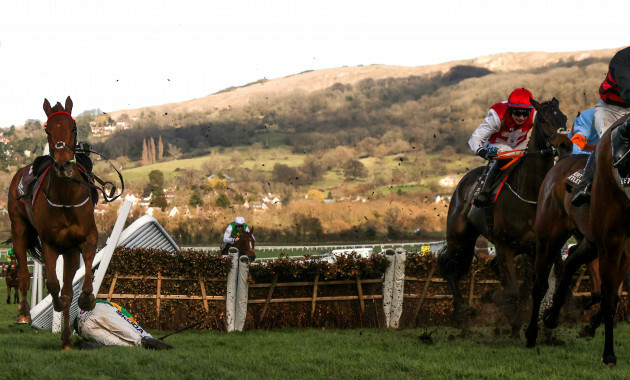 Tom Maher / INPHO Mark Walsh falls from Corbetts Cross. Tom Maher / INPHO / INPHO
That race went to the Paul Nicholls-trained Stay Away Fay, who probably would have won anyway. The British helped themselves to 10 of the 28 runners, a reflection of how things are but a relatively encouraging return when it could have been much worse.
Mullins, needless to add, won more races than any other trainer – but, even at 66, the emotions a race can stir in a genius who has known little other than horses all his life can cause a surprise.
"I didn't realise the pressure I was under," Mullins admitted. "Paul was under huge pressure too and gave Galopin Des Champs a peach of a ride.
"The plan was to drop him in and come through. I said to him: 'I think you're on the best horse, the fastest horse, so as long as he doesn't get running with you just tuck him in somewhere and put him sleep.
"All the thoughts go through your head. Have we gone too far back? They had gone such a gallop, something had to give.
"One or two fell and we missed all that, we'd a lot of luck. I think that man on board, when the pressure comes on, he's very good.
"I surprised myself how I was over the last two fences. With this horse, we'd elected him as our Gold Cup horse whereas Al Boum Photo sort of just happened. This fellow, we thought he was good enough and that puts you under pressure."
This was a splendid Cheltenham, as good as we've had for years. No race seemed an irrelevance; every race had a narrative. The hysteria about the whip proved misplaced, controversy was minimal.
This was racing at its best.