WITH PLENTY OF giants around them, it was encouraging to see the 5ft 7ins trio of Cheslin Kolbe, Antoine Dupont, and Michael Lowry deliver some of the most skillful moments of yesterday's Champions Cup quarter-final in Toulouse.
While 22-year-old Ulsterman Lowry is really still at the beginning of his career, 23-year-old Dupont is already one of the leading scrum-halves in the game, and 26-year-old Kolbe is a World Cup winner and a genuine superstar of the sport.
The South African is among a handful of players most rugby fans would pay into any stadium or sign up to any subscription service to watch. Kolbe is a thrill to observe, with his footwork, acceleration, adaptability, and creativity ensuring he's a consistent threat.
Kolbe was the star of the show in Toulouse yesterday.
Despite his lack of size, Kolbe is an impactful defender too, generally making good reads, completing his tackles, competing aggressively in the air, and certainly belying any stereotypes about smaller players.
As Ulster's season came to a disappointing end at Stade Ernest Wallon, Kolbe was the star of the show in Toulouse's 36-9 win. 
Kolbe beat two defenders with his first carry in the build-up to his early try but it was the finish that stood out, of course.
With James Hume down injured, Ulster's 14 men struggled to contain the flourish of attacking quality from Toulouse as a jinking run from fullback Thomas Ramos left the French side within five metres.
With Toulouse having a two-man overlap, Stuart McCloskey [yellow below] and Jacob Stockdale [white] get off the line hard, shooting up in a bid to shut down scrum-half Antoine Dupont's passing options.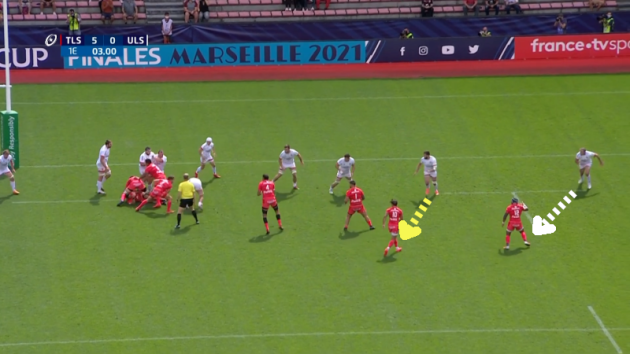 That aggressive linespeed leaves Sofiane Guitoune and Kolbe in space wide on the right but it still takes a wonderful pass from Dupont to find his wing.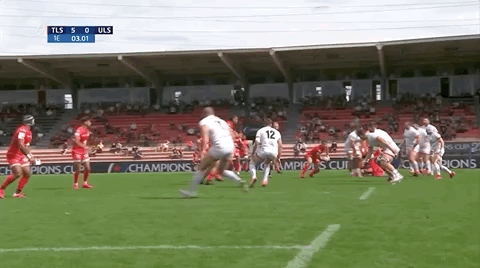 Stockdale is left in a tough position, having to turn and chase back on Kolbe, accelerating towards the touchline and therefore leaving his inside shoulder exposed. 
Having initially darted towards the corner, Kolbe hammers off his right foot and inside Stockdale, lifting the ball up high as he goes just in case Stockdale can get a hand to it. 
McCloskey has also shot up for Ulster so he's chasing back and can't get across in time to prevent Kolbe from straightening up and dotting down.
Having bagged his first try, Kolbe might feel he could have read Lowry's chip kick [yellow below] a little earlier as Ulster looked to strike back.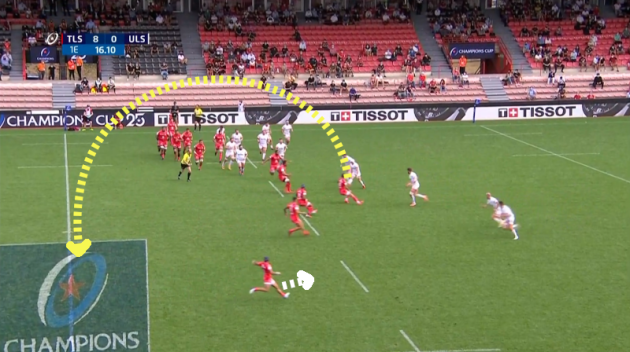 As we can see above Kolbe [white] is still advancing as the ball leaves Lowry's foot and he is late reacting to the kick, which Ulster centre Hume accelerates forward to gather, offloading out of Kolbe's tackle to Matt Faddes.
This leads directly to Ulster's major missed chance on the very next phase.
The 5-on-2 opportunity is glaring here but rather than simply move the ball through the hands, Jordi Murphy opts for an ambitious skip pass that goes forward.
It's a huge blown opportunity for Ulster as they still trail just 8-0 in the 17th minute.
Kolbe does generally defend well for Toulouse and the Springboks, and he makes an important intervention in the instance below. Ulster are just 8-3 down in the 33rd minute here.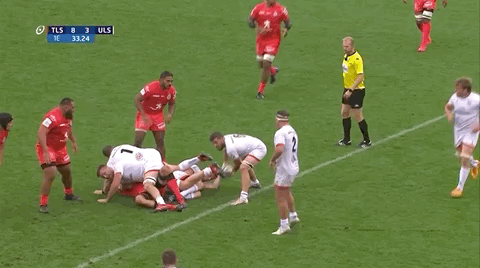 McCloskey skips outside Romain Ntamack's tackle attempt, fending as he goes, and has Faddes on his outside ready to finish if the Ulster centre can get the ball away.
But Kolbe does just enough to bite back in and ensure McCloskey can't release a pass as he gets the ball back into two hands. With François Cros joining the tackle from the inside, they ensure McCloskey is brought to ground without getting an offload away.
A few phases later, Rory Arnold makes an excellent tackle on Faddes and Toulouse counter-ruck for a turnover. Ulster rue another missed opportunity in the first half.
And just minutes later, Kolbe strikes a crushing blow with his second try before half-time. Stockdale is beaten all ends up but Ulster will have frustrations with some of their defensive efforts even before that.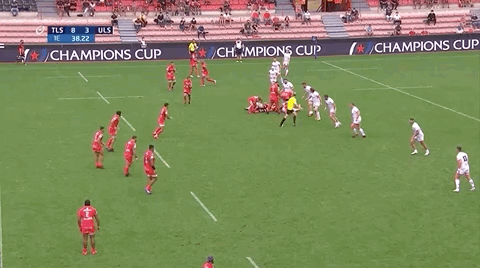 As we can see above, the build-up features some wonderful handling from Toulouse to keep the ball alive in characteristic fashion but Ulster leave themselves exposed defensively.
Hume [white below] shoots up and in on Toulouse prop Cyril Baille, hoping to make a ball-and-all tackle that completely snuffs the attack out.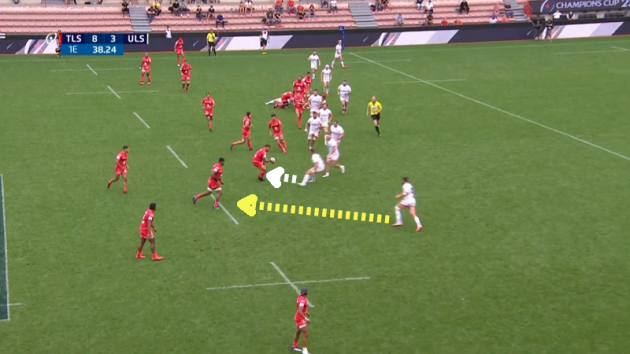 But Hume slightly hesitates on his read, ensuring that Baille has just enough time to use his handling skill to transfer the ball across his body to Joe Tekori.
McCloskey [yellow above] has adjusted to Hume's read to follow him up and in, but again he can't get to Tekori for the ball-and-all hit before the big second row swivels to pass out the back to Sofiane Guitoune.
Ulster are left exposed as Guitoune accelerates into space and commits Ulster left wing Faddes [red below] – who has become disconnected from McCloskey – inwards on him.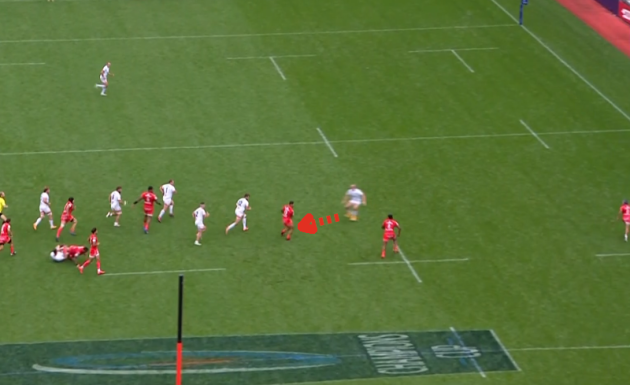 Guitoune draws Faddes right into the tackle before passing to hooker Peato Mauvaka surging into space.
McCloskey has tracked back downfield and falls into a tackle on the Toulouse hooker just after he has passed to Kolbe in exactly the kind of position the Springbok thrives in.
McCloskey might wonder if he could have done more to stay on his feet here.
He has already worked hard to chase back downfield but he possibly has time to pull out of tackling Mauvaka here, just after the Toulouse hooker has passed the ball.
If McCloskey can keep his feet and continue to work hard downfield [white above], perhaps he can plug Stockdale's inside shoulder as the fullback swings up onto Kolbe.
It's obviously a lot to ask of McCloskey after he has already covered a fair bit of ground but he instead drops to the ground to take Mauvaka's legs out, and that inside shoulder is where Kolbe beats Stockdale with a stunning bit of footwork.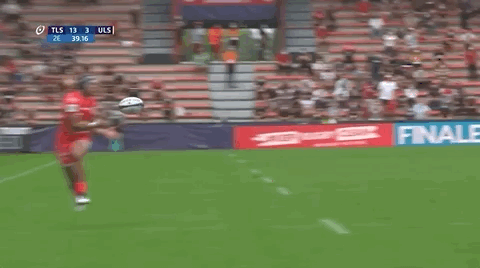 As Stockdale starts closing up from the backfield, there are roughly five metres on either side of him – a genuine nightmare situation against Kolbe.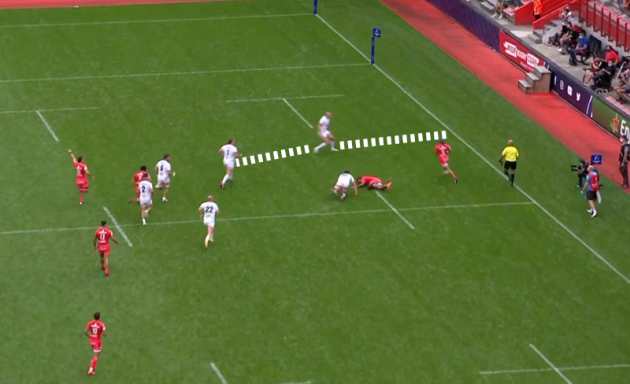 Even at the top level of rugby, Kolbe's footwork is unique, so Stockdale has an extremely demanding task on his hands here. 
Could he have done better? The Ulsterman will wonder if he should have advanced on Kolbe more aggressively, shown him a little less on the inside, and really used the touchline to greater advantage, shoving the Toulouse man out over it. 
But it's a massively tough situation to be in and there really aren't many players who can do what Kolbe does. There aren't many defenders who would have stopped him here in a one-on-one.
Exclusive Six
Nations Analysis
Get Murray Kinsella's exclusive analysis of Ireland's Six Nations campaign this spring
Become a Member
As we can see below, Kolbe – who initially has the ball in two hands – gets both feet up off the ground as he stares straight at the tryline on Stockdale's outside shoulder, looking to convince the Ulsterman that he wants to finish there.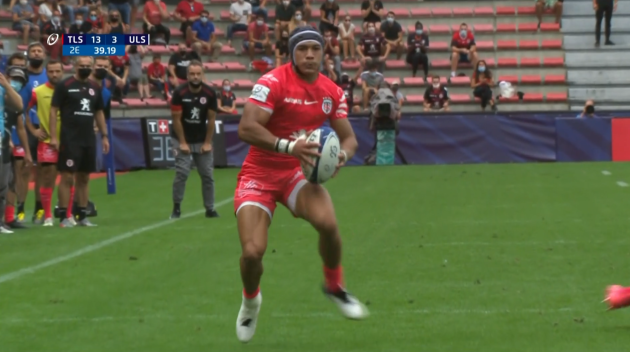 In this split second above, it appears that Kolbe may plant his left foot into the ground and explode to his right, Stockdale's outside.
He lands his left foot first to sell that prospect even more to Stockdale, who begins to commit to that tackle…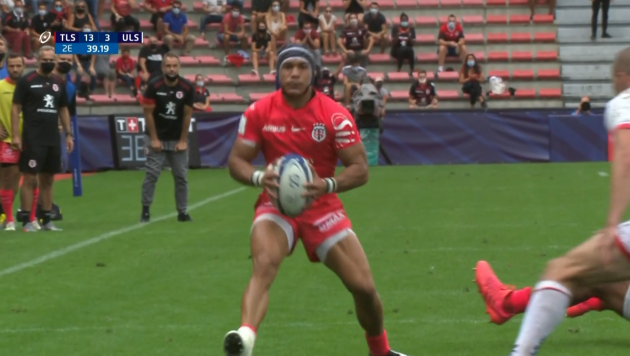 … but then Kolbe – still eyeing Stockdale's outside – instead plants his right foot and uses all those fast-twitch fibres to explosively redirect laterally to his left and onto Stockdale's inside as he shifts the ball into his right hand.
At the point below, Stockdale has already fully committed to Kolbe trying to dart onto his outside and he has been beaten.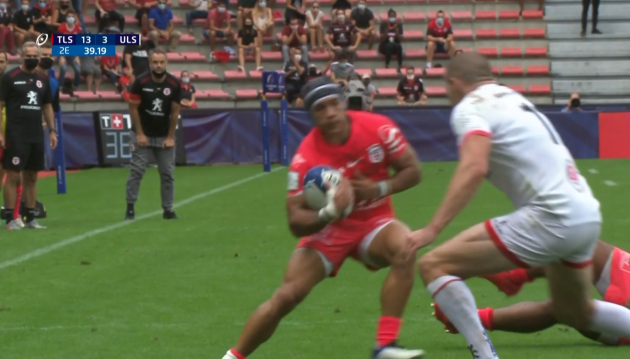 Again, Kolbe lifts the ball up and over Stockdale's trailing arm to ensure it won't be clipped as the Ulsterman's momentum carries him past Kolbe and towards the touchline…
Having evaded Stockdale, Kolbe now has to worry about Ulster prop Jack McGrath coming from the inside in a desperate attempt to scrag him.
With his step having been so lateral, halting his forward momentum, Kolbe plants his left foot and begins re-accelerating…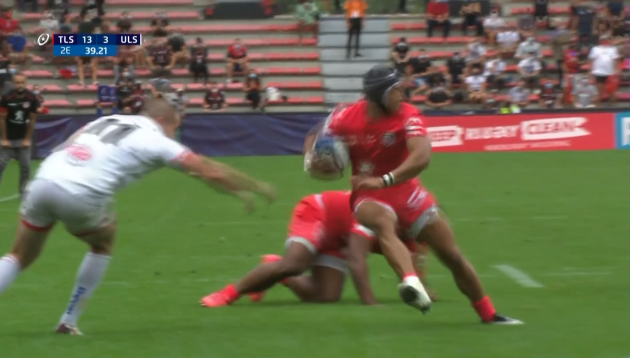 … while the ball in his right hand means his left is free in case he needs the fend.
But the sensational rebound into his acceleration means Kolbe takes himself clear of McGrath without having to plant his hand into the prop's chest and Ulster have to watch on as he finishes.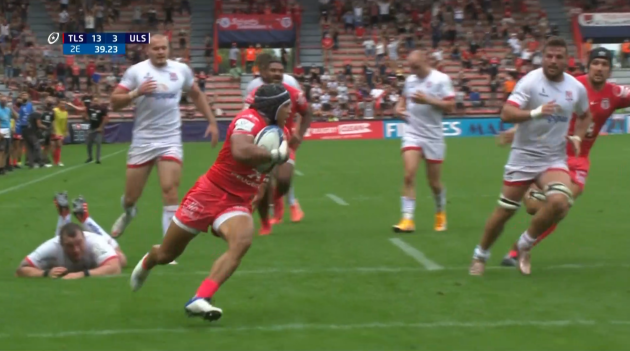 Again, McGrath might wonder if he could have worked harder earlier on his drift across the pitch but Kolbe's finish is next-level.
It's a genuinely thrilling piece of attacking brilliance from the Springbok and one of the clear highlights of the European rugby weekend, if not the entire 2019/20 season.
Kolbe's second try helps Toulouse into a 15-3 half-time lead that they were able to improve after the break as Kolbe showed his quality to win back a box kick, fend an injured McCloskey into the ground, make an important trackback tackle on Faddes, and even win a restart as Jerome Kaino lifted him.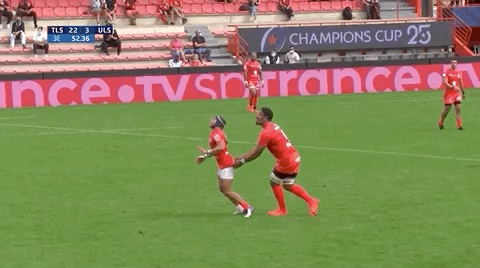 Kolbe, who has started games at out-half and fullback for Toulouse and even slotted in at number eight for scrum plays, delivered a very enjoyable reminder of his complete skillset.
On a day where Toulouse were very stop-start in terms of their quality, Kolbe was key.
The smallest man on the pitch continues to make the biggest impact.