MANY RUGBY SUPPORTERS love to hate Chris Ashton, but the Saracens wing is at the tail end of a strong season.
While there are certainly elements of his defensive game and positioning that need improvement, partly explaining his absence from England's first-choice XV in recent times, the 27-year-old is an excellent attacking player.
At his best, Ashton works incredibly hard off the ball, tracking play and anticipating where he would be best suited popping up to take an offload or short pre-contact pass off a teammate's shoulder.
When the former rugby league player suffered a stark loss of form in 2013, that element of his play was largely absent. Ashton appeared to be lacking confidence in his ability to 'read' the flow of the game, that uncanny perceptive skill of understanding where he needed to run to.
Confidence back, support play returns
Ashton's mental approach has been re-invigorated in 2014 and we have seen his superb support play returning as a result. While many were simple finishes in wide spaces, the Sarries' wing did track play expertly for several of his seven Heineken Cup tries in this calendar year.
The latest example of those abilities came in the final play of England's 28-27 defeat to New Zealand on Saturday, with Ashton having played the closing nine minutes off the bench.
It takes a magical back-handed offload from Manu Tuilagi to Mike Brown wide on the right to create the score, but we are more interested in Ashton's role in this passage of England attack.
Having been involved in a ruck wide on the right in the initial phases of the attack, Ashton appears on the inside shoulder of Billy Twelvetrees as England move the ball back from left to right.
There is clearly a breakdown in communication between Ashton and Twelvetrees, as the wing's support line is inside, but the Gloucester man passes to his outside shoulder. We see Ashton's frustration as he jumps in the air in disgust.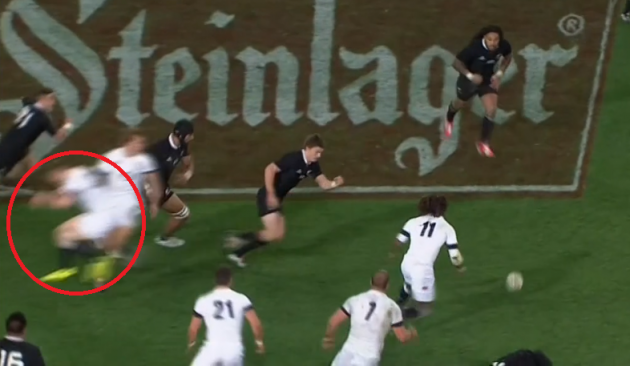 For the 2013 Ashton, that may have been that. The momentary sulk may have lasted longer than a split second and the Saracens wing may have simply walked back in behind his England teammates to wait for the ball to come back in his direction.
Not so for the motivated Ashton of 2014, who immediately moves on from the frustration and gets his head up to read what is happening after Twelvetrees' pass goes to deck.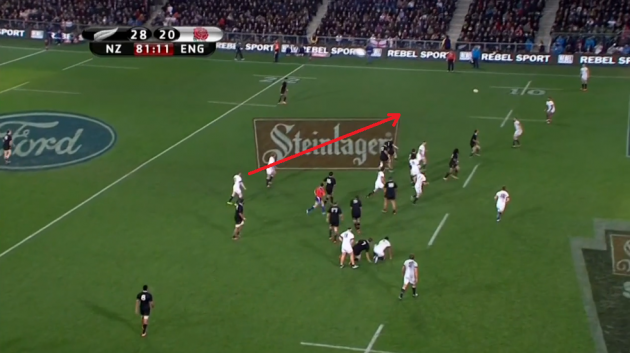 As the ball loops from Marland Yarde to Tom Wood, the switched-on Ashton swiftly senses an opportunity. His visual skills tell him that England are numbers-up in that wide channel and forward progress is highly probably.
His instant reaction is to take off on an anticipatory line, ahead of the ball, predicting where play will end up. It's also worth noting Twelvetrees' movement; the centre clearly isn't seeing what Ashton sees.
Exclusive Six
Nations Analysis
Get Murray Kinsella's exclusive analysis of Ireland's Six Nations campaign this spring
Become a Member
The line Ashton runs is superb, arcing out to the wide channel and ending on the inside shoulder of Brown to create a 2-on-1 that would otherwise not have been present.
There are so many times in games when Ashton – and countless other players – runs similar tracking lines and the ball simply doesn't end up where he has anticipated. That doesn't mean those lines are not worth running; the one time the pass does arrive, Ashton is ready and waiting.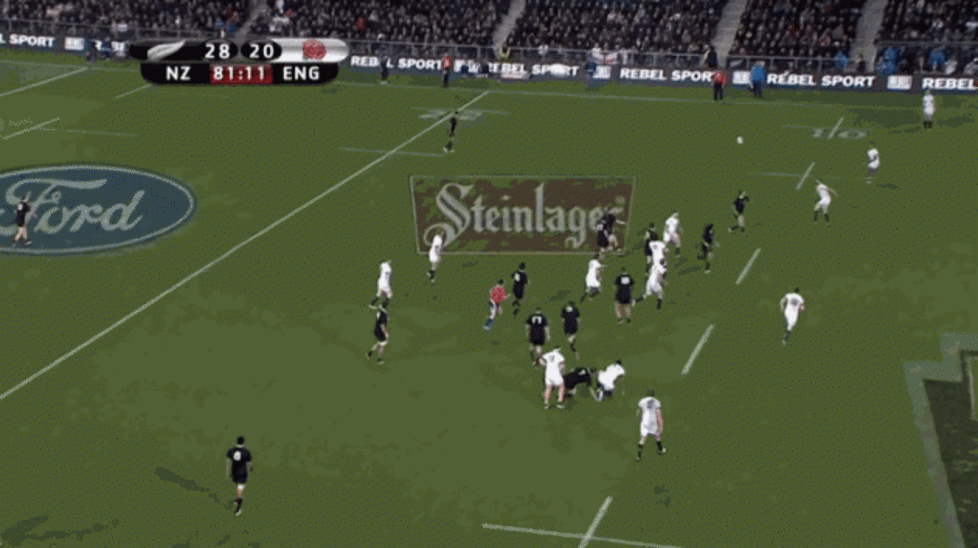 It's not just wings who can offer consistently intelligent and hard-working support play. Jonny Sexton has made an art form of the anticipatory, ahead-of-the-ball support line, while scrum-halves like Aaron Smith and TJ Perenara excel at the skill in Super Rugby.