- Ben Blake reports from Cardiff  
CHRIS COLEMAN RECKONS tomorrow night's showdown between Wales and Ireland is as big as they come.
Just last year, the Welsh boss took them to an unprecedented semi-final at Euro 2016 but now they stand on the brink of reaching the World Cup for the first time since 1958.
47-year-old Coleman believes his current group of players have justified their 'golden generation' label, but qualification to next year's finals in Russia would cement their place in history as the finest team the nation has ever produced.
"This is as big as anything we've been involved in," Coleman said this afternoon. "The good thing about it is we've been here before, so we've got that experience. The Republic of Ireland have been in must-win games as well.
"We've got to contain our excitement. We've always wanted to be in these big games where all eyes are on you and there's so much to play for.
"Up until two years ago, we'd never been anywhere near it, but now we are. We're absolutely looking forward to a great game and it will be a fantastic atmosphere. There's nothing to fear or to worry about.
"The occasion is what it is, it's great for us to be involved in it. We've always got a gameplan and our players have proved that they're very good at executing whatever we put in front of them."
With just a point separating second-placed Wales and Ireland, both sides will have to go for it as even a win may not be enough to guarantee a play-off spot as it is dependent on results elsewhere.
Coleman expects to see a full-blooded affair at the Cardiff City Stadium tomorrow night and says his players must leave it all out on the pitch.
"I'd be surprised if it was like a game in the Premier League that some of the top boys play with loads of possession," he said. "I think it's going to be toe-to-toe, end-to-end. Both sets of players are quite similar so there will be a lot of contact and I think it will be very exciting.
I don't think it will be one of those fights where we will be jabbing at each other. I think we are going to go for it — both teams.
"International football should always be, no matter who you play for, a huge honour to represent your country. It shouldn't be looked upon as a hindrance. It's the biggest honour and I was lucky enough to do it.
"For us, Wales is a small nation but it's just as well that we've got a good team, and a successful one at that. We're in a good position and in the spotlight again tomorrow night.
"I can forgive my players for anything but I can't forgive them if they don't empty everything on the pitch, and they always do."
Coleman also went out of his way to clear up a comment he made prior to the reverse fixture back in March.
"I said before we played in Dublin it would be like a derby game," he added. "I said it would be two British teams, but what I meant was that both sets of players play in England. Obviously it's the Republic of Ireland and I was pulled up on that but anybody with half a brain would have known what I meant."
Morgan Treacy / INPHO Neil Taylor is shown a red card after his takle on Seamus Coleman. Morgan Treacy / INPHO / INPHO
During that 0-0 at the Aviva Stadium, Ireland captain Seamus Coleman was on the receiving end of an over-the-top Neil Taylor tackle that left him with a double leg-break, while Gareth Bale also caught John O'Shea with a late challenge.
While the Wales boss can only speak for his players, he doesn't believe that Coleman incident will have an impact on their latest meeting.
"I don't think that will have any bearing on this game tomorrow night. It will be very similar where two sets of committed players lock horns. There will be lots of contact — our players know their players and their players know ours.
It was a physical game out there and it was unfortunate with Seamus and Tayls [Neil Taylor]. It was a horrible situation, for Seamus mainly, but I'm pleased that he's coming back and he's not far off.
"Ashley Williams speaks very well of him so that's great that he's back. For us, there won't be a mention of that. I can't tell you about the Republic of Ireland because I've no idea how they're feeling. I can only tell you about Wales and there won't be any talk from us."
While Ireland are without Coleman and Jon Walters, the Welsh must plan without their star player as Bale misses out with a calf injury.  The Real Madrid forward has joined up with the group for the final two qualifiers but his international manager re-iterated that they are more than a one-man team.
"Even when he's fit, we haven't got one set system," Coleman said. "I heard it from someone that what Wales are 10 men behind the ball and Bale up front. I think that's a lazy comment from someone who, tactically, doesn't know too much about football.
"Even when he's in the team, we don't play with one set system, because we can't afford to be flippant enough to think we're that good. We look at the opposition, we get a gameplan and that changes, whether he's in the team or not.
"When you've got someone that good, you'd be stupid not to come up with one that suits him, but it also has to suit everybody else.
"I'd much prefer to be planning with him than planning without him."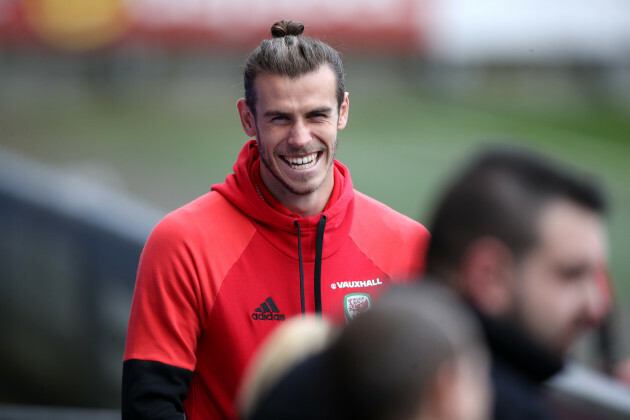 Nick Potts Bale was a spectator at today's training session. Nick Potts
There has been a huge amount of buzz around this Welsh side since their exploits in France last summer and Coleman feels it is well-deserved, although any of their previous achievements are now in the past.
"It is a golden era because they proved that," he said. "They were labelled this golden bunch of players before we qualified and I fought against that because they hadn't earned that tag, but they've earned it now.
"This group of players have made the difference and they've gone one step further than anybody else that has come before them. The problem is that is in the past. Whatever we've done we've done and that's not going to help us tomorrow night."
Coleman's father Patrick was originally from East Wall in Dublin but left Ireland for Swansea as a 20-year-old. Although he speaks proudly about his Irish roots, there is no question where his loyalties will lie on Monday night.
"I spent so much time in Ireland," he explained. "My dad's a Dublin boy. Of course the connections are always going to be there and I've still got family in Dublin. We're going head-to-head with the Republic of Ireland and of course I want it to be us, 100%, but it would be nice to see another home nation at the World Cup.
"Tomorrow night, I won't be thinking about how much I like Dublin and I won't be thinking about the fact my dad's Irish. I'll be thinking that I'm from Swansea and I'm representing Wales. You lot are in the way of what we need and I've got to try and somehow get past that."
The42.ie / YouTube
Subscribe to The42 podcasts here: