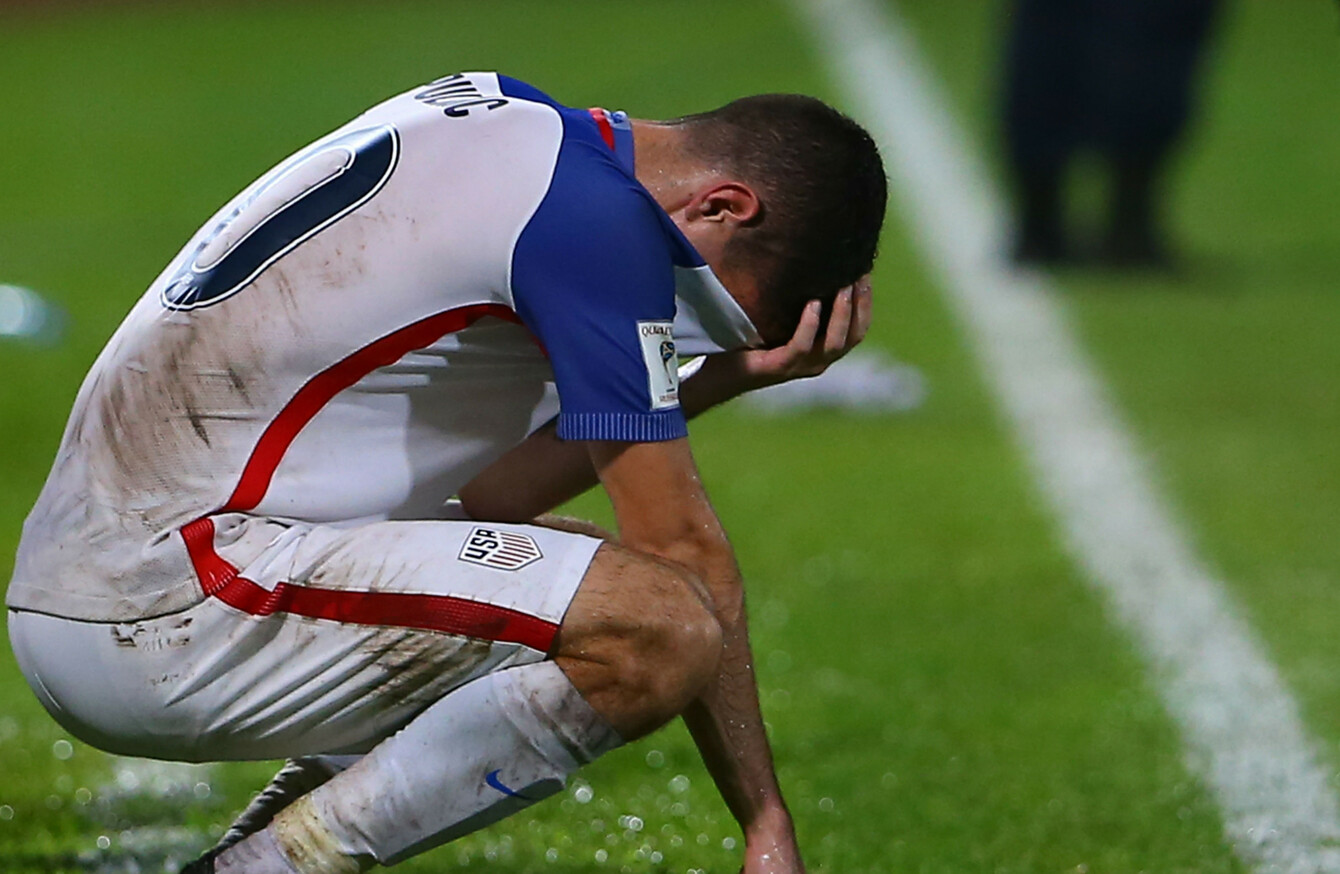 AMERICAN ATTACKER CHRISTIAN Pulisic has opened up about his devastation at missing out on the chance to play at his first World Cup. 
The US only needed a draw in its final qualifying match at Trinidad & Tobago to ensure qualification for the 2018 World Cup, but Bruce Arena's side fell 2-1 in a shocking upset.
The result, in combination with wins by Panama and Honduras on the same night, meant the U.S. will miss out on the World Cup for the first time since the 1986 tournament in Mexico. 
"In my heart, I knew it was over when we walked off the field," Pulisic said of the game in Couva in an article on The Players' Tribune. 
"I asked one of our assistants, 'What were the other scores?'
And I'll just never forget the look on his face, or the sound of his voice, or the feeling of utter devastation in my body — when he turned to me and said, 'We're not going. We didn't make it.'
The Borussia Dortmund star admits he's been feeling down in the month since his national team's massive disappointment. 
"And I won't lie — I've been feeling pretty depressed this past month," Pulisic said.
"The thought of having to wait four more years, just to get the taste of losing our last qualifier out of my mouth … just to find out if we're going to the next World Cup? Man, that's tough.
"Four years, you know? It feels like a lifetime."
Despite being only 19, Pulisic lead the way for the U.S. in World Cup qualifying, contributing in some way to 12 of the USA's 16 goals during the Hexagonal.
Pulisic will likely be the focal point of his team's efforts to qualify for the next World Cup, and isn't shying away from the responsibility. 
"I just want every USA soccer fan reading this to understand, that no matter what decisions are made over these next couple of years … no matter what changes are implemented … no matter who the coach is, or what the roster looks like: I'm going to be obsessed with winning.
"And I'm going to be obsessed with doing my part to help U.S. Soccer get over the hump.
"Because yeah, OK… we're not going to the World Cup.
"But there's going to be a World Cup after that. And a World Cup after that. And a World Cup after that. And I think — I hope — that we're going to be able to build something, here, with U.S. Soccer, where it's not just going to be about one lost match, or one lost cycle, or one lost team. It's going to be about an entire country, rallying around an entire sport, in a way that lasts.
"So let's plan on it, then — 2022. Get your basements ready, and mark it down.
"We'll be there."
- Omni
Subscribe to The42 podcasts here: