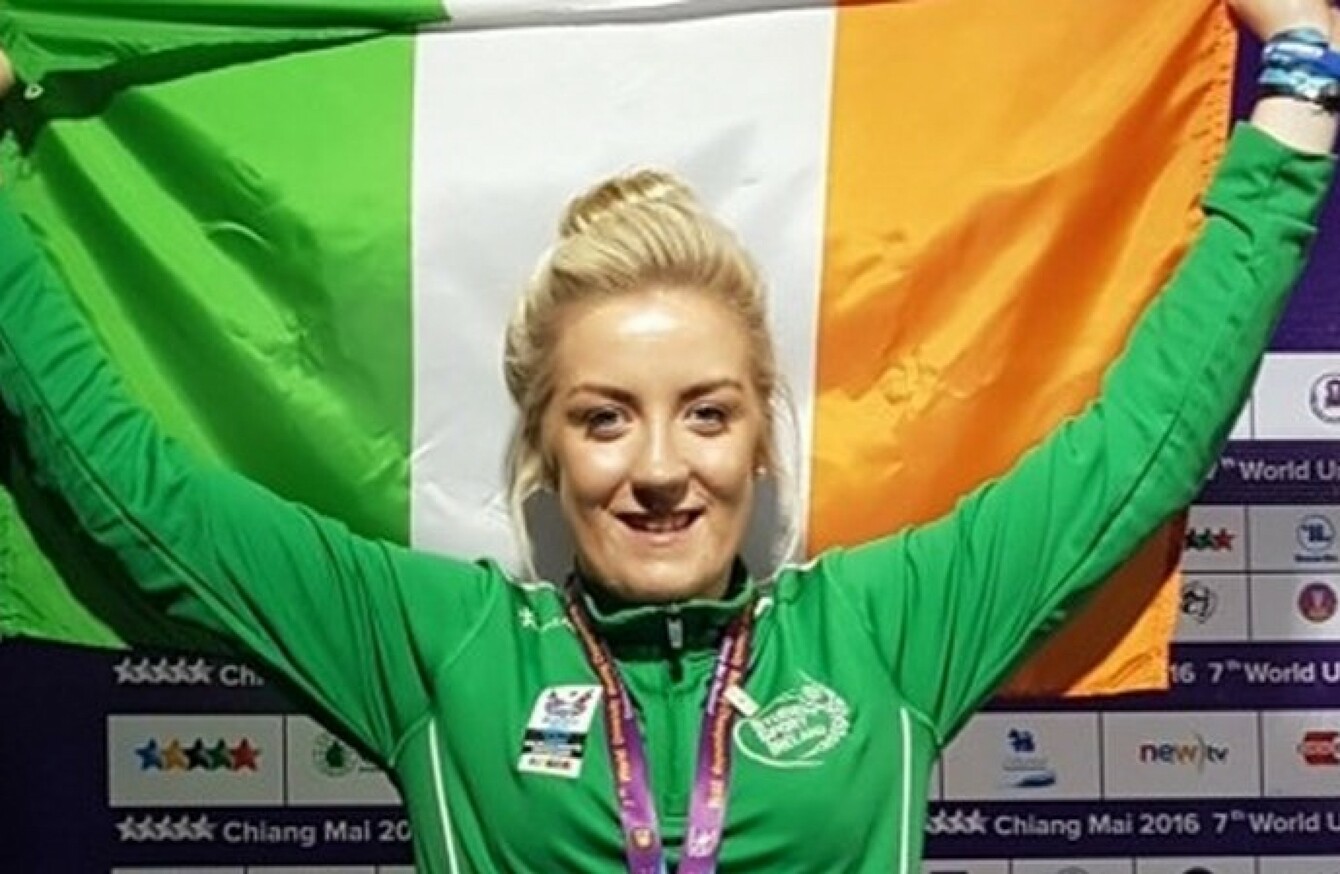 The Cork boxer has enjoyed a breakthrough year in 2016 and it was capped with bronze in Sofia last week.
Image: IABA
The Cork boxer has enjoyed a breakthrough year in 2016 and it was capped with bronze in Sofia last week.
Image: IABA
CHRISTINA DESMOND SOMEHOW manages to bite her tongue. The sense of injustice is magnified as her tone becomes more and more animated. We need to talk about boxing.
"I don't want to jeopardise my career so I can't really say much," she offers, after commendably composing herself.
This should be a good news story without anything to overshadow it. We should not be talking about amateur boxing, its judges and another Irish boxer being on the receiving end of a contentious decision.
We should be talking about the magnitude of Christina Desmond's achievement in winning bronze at the European Elite Women's Championship; and we will, but first she needs to vent her frustration.
"I would have taken it [bronze] but it was tough to take," she tells The42. "I thought I won the fight easily. I'm not being cocky but I thought I landed a lot more punches and I was very disappointed.
"But that's the way boxing is going at the moment, it's sickening. I thought I'd done enough but it wasn't in-front of the judge's eyes which is a joke really. At this level you don't really have to prove yourself. If you box and win, you win like."
A week ago, Desmond guaranteed herself a first senior international medal with a unanimous decision win over Russian Oksana Trofimova in the quarter-final. It was a performance which demonstrated all her pedigree and promise.
With at least a bronze in her back pocket, the 20-year-old faced Maily Nicar of France last Thursday in the semi-final.
Desmond dominated the first, second and fourth rounds, landing a series of clean shots and impressing with a flurry of quick combinations. While Nicar may have shaded the third round, the French camp conceded that the LIT Thurles student had edged a high-quality fight to win on points.
"That's the worst bit," she added. "Even the French were giving me the recognition."
The judges didn't see it that way. One awarded it to Desmond but the other two saw the French woman as the winner. Irish head coach Zaur Antia was adamant Desmond had 'destroyed' her opponent and said the French coaches apologised for the result.
"It's annoying the way I won the fight and didn't get the recognition I should have got," she continued.
"My dad was over there with me. He's actually worse than me, I'm very calm compared to him. My team-mates were disappointed for me too. There's a lot to be thankful for, thankful that I wasn't robbed of a medal because two of the girls, if not three of them, were robbed of a medal.
"I did take a lot of positives out of it from the way I fought. That's what I took from it and now it's done and I'll take the bronze medal and use the disappointment to get better.
"Don't get me wrong I'm very proud to receive the medal for Ireland but it's just the way it happened. All my family and friends are so proud and I'm proud of myself too. I'll get over it, I'll be okay but at the moment it's just disappointing."
When that bitter disappointment and the stinking sense of injustice does eventually subside, the Cork middleweight will hopefully then be able to fully appreciate the enormity of what she did in Sofia last week.
In standing on the podium, Desmond became just the second boxer from Cork to win a European Elite medal since Kieran Joyce won bronze, also in Bulgaria, back in 1983.
The fact that she arrived home downbeat with bronze in her possession underlines how far the 75kg division fighter has come in a relatively short period of time. Twelve months ago, the idea of achieving such a feat would have been unthinkable.
"It's a dream really," Desmond admits. "A crazy year."
A highly-decorated boxer at youth level, Desmond has announced herself on the senior stage with a breakthrough year, during which she won bronze at the University Championships in Turkey and then bronze in Bulgaria last week.
After making the step up to the High Performance Squad, the Macroom boxer caused a stir by shocking eventual Rio silver medalist, Nouchka Fontijn, at the Olympic qualifiers in April.
Desmond has since emerged as one of the most exciting and naturally talented young middleweights in the game and certainly has the potential to go on to bigger and better things.
"It just shows that if I work hard I can get to the top," she continues. "I feel if I train extra and harder I can go out and get the decision. I have to stay positive and build on it. A few more years and hopefully I'll have my name built up and I'm willing to wait."
It's an admirable approach. After achieving almost instant success at youth and now senior level, it would be easy for Desmond to jump in head first but she has her head firmly screwed on.
While boxing has consumed her life over the past few months, the focus is still firmly on education and that involves completing her Sports Strength and Conditioning degree in Thurles. If boxing doesn't go as planned, she will always have a degree to fall back on.
"Exams are in two weeks and I have presentations and assignments coming out of my ears but hopefully Monday will be a great day and I'll get a lot done," she jokes.
"College are so supportive and without them I wouldn't be able to do the two things anyway for sure. I miss a lot but they help me catch up and they help with extra deadlines.
"It's very hard to put your head into books after training but I feel I have to get a qualification, to carry me because you could get injured in the morning and I'd like something to fall back on."
While Desmond is enjoying college life now that she's in the third of four years on campus, she is also there out of necessity. She knows the bills need to be paid and, at the moment, representing her country will not pay them.
Desmond is currently combining her training at Fr Horgan's Boxing Club with sessions alongside the High Performance Unit and then any spare time is given to college work.
With the Irish Sports Council set to allocate the boxing grants for 2017 at the turn of the year, Desmond and her team-mates, including world silver medalist Kellie Harrington, face an anxious wait.
What are they
really like?
Rare insights on sport's biggest names from the writers who know them best. Listen to Behind the Lines podcast.
Become a Member
The difference between sinking and prospering in this game can so often hinge on whether your name is on that list or not — and Desmond, even at this stage of a fledgling career, knows she needs support to sustain her training programme and eventually reach her full potential.
"I'd love to make a career out of it if we could get backing from the Irish Sports Council and the IABA," she explains.
"If I could get on funding I would 100% like to make a career out of boxing but they don't take women seriously enough compared to the men. We're doing the same amount of training and not getting paid for it, I'd like to be taken seriously and I would like to make a career out of it.
"If not, I won't be able to take it seriously because something will obviously have to pay the bills. You're not going to succeed as a full-time athlete if you're working as well.
"I should be on funding but whether I get it or not is another story. We were delayed on the flight home [from Sofia] and everyone on the team could not wait another day because they had to be home for work. That shouldn't be the way on a national team, you shouldn't have that as a worry.
"The worry of how you're going to pay your next bill because you've skipped work to train. I'm lucky I get a lot of help from home, my dad is very good to me but if you don't get that you're nowhere like. That's not right, if you're on a national team you shouldn't be worried about that."
Desmond, like any young athlete, has ambitions to reach the top and sees the path forged by Katie Taylor as the avenue she would like to go down. Tokyo 2020 is her first objective and then, all going well, the pro game.
It's a dream she's harboured since first stepping inside the ring at the age of 11.
"I've a twin brother [Michael, who plays for Gaelic football for Cork U21s] and I needed to copy him at whatever he did," Desmond explains.
"He just started boxing as a fitness thing over the winter one year and eventually I asked could I go in and fight one day and from there it took off.
"I started winning Irish titles a few years after training and that was the start of it. I suppose I got my first international competition when I was 16 so since then it's been my main sport, I gave up everything else for boxing."
It took two years for Desmond to convince coaches to allow her enter the ring as she fought, literally, to break down the barriers preventing her from taking part.
"My grandmother wasn't too impressed," she says with a smile. "My first few fights she didn't want to see but once I started winning, she's the one now roaring me on. It's great to have my whole family behind me but once I come home there's a rule that there's no boxing talk in the house."
You get the feeling that the rule has been temporarily scrapped for the weekend as Desmond returns home as the toast of Cork and her country, irrespective of the bittersweet nature of events in Sofia.
"Bronze is not what I wanted but I'm sure I'll look back in a few months time and realise how big it is. It can never be taken away from me, I'll always have that title no matter what happens and that's a good thing to say."
As she says herself, this is only the start.