IT DIDN'T ALWAYS look like Cian Healy was going to be part of Ireland's World Cup effort this year, but the loosehead prop has worked diligently to ensure that he is involved.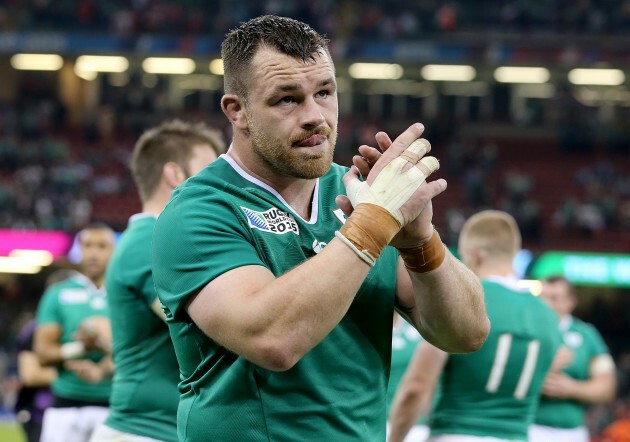 Dan Sheridan / INPHO Healy says he's never seen an Irish crowd like the one in Cardiff. Dan Sheridan / INPHO / INPHO
The 27-year-old played the final quarter of Ireland's win over Canada on Saturday, his first appearance on the pitch since April. Healy underwent neck surgery to repair a nerve issue in May and has been through a long slog of rehabilitation ever since.
There were moments of doubt, but Healy has come through them and now looks increasingly likely to play a major role in Ireland's bid for a best-ever World Cup performance.
The man himself was delighted to be back in a green jersey last weekend in Cardiff.
"Yeah I am, I would have liked to have got a bit more work done but I'm happy to get off the mark," said Healy post-match. "I was a bit more nervous than I thought I was going to be and it was the final whistle that I was happy about.
"You know, it was a long road of 24/7 with medics and in and out of rehab the whole time, and to get over that first hurdle and have that behind me now is nice."
The nerve issue in Healy's neck was one that was always going to require surgery to amend, and it's something that had been affecting the front row for some time before he went under the knife in May.
While it wasn't a shock for him to be told that an operation on his neck was required, it did come around suddenly in the end.
"It was a shock when they said, 'You're going into surgery tomorrow', but there was something there for a while, a bit of nerve damage, so it was best looked after," said Healy. "You can't play rugby or live with that, you have to have these things look after.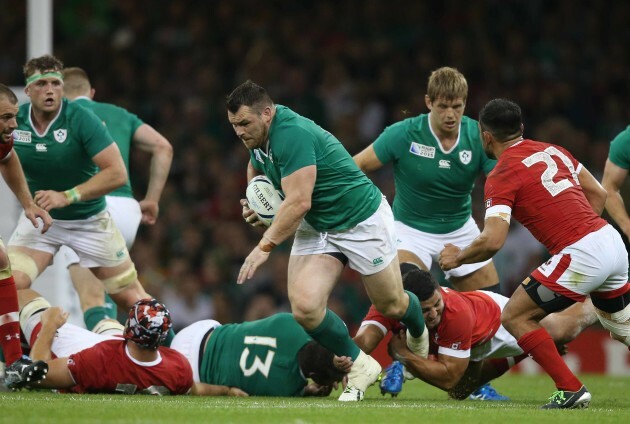 Billy Stickland / INPHO Healy went close to scoring, but says he knew he'd dropped the ball. Billy Stickland / INPHO / INPHO
"Nerve pain is a little different to everything else, it's kind of constantly at you, burning in the background. It's not like a broken arm pain or anything like that, it's just very uncomfortable and for the quality of life you have, you have to have those things fixed up."
Post-surgery life for Healy was equally as testing, particularly given his insatiable eagerness to be back in full training. While the natural down time in June was an ideal healing period, the Leinster man felt frustration at not being able to launch into pre-season with the rest of his Ireland teammates.
Instead, he had to be patient. Not easy for a man with Healy's energy.
"It's always a bit of struggle, not playing for a while and then being on rehab for the whole summer, but I kinda stuck to what the medical people said, they've seen it all before so I was just doing what I was told and plugging away, trying to be as patient as possible," said Healy.
That was one of the hardest things.
"I wanted to kick on and start training and scrummaging and stuff, but I just came back and I was told 'not yet.' They really looked after me until I had the right strength built up in the muscles again to be able to do that."
The fresh concerns for Healy in July were centred around the mobility and function of his right hand, with a slight delay in the recovery time there. The Ireland international wore strapping on that hand against the Canadians, but says all is almost fully healed.
Exclusive Six
Nations Analysis
Get Murray Kinsella's exclusive analysis of Ireland's Six Nations campaign this spring
Become a Member
"Pretty much but yeah, it's all good," said Healy. "It's building up all the small muscles. The big forearm muscles are pretty easy to build, but it's all the small ones that you can't do weights with, they're hard to build up."
Healy is raring for more.
The key for a man who perhaps doesn't naturally possess patience was the understanding from Joe Schmidt and his coaching staff, their genuine concern that he recover properly before even thinking about playing international rugby again.
For that, Healy is thankful.
"Well it just meant that I was able to do all the proper rehab. I wasn't under pressure to go out when I wasn't fully fit and hadn't developed the muscle to make a full tackle.
It's nice when the staff give you that sort of confidence that you can just tip away at your routine and have your set time in your head for return to play and this week was it, thank God."
There are several people to thank in his journey back to fitness, himself first and foremost, but now Healy is ready for a longer stint on the pitch on Sunday against Romania at Wembley.
Schmidt hasn't revealed to him any plans for exactly how long he will play, but Healy is confident he will fit back in swiftly if he gets a starting opportunity.
"It's not something I'm too worried about, getting back into the flow of it. I've been around long enough to be able to fit in and know what's going on. It's not totally new to me."