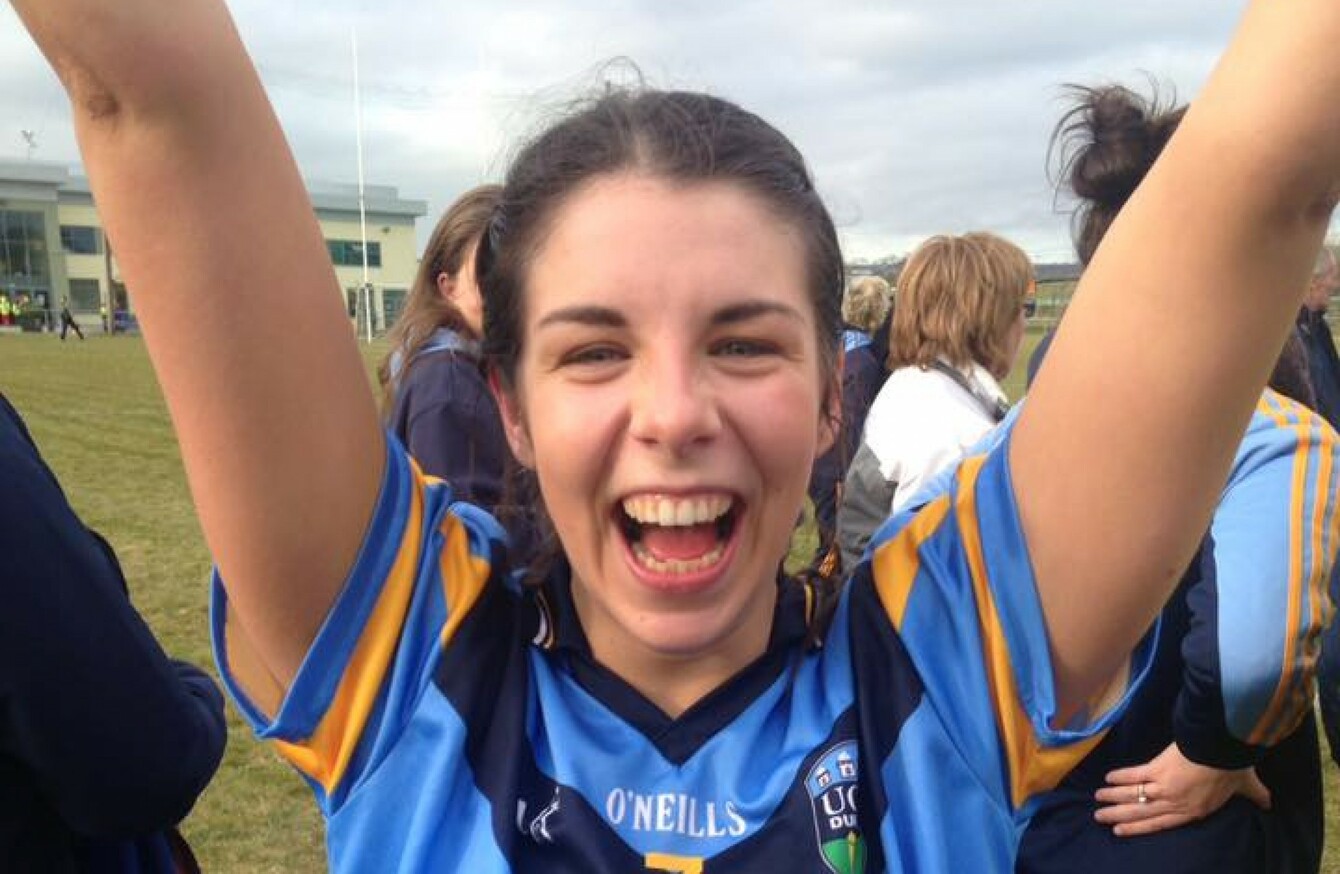 'It has always been a dream of mine to win it'.
'It has always been a dream of mine to win it'.
LIVING WITH RHEUMATOID arthritis, studying full time in University College Dublin while competing at the highest level in her sport; it's been a whirlwind year for Monaghan's Ciara McDermott.
McDermott, who was pivotal throughout UCD's O'Connor Cup campaign, has suffered with her arthritis over the past few years but won't let it get in the way of her successful football career.
"It's definitely my biggest obstacle when it comes to both football and my studies. I'm on two injections a week which keeps it under control and allows me to do what I do.
"When it's active and bad I'm just not able to play. It's frustrating because you don't know long you'll be out for. But then when it's under control most of the time it's like I don't have it, I know my limits"
Despite this difficulty and often having to take a break from football, McDermott has performed admirably for her club, college and county, and was rewarded this year mainly through her involvement with UCD.
She lined out at full-back for the South Dublin college, who won the O'Connor Cup and reached the Division 1 League Final. The Social Science student also deservedly picked up a HEC All Star.
"I've been watching the O'Connor Cup since I was 16 or 17. It has always been a dream of mine to win it and to do that in my final year of college is very special and something I'll never forget.
"When I started playing football for UCD in 2013, ladies football in the college was in a bad way. If you told me then that I would win the O'Connor Cup three years later I don't think I would believe you."
McDermott plays her club football with Magheracloone Mitchells and won Ulster Young Player of the Year in 2011. She doesn't let her achievements phase her however.
"Obviously winning individual awards are something very special and to get it for full back knowing the quality of footballers there was at the weekend is a huge honour. I honestly wasn't expecting it so I am looking forward to the awards night. I feel that our whole team deserves an All Star each."
The 21-year-old, who's in the final year of her degree, finds it challenging to balance her studies, football, social life and spending time with family and friends.
"It is difficult to balance everything at this level but once you get into a routine it all becomes the norm. I travel home to Monaghan very weekend to see my family and friends from home.
"During the week, we always train on Mondays and Wednesdays and usually have a game Thursday so it's important to get my college work done during the day. After most games was when I got to go out and this was always with the girls on the team which only made us closer.
"Definitely there were times where balancing both college work and training and games was tough but it just had to be done. I found once I was organised for both college and football was when I could manage the workload. It was important to stay on top of things and not let the college work build up which is easy to do at times."
The future? McDermott is confident. She was once told she might never play football competitively again. She has obviously overcome this barrier before but the rising star will take everything in her stride.
"Hopefully this won't be my last year in the UCD jersey. I hope to come back next year or the year after and do a Masters in Social Work.
"I really don't know what the future holds when it comes to football. At the moment my arthritis is under control and I am able to play at a high level. Unfortunately I could wake up tomorrow and not be able to play, so I take one day at a time.
"I'd love to come off my injections so if that means taking time out for a while I might have to do that. At the moment though I feel great and I'm thankful that I can play football and not be any different from the other girls I play with."