CIARAN MURTAGH IS starting his second senior championship match today, having fended off younger brother Diarmuid for the number 15 jersey.
Ciaran was one of three championship newcomers to John Evans' team for their Connacht quarter final win over Leitrim last month. After a lively showing he's been retained for today's semi final in what's a relatively unchanged Roscommon team.
"The both of us (Ciaran and Diarmuid) started off going in to the development training and that started in early November. So we've been going to training together since then so we've definitely been close," Ciaran told TheScore.ie.
"At the start of the year when I started on the development panel my main aim was to get on the senior panel. Then once I got on that I said I'd battle away and make sure I got on the team, so I'm happy with it all so far.
Ciaran is one of three brothers all to have played on the Roscommon senior team. Older brother Brian was an integral part of the Roscommon U21 team in 2010 and he was involved with the senior panel in 2012.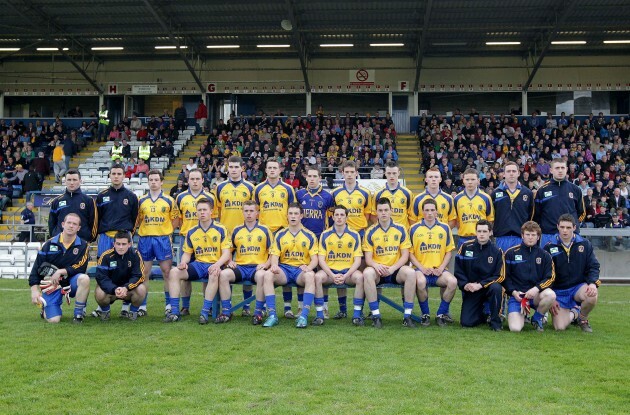 Morgan Treacy / INPHO The Roscommon U21 team in 2010. Brian is six in from the right. Morgan Treacy / INPHO / INPHO
"I think it definitely helps when you're going to training and stuff you know, it's easier to get up for the trainings and to talk about stuff after so it's a good help that way."
Ciaran, still only 22, made five appearances during this year's league including the final defeat of Cavan in Croke Park. In 2012 he was a part of the U21 team defeated in the All-Ireland final, and he's one of 11 players from that squad to have featured during the league and championship so far this year for the Rossies.
"It's weird how it works out," says Ciaran. "In 2012 you never thought you'd be playing with all the same fellas again so it's just weird how it goes. I've been playing with the same faces all the way through nearly."
Ryan Byrne / INPHO Diarmuid Murtagh lost out to his older brother. Ryan Byrne / INPHO / INPHO
Breaking in to a fancied Roscommon forward line, littered with the likes of Cathal Cregg, Senan Kilbride and Donie Shine, Ciaran has fought off some steady competition – none more so than his younger brother.
"Oh its definitely competitive, even coming home from training, if I'm starting and he's not, or the other way around, there'll be very little talk like."
Diarmuid was a stand out performer in this year's U21 team, and at just 19 he also managed 2-5 in his five appearances during the league.
"I'd say me and Diarmuid are very similar, but Brian plays more as a back. We're all very close passing-wise and shooting-wise. Diarmuid is left footed though, and me and Brian are both right footers so that's the main difference.
"We wouldn't miss many of each other's games. I'd always be nervous going to their games, and we're always able to tell each other what we did right or wrong."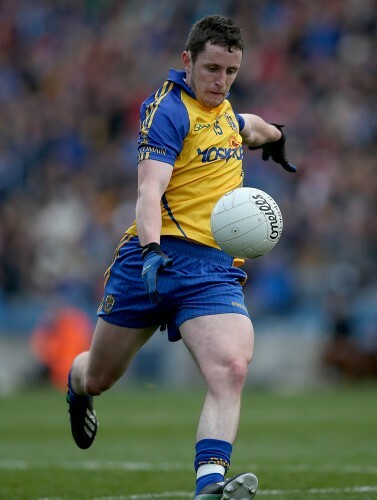 Donall Farmer / INPHO Ciaran's been in form this year. Donall Farmer / INPHO / INPHO
Despite some excellent performances in his two years with the Roscommon minors in 2009 and 2010, and his U21 performances, it was Ciaran's club form that caught the attention of John Evans this year.
"Definitely with the club (St Faithleach's) it's a big help having the two lads as you'd know where each other are on the field and stuff like that.
Although it's his first year on the senior panel the NUIG graduate has some experience of the capabilities of Aidan O'Shea, Jason Doherty and co. Last year he was the top scorer in a NUIG Sigerson team which brought reigning champions DIT to within two points.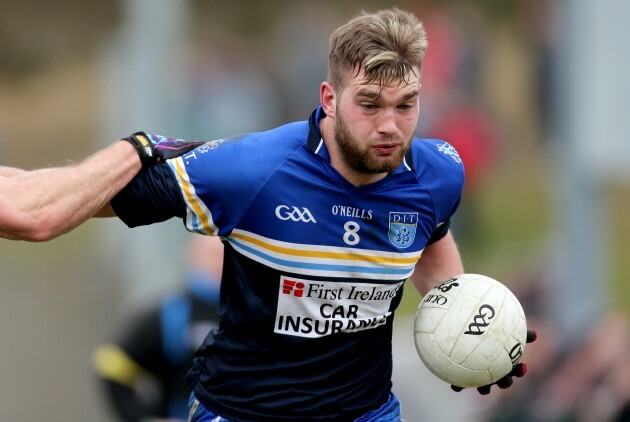 James Crombie / INPHO Aidan O'Shea playing for DIT. James Crombie / INPHO / INPHO
No doubt there'll be plenty of Murtaghs on the Roscommon score sheet later today and well in to the future. Despite the competitiveness, Ciaran says his close-knit family are the driving force behind the brother's success.
"Our family is very close, our parents would have brought us everywhere from a young age and they never miss a game. Especially our father he'd be able to talk to us too about the games and it's good to be able to talk about the game afterwards."