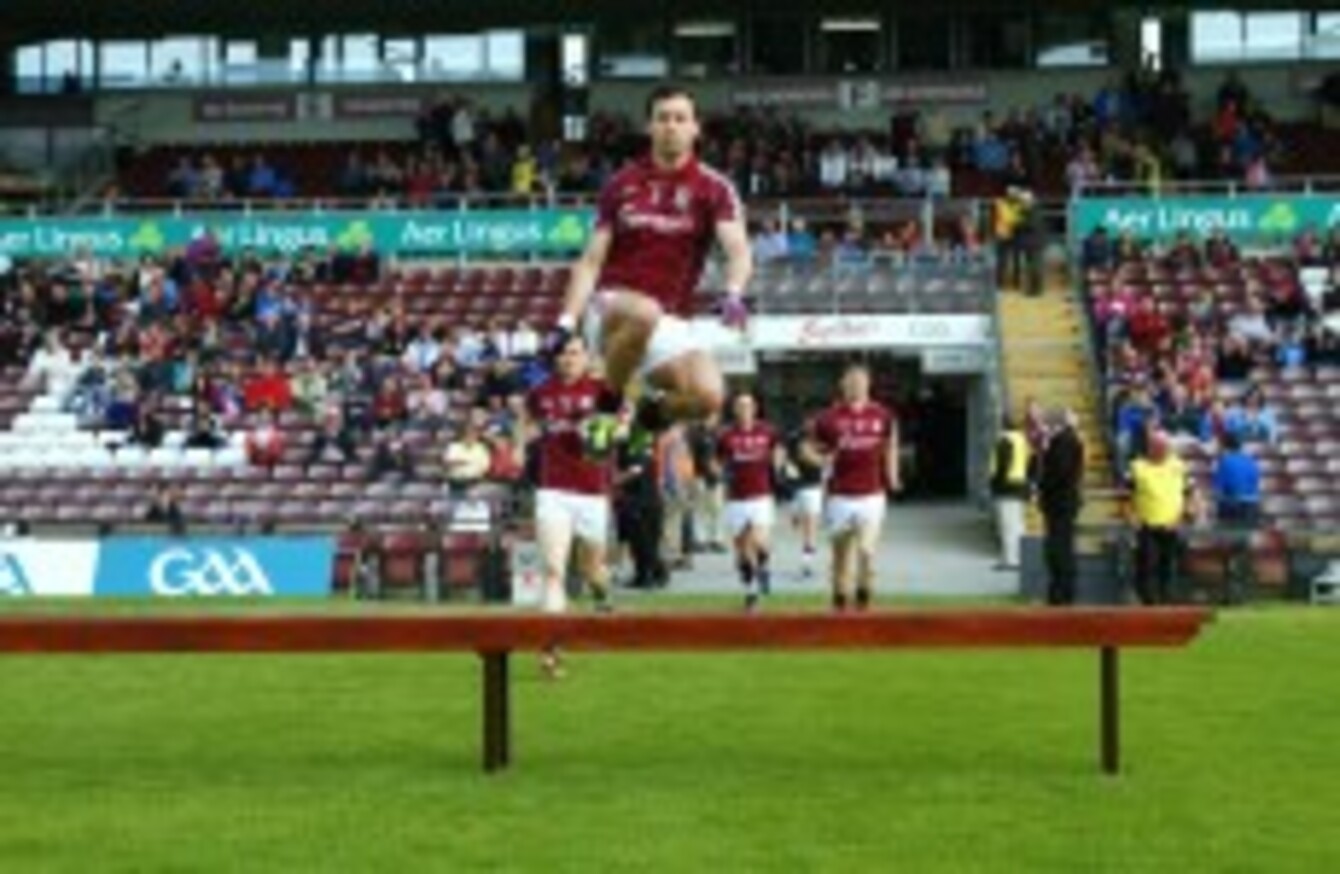 Galway captain Finian Hanley leads his team onto the pitch.
Image: INPHO/Mike Shaughnessy
Galway captain Finian Hanley leads his team onto the pitch.
Image: INPHO/Mike Shaughnessy
I WENT TO Galway's first league game of the year in Pearse Stadium, when they beat Derry at the start of February.
It was your typical league fare, with the hardcore of support that you could nearly name by heart, the quality of the football, and the sense that whatever happened on that afternoon, the season would be decided somewhere very different, in a very different atmosphere.
I even saw a man methodically eating a bag of chips that he had placed on the lid of a wheelie bin – THAT'S how 'league' it was.  And that, I'm afraid, was pretty much what the Galway-Tipperary game on Saturday night felt like.
Galway did just about enough to win, with a really good spell of football in the third quarter, but even that good work was spoiled in large part by the complete fade-out in the last 15 minutes when, with the game won, Tipperary came back into it and scored the last five points of the game.  They at no stage looked like they were going to do enough to actually claw back the deficit, but it took the good out of Galway's one good spell of football and left people with plenty of doubts about the home team as they shuffled out.
There was also that nagging feeling that here was a game that Galway HAD to win — but that it was in many ways a 'no-win' situation for the players and management.  Maybe if they had gone out and really steam-rolled Tipperary it might have said something, but a loss would have been catastrophic, and a win was the basic requirement expected of them.
And whatever you may say about the Connacht championship, we know what a game in that tournament feels like.  A Saturday evening game against Tipperary in front of 3,000 people (actually a pretty respectable crowd, I thought) was unfamiliar, and pretty unglamorous, territory.  And that's the big challenge for teams going into the qualifiers — to be able to adapt your expectations of what the championship is supposed to feel like.
If it's Saturday evening, that's fine.  If it's a team you've never played before in the championship, that has to be fine. If it's going to be summed up on The Sunday Game in three or four minutes, then that's the way it's going to be.  No matter how many people are there or not, this is the championship you trained for all year.  There is no other.  So the mindset has to be in championship mode, even if the build-up and everything else around it, isn't.
Galway have been terrible at that in recent years, and it's true that very quick turnarounds after defeats in the Connacht championship haven't helped them.  This time around, they had five weeks to recover from their provincial championship defeat, and even though the ghosts of that Mayo game were hanging over Pearse Stadium, they ground out the win and it should feel like a different tournament now.
What are they
really like?
Rare insights on sport's biggest names from the writers who know them best. Listen to Behind the Lines podcast.
Become a Member
Next steps
The draw has been kind to them again, at home to Waterford, but there don't look to be too many easy games after that.  No matter – if they were to get to Round 3 of the qualifiers after two wins, they would at least be in the sort of mindset you need to go and beat another Division 2 team.  Do that, and the players will feel they have had a summer for all that training, at least.
It was a rather damning indictment of the footballers that the biggest cheer of the night came when the score in the Dublin-Kilkenny hurling game was announced over the PA, but then again Tipperary were down to play the losers of that game, and Galway were going to play the winners, so everyone in attendance had a horse in that race.
That result has really blown the hurling wide open — and one of Kilkenny or Tipperary will be gone by the second week of July, which is extraordinary.  The feeling around Galway city on Saturday night was that it could well be our year… the footballers have to make do with rather less ambitious aims.
This week Murph was – surprised at the sheer breadth of culinary options available at Galway home games.  Supermacs have supplied catering vans in Pearse Stadium, and there is something very incongruous about trying to get your head into championship mode, while watching a guy absolutely destroying a 12 inch pizza in the seat next to you.  I don't know why a bag of chips is acceptable and a pizza isn't, but that's just how I feel.