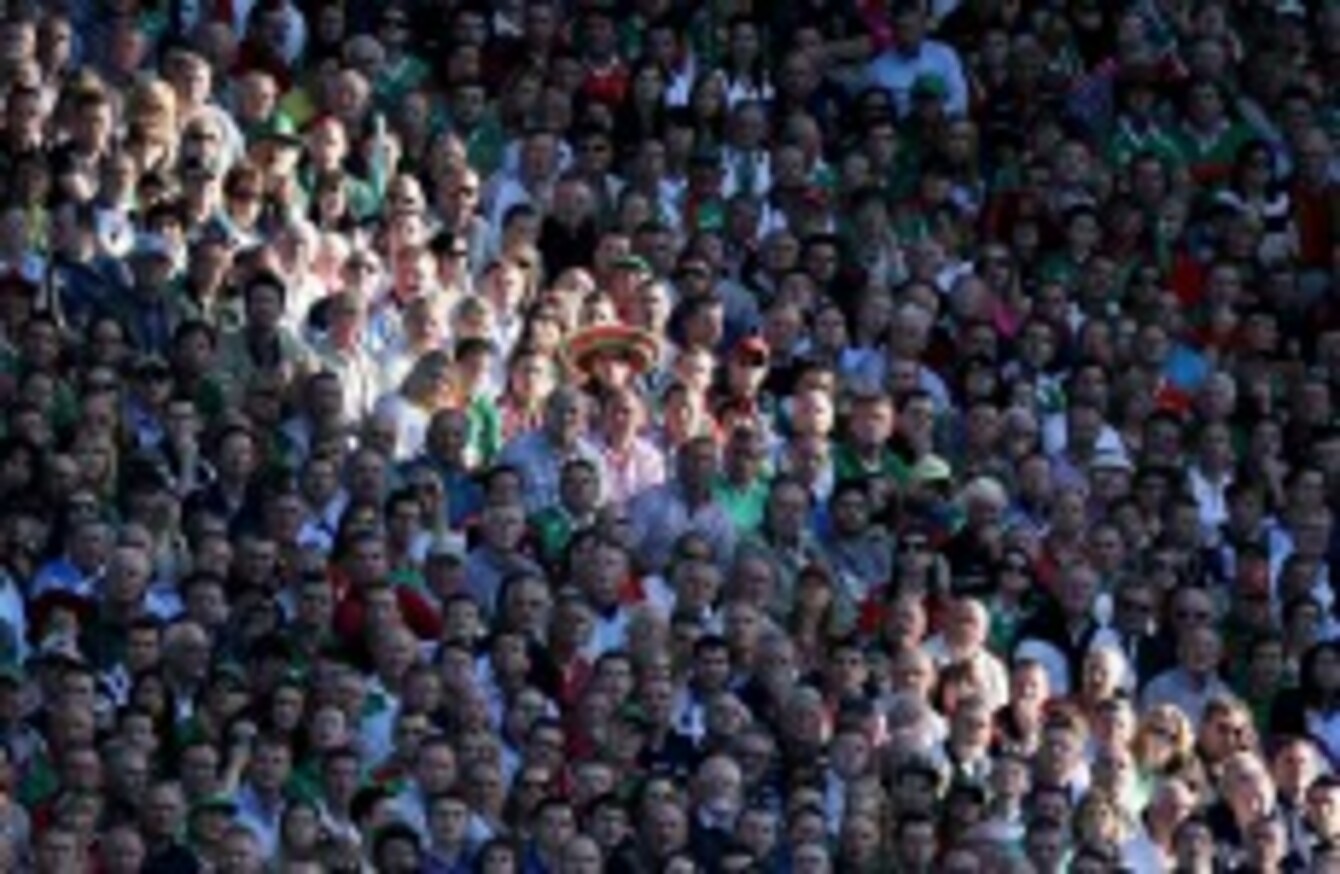 A general view of the crowd during the game.
Image: INPHO/Morgan Treacy
A general view of the crowd during the game.
Image: INPHO/Morgan Treacy
AFTER 26 MINUTES of yesterday's All-Ireland final, Mayo led by eight points to 1-2.
They had gotten past the first quarter without shipping any fatal blows.  They had seen Cillian O'Connor take a couple of heavy knocks and survive.
Andy Moran had kicked two points.  At that stage, despite a couple of bad misses, and an at-times shaky full-back line performance, Mayo were three points up and looking good.
So what happened?  They didn't score another point from play in the game.  So much will be written, so much emotion will be expended trying to rationalise how Mayo have lost another of these things… but they didn't play well enough to win the game.  They didn't even make Dublin play all that brilliantly to win.  And that's the real kick in the pants.
These Second Captains TV shows don't make themselves, so I was far from sure I'd be able to take a few hours off to go to Croker earlier in the week.  Then Friday morning came, and I realised this was not a game I was comfortable missing.  But as the weekend passed on, the more I realised that there simply wasn't a ticket to be gotten anywhere.
I got a phone-call from a former underage All-Ireland winner from Mayo on Saturday asking me for a ticket.  I got a ticket for the hurling replay.  But I could not get a ticket for Sunday.  So I sat down and watched it on TV, cursing my luck that I might miss Mayo's date with destiny.   The demand for tickets reflected the confidence Mayo people had in their team… but they just couldn't get it done.
I talked last week for quite some time with a recent inter-county manager who said something very interesting to me about the game as we currently see it.  He said that when we talk about 'skilful' footballers, we only ever talk about the guys who can put the ball over the bar.  That's the only facet of the game that we are comfortable calling 'skill'.  Proficiency at anything else is not seen as something truly beautiful.  Admirable maybe, but not truly skilful.
It's a flaw in how we look at the game, but Bernard Brogan was the difference between the teams, and whether you put that down to skill (of which he has plenty) or outstanding courage and conviction in his own ability (also qualities he showed in abundance), it doesn't change that truth.
Where Paul Mannion went off injured, and Ciaran Kilkenny floundered slightly, he grew in stature.  He benefited, it should be said, from Denis Bastick breaking the habit of a season for this Dublin team when he passed the ball to a man in a better position for the second goal, but Brogan was the man on hand.  He was able to make the difference when it mattered.
Famine
When Mayo finally do break this long losing streak, Cillian O'Connor will be the man to fulfil the Bernard Brogan role.  Maybe we fixate on Mayo's lack of a marquee forward which all winning teams must have, because we have that obsession with 'skilled' players.
When you look at Mayo's spread of scorers, and how heavily they scored over the summer, it should be seen as a positive that they don't rely on one man to do all their damage.  But if you go back through the last 20 years, name a team that has won an All-Ireland without a 'marquee' forward.  Cork in 2010… and other than that?  Donegal in 1992 might be your next best shout.
That skill that is prized above all others, to the exclusion almost of all others, is still the difference between the teams.  Cillian O'Connor is a much better forward at 21 than Bernard Brogan was.  There will come a time when this will be his team, and hopefully Mayo will be in a situation to help him do what Brogan did yesterday.
People will sympathise with Mayo, and they will shake their heads ruefully and ask them how they can possibly come back for more. But they will come back because the alternative is… to give up?  Football is too important to Mayo, and it's too important to this group of players, for them to stop now.
Last year they were able to sit down and watch the final and take their lessons from it.  They will do the same this year.
They will be hurt, and then they will be angry, and then they will go back to training.  Because the alternative is giving up – the alternative is forgetting about football.  And, for that county more than any other maybe, that's not even a choice.