NOT THAT THERE was anything wrong about how they went about their business back when they were the greatest edition of a hurling team we had ever seen, but nobody could deny that Kilkenny under Brian Cody were successful at – at least for outwardly appearances – suppressing their emotions.
Neither flamboyant or frustrated, they just tended to get the job done and then move onto the next task. Flowery talk would be kept to the minimum and the old maxims would be recycled.
But it seems that the grandstand finish to Sunday's Leinster final, coupled with the recent spell of sweltering weather has loosened us, and Kilkenny up. Even Cody, there as a spectator, was a-whooping and a-hollering at the end when Cillian Buckley planted his shot into the only available section of Éanna Murphy's goal to seal a remarkable win for the Cats.
Pile-ons? Kilkenny? Most unusual.
Afterwards, Buckley looked to be getting almost overwhelmed with emotion as he talked to RTÉ's The Sunday Game, explaining his goal through the odd wobble in his voice.
"Yeah, I can't say I practised too many of them and maybe that showed. But it opened up and I said, 'let's go for it here,'" he said.
"75th minute of a Leinster final, there's more behind me than ahead of me here now, so I said I would take it on. As I said, a dream come true. To celebrate with the lads, there was a pile-on at the end there and I will never forget it, honestly.
Kilkenny match-winner Cillian Buckley admitted that he thought the Leinster title has slipped from his side's grasp before he stepped up to hit a stunning goal with the final puck of the ball. #TheSundayGame pic.twitter.com/hNMNi1slSY

— The Sunday Game (@TheSundayGame) June 11, 2023
"And with my family there at the end… I have been playing with Kilkenny for twelve years and honestly, it's special."
Asked what was going through his mind, given Kilkenny were two points down and referee Sean Stack was about to blow for full time, Buckley continued, "I dunno. I don't get into that position too often. So look, there were a few seconds left. To be honest, I looked for a pass and it wasn't on, looked again.
"A shot, I'll call it a shot, and it managed to get in.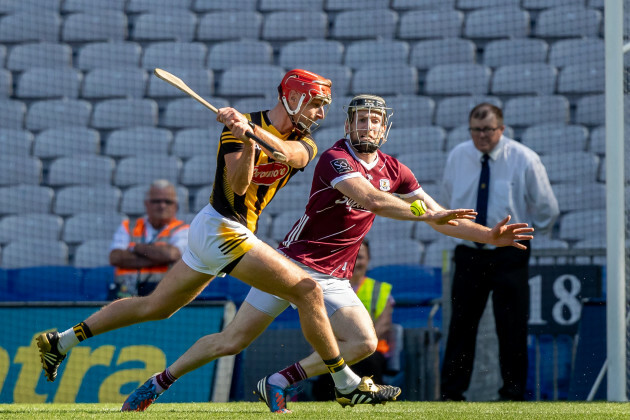 Morgan Treacy / INPHO Cillian Buckley fires home the goal that wins the Leinster final. Morgan Treacy / INPHO / INPHO
"But look, talk about special moments… To do that for your team and among your team and to win the Leinster final after it. I'll be honest, it's just savage.
"It's a dream come true. For it to open up the year for us now. We are over the moon and Leinster champions, but for what it does for us now is just savage."
It's worth noting the frantic spell of play that happened just before Buckley was presented with the opportunity to salvage the game.
In the final play of the game, TJ Reid moved away from a ruck towards goal. The ball was played to him but Seán Linnane intercepted the ball.
There followed 30 seconds of the most intense hurling you could ever hope to see. Linnane thought he had it in his hand a couple of times with 11 players all within two steps of the ball. Gearóid McInerney did rise it , but was blocked down by John Donnelly as he went to clear. The rebound fell to Joseph Cooney but he dropped it twice. McInerney swung one-handed at the ball on the ground only for TJ Reid to get it into his hand.
He tried to play it out of the crowd only for Cathal Mannion to block and after another attempt was made to rise it, John Donnelly arrived, secured possession, took a spin to make room for a blind strike towards goal.
The ball fell for Pádraic Mannion. He drew his boot on it, but it went directly to Buckley. A few more inches of elevation and he wouldn't have reached it. Buckley looked up, sidestepped Mannion and TJ Brennan, and slotted it into the net.
"It was deadly," he beamed.
"It was a special moment and I have had them up here with All-Irelands. And that will drive me on and drive the boys on. It's moments like that, that make years and I am just happy to be part of it today.
"You look back, for 75 minutes there today there were a lot of big moments, Wally Walsh there under the Hogan Stand, unbelievable, Mossy's goal in the first half, carrying an injury into the game, unbelievable.
"Conor Fogarty just carried this team throughout there. So all those special moments all add up. I am just happy to be there and on the last one today."
It makes it 75 Leinster titles for Kilkenny, and this is their fourth in a row. Buckley insisted they intended to celebrate it.
"We came here to win silverware today, to win our provincial championship, to win the Bob O'Keefe," he explained.
"And straight away Eoin Cody called that out, we will celebrate that today.
"No doubt about it, there are benefits to the four-week run in now to a semi-final. We will take a couple of days out of this week, but look, a Leinster medal, you never turn your back on that and that will definitely be celebrated for us."