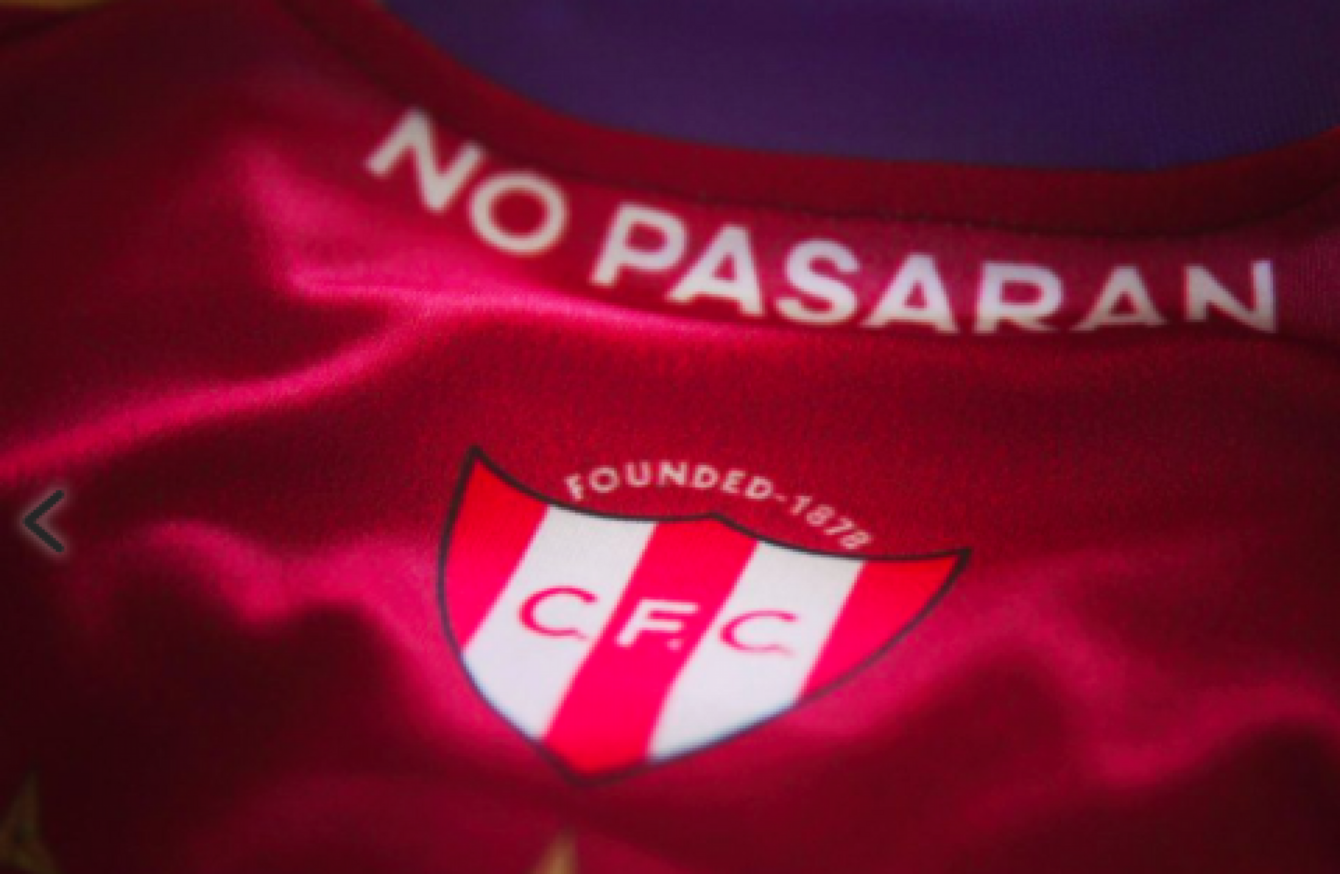 IT WAS TIGHT.
But Clapton Community Football Club did just enough to hold on and claim a 2-1 win over Ealing Town FC at the Park Club in east Acton yesterday afternoon.   
In the Middlesex County Football League Division 1 Central & East – the 12th rung on the English football ladder – little attention is usually paid.  
But there's a bit more spark heading into this new campaign and that's because of Clapton's remarkable story.
We'll get to their new-found fame in Spain imminently but it needs some context. Because, right now, there are two teams in the east London locale.    
"A lot of lads were a bit disenfranchised with football in England and how much it cost to go to games," says Ciaran Daly, a CCFC member and co-founder. 
FINAL WHISTLE!

FT: Ealing Town 1 - 2 Clapton CFC

The Tons start their league campaign with an excellent away win thanks to goals from Smyth and Oshin.

What a wonderful world. pic.twitter.com/pNx6Khk4hx

— Clapton CFC (@ClaptonCFC) September 15, 2018
"And there was the right-wing nature of a lot of clubs in London too. So they decided to follow their local club and that was Clapton FC and they established a fan-base here over the last four or five years. The gates went from about 25 to 330 or 340. The league has an average of about 50 so they were doing great stuff and there was a lot of community involvement like food banks and generally promoting inclusion."
The new 'ultra' brigade of Clapton FC fans injected some badly-needed energy, enthusiasm and momentum into a club that had been stuck in neutral. The noise they made had a purpose: it was anti-racism, anti-fascism and celebrated openness and inclusiveness instead. And their presence led to a massive increase in attendance too. What the ultras were doing – offering an entertaining few hours on a Saturday for the local community – led to many curious-minded people paying their fiver at the gate, having a beer and a smoke and remembering what football used to be. Still, it wasn't long before the handbrake was pulled.   
Vince McBean is the CEO and has been there since 2007. But for a few years now, there's been a standoff between him and Clapton's hardcore fanbase.
Mainly, the dispute revolves around the club's ground – the Old Spotted Dog – which is steeped in history. It's the oldest football stadium in London, dating back to 1888. But McBean has his own plans and began proceedings to sell part of it.       
"There have been a lot of protests and we started to boycott the home games," Daly says. 
"Clapton has a really long history with the community and has been incredibly progressive. It's always been a constituted members club and has to abide by the constitution. But he's not really doing any of that. But when this guy took over, he shut down the membership. So any of the so-called votes on who to appoint to certain positions haven't been taken by vote. We've tried – quite peacefully – to solve that but it just hasn't happened. 
"He (McBean) was increasing ticket prices and the money wasn't really going back into the team and it was reportedly in debt. At the end of last year we took a vote on what we should do next and most people were happy to move and start a new club, under the guise of Clapton and still using the name." 
Fan owned club totally worth supporting. pic.twitter.com/BkA5IHBQr7

— Whitehawk Brigade (@HawkArmy) September 14, 2018
So, back in February, Clapton CFC was born.
Entirely fan-owned and playing three tiers below their local brethren, they've managed to entice a sizeable support, including some long-standing veteran Clapton fans who had also grown disillusioned by McBean's stewardship and the loss of the young, vibrant ultras to the picket lines.
Many fans had been drawn to the club because it seemed to contrast heavily with the corporate greed of Premier League sides. Now, on a much smaller scale, it was happening at Clapton.    
Their story has always been tied to acceptance and tolerance. Walter Tull, one of the first ever black players to play in England, was given his start by the local side before going on to greater acclaim with Tottenham.
So, the new club wanted to retain that same philosophy they had proudly trumpeted before. In the summer, they ran a competition for its 300 members to design an away jersey for their debut campaign.  
Madness quickly ensued. 
In a park close to the Old Spotted Dog ground is a plaque remembering the International Brigades, a group of British and Irish men and women who went to Spain to fight against fascism and protect democracy in the mid-to-late 1930s.
One of Clapton's members submitted a kit design that paid tribute to those who put their lives on the line in pursuit of an ideology shared and promoted by the local football side. The shirt's three colours – purple, red and yellow – are taken from the International Brigades flag while on the reverse side of the collar is the phrase, 'no pasaran' ('they shall not pass'), used frequently by the soldiers.
Unsurprisingly, the design won in a landslide vote.
The club approached Rage Sports, an Italian manufacturer known for working with far-left teams and who source their materials from companies who pay workers a fair wage.     
"We felt it was a cool shirt and we could sell them at the inaugural game," Daly says. 
"I just thought we'd have a snazzy away kit. But it took off like wildfire and caught everyone on the hop."
It was only a few weeks ago when Clapton CFC played their very first match, a pre-season friendly. But when photos of them wearing the new kit were shared by Spanish football fans, everything changed.    
Apologies but due to the absolutely huge number of people visiting our website today, it has now crashed. We're working on it! pic.twitter.com/bvFYLzkoYd

— Clapton CFC (@ClaptonCFC) August 26, 2018
The initial idea was that they'd shift a couple of hundred to members over the course of a season. Maybe some football hipster types would be persuaded to fork out 25 quid too.   
"It happened over the course of a weekend, really," Daly says. 
"I came into work on a Monday and one of the guys on the committee said to me, 'Do you know how many shirts we've sold in the last 48 hours?' And I had no idea. But then The Guardian ran with a story and a few more media outlets and it became apparent that way more jerseys were sold than anyone really thought. And when we saw the stream of messages, it was all a bit insane, to be honest. 
Right now, I think we're up to 6000 shirts having been sold. And almost 5000 of those sales were in Spain. Because they were coming in in such small quantities initially, we didn't have to pay any VAT. But now, because of the demand, we are liable so we've had to raise the price by a fiver." 
There's now such a backlog that they've stopped taking orders but hope things will be back to normal in the next few weeks. 
According to Daly, the windfall ensures the club will be in good health for the next six or seven years. Membership has more than doubled. Interest has never been higher. Not bad for a brand-new club who don't even have a place to call home.
Proud to be part of @ClaptonCFC's first ever home game! #COYT pic.twitter.com/DujVMR9qa5

— Smn Vlprs (@smnvlprs) August 25, 2018
Still, as remarkable as the story is, Clapton CFC are still focused on a key objective: wrestling back control of the club they started out supporting. 
"We're groundless at the moment and just renting," Daly says. 
The Old Spotted Dog is the oldest senior football ground in London and it's terrible because it's a run-down dilapidated ground. But we've got a little scaffold in there and we make noise, bring a few cans in and that's what Saturday was all about for us for a long time. It's our spiritual home, to be honest. It feels like we've been to space and we just want to get back there." 
"Some other teams might see us as trouble-makers because we bring quite a noisy crowd. The guys are very much anti-discrimination and anti-fascism and other, kind of right-wing teams, are opposed to that. But also, the Clapton chairman paints us as a group of troublemakers because we bring the noise and we've stood up to him. Some people have the wrong impression, I think. So it's great to have this out there now so everyone can see that we're good guys and that it all comes from a really good place."
Daly, a Galway native, has been in London for a long time now and involved with the Clapton football scene for a number of years, having grown intrigued by what his friends were telling him about the atmosphere and environment.  
"We went down for our first game and there was about 400 people watching a non-league fixture," he says. 
"These were the days when you could bring flares in and not get fined. Just a great laugh and great craic. Singing, chanting, a lot of banners and you talk to a lot of like-minded individuals and you see why people don't want to go to Premier League games. Paying 70 quid in when it was a fiver for a Clapton ticket." 
It's an underdog story, really.
CCFC didn't like what was being said. So, they changed the conversation. They value community and the promotion of positive messages. And they're doing it while being committed to a shared-ownership system.
Next weekend is their first ever competitive home game and Daly is expecting a spike in attendance.   
"We got 240 for the inauguration game and we didn't expect it," he says. 
"So, hopefully there'll be about 300 and a real party atmosphere. We'll clean up the ground, put up the gazebos and that's the extent of it in terms of shelter. But I'd really recommend coming over for a game when we're a bit more established because it's something else." 
After all this success, there is one slight concern about future plans: the pressure of designing the next away kit.  
"I didn't vote for this one, actually," Daly admits. 
"There was a snazzy blue one with a rainbow stripe that promoted LBGT and I liked that better. It might be held in reserve for the next one. But we might keep this for a while, to be fair."     
The42 is on Instagram! Tap the button below on your phone to follow us!