AT THE END of September, they were national hurling kings in Croke Park.
Now eight members of Davy Fitzgerald's Clare senior squad aim today to become local football kings in Cusack Park.
The last county senior final in the country takes place this afternoon at the Ennis venue with Cratloe taking on Doonbeg.
West Clare outfit Doonbeg are backed by tradition as they chase the club's 19th title. For South-East Clare outfit Cratloe this is new territory as they venture into the club's first Clare football decider since 1887.
The Cratloe squad that attempts to land their maiden crown has familiar faces at its core. Club men Podge Collins, Conor Ryan and Conor McGrath all started in September's triumph for Clare before picking up Allstars last Friday night.
Cathal McInerney came on as a sub in that game, Liam Markham was on the bench and only injury prevented Sean Collins from having a greater role.
Added to that they have Fergal Lynch from Clooney-Quin and Brendan Bugler from Whitegate, a duo who kick ball with Cratloe as their clubs are hurling only. Whitegate's exit from the Munster intermediate hurling championship last Sunday freed up Bugler to be involved.
On the sideline is Cratloe's manager Colm Collins. The father of Sean and Podge, along with panellist David, he has spearheaded the football emergence of Cratloe.
"I'm from Kilmihil originally and the family would have moved out to Cratloe in 1999″, outlines Collins. "It's been a long time waiting to see Cratloe in a Clare senior football final.
"We're a very small club but everyone gets on well together in keeping hurling and football going. A lot of the lads have parents who come from football backgrounds and that helped it take off.
"We had an older crop of players like Michael Hawes, Barry Duggan and Sean Chaplin to emerge first before then the younger lads, who people would be familiar with from Clare. It's a mix of those different generations that's brought us to here."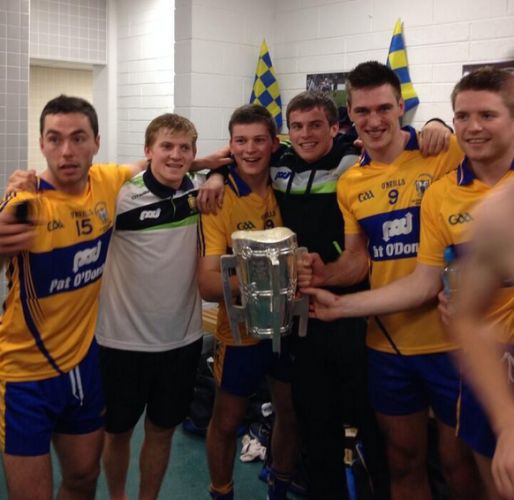 Cratloe players celebrate September's win.
Pic: @conorcratloe
Banner Boss
For Collins there is another interest in today's game. As the newly installed Clare senior football manager, he's running the rule over talent for 2014 these days. Juggling club and county management positions makes for hectic times.
"I'm dead happy to have the two jobs but it's been hectic. I never thought that I might be in this situation really but you just deal with it as best you can".
And the theme of a hectic schedule will certainly apply this weekend if Cratloe manage to win today. The Clare county champions are rewarded with a Munster semi-final tomorrow against Waterford's Ballinacourty. But Collins would gladly seize that chance if it arose.
"Both teams would be delighted to get the opportunity to play Sunday. It's a Munster semi-final and you'd be Clare champions. We'll be thrilled with having that privilege if we get it."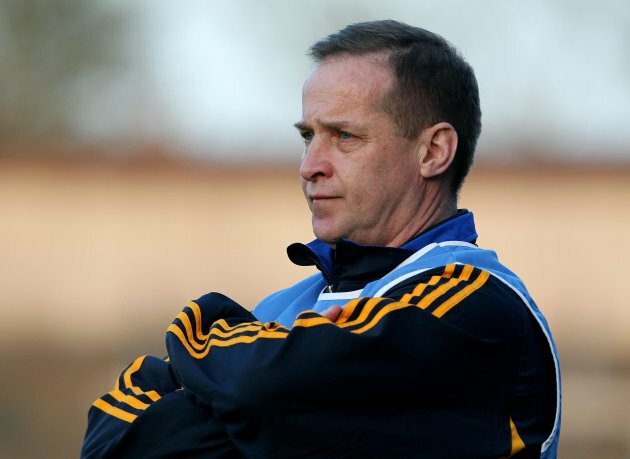 Clare's Colm Collins
Pic: INPHO/Lorraine O'Sullivan