BEFORE PLAYING IN the 1992 All-Ireland SFC semi-final, the Clare footballers were treated to an unlikely training session in Croke Park.
INPHO Dublin's Vinny Murphy scoring a goal against Clare in 1992. INPHO
The players had just watched the clash of Donegal and Mayo in the other final-four tie, when they were permitted to step onto the grass in an unprecedented move. Croke Park isn't normally used for such purposes. Entrance to the pitch is tightly restricted and the facility is mainly reserved for playing matches. 
The Clare team knew they were fortunate to get such an opportunity. Moreover, they were not expected to be contenders at this stage of the season, and now they were about to complete a vital warm-up at GAA headquarters. They have their then-manager John Maughan to thank for all of it, after his request was approved.
A report in the Evening Herald reported at the time that the GAA President of the time, Peter Quinn, allowed Clare to have their unique training session "because of Clare's special circumstances." 
Francis McInerney of the Doonbeg club was the Clare captain in 1992, and had just captained his county to a famous Munster SFC title a few weeks before. Now, another football heavyweight stood before his side in a stadium that wasn't familiar to them.
"It was a quick enough turnaround after the Munster final and the celebrations," McInerney says in conversation with The42 about his memories of Clare's brilliant season in 1992.
"We'd only been used to the coverage of All-Ireland semi-finals on television. We grew up watching those games and being up in Croke Park was a rare thing for Clare footballers. It didn't happen before that really.
"We were kind of going into the unknown, playing against Dublin in their home pitch really. But John's experience of knowing about Croke Park helped us. We went up to the other semi-finals beforehand between Donegal and Mayo, and we actually had a training session after the game in Croke Park.
"I don't know how they pulled that off but that helped settle us down a bit and got used to the dimensions of the pitch."
McInerney was first drafted into the Clare seniors in 1986, and in 1989, the footballers reached a serious lowpoint when they shipped a 10-point defeat to Tipperary in the Munster championship. In 1990, they welcomed the appointment of Mayo's Maughan and began the climb again. 
Force to retire from football at 25 due to injury, Maughan took his first steps into coaching with his native county in 1989, and was part of the backroom team who brought Mayo to the All-Ireland final. And then the call came from Clare, and Maughan brought all the attributes he had gathered from his army training, to this new job with the Banner.
"He'd seen the process in Mayo and what was required," McInerney recalls. "He had a mindset to improve us with his army background and see where it took us.
"The late Noel Walsh [Clare selector] made contact with him and he was in the army as well."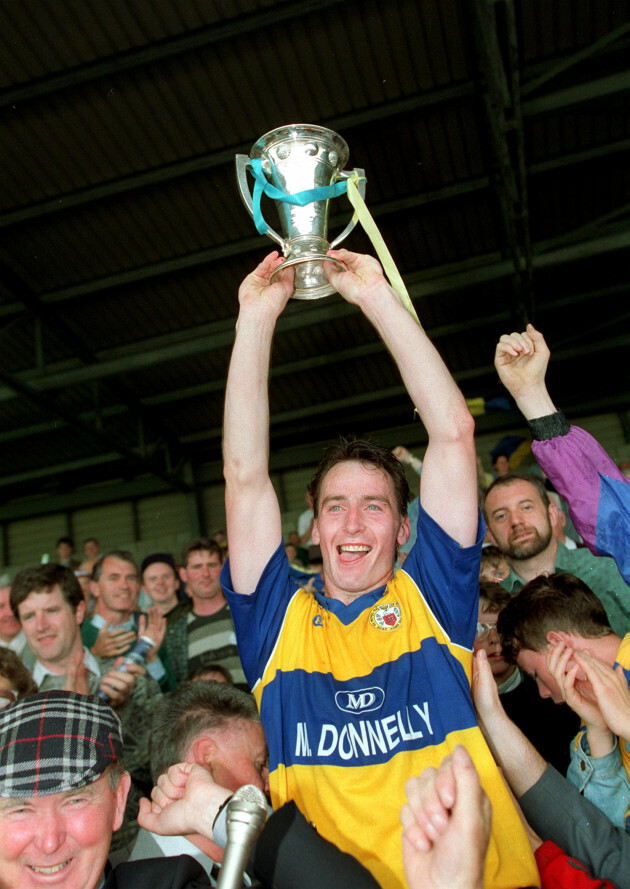 ©INPHO Francis McInerney lifting the trophy after Clare's Munster final win in 1992. ©INPHO
Maughan's success with Clare is largely associated with the savage training regimes he introduced after his arrival, but McInerney says that part of the narrative has been slightly exaggerated.  
"The stories get out of hand about what we went through but it was long runs and some of it was to mentally toughen us up. I suppose John came in and we ran Kerry close in '91 and it was probably a fitness thing. Our fitness improved and if you're fitter and you're still in the game with 10 or 15 minutes to go, you've a chance.
"John was a player's man. He was there for us and he was one of us. He came in and placed demands on the players and the county board. He wasn't afraid to call it out if he didn't think things were going well."
A crucial aspect of Clare's provincial triumph that year was the introduction of an open draw. This ensured that that Munster stalwarts Cork and Kerry could play each other before the final, thus giving other counties a better chance to triumph. Now they only had to take down one heavyweight instead of two.
Clare won the 1991 All-Ireland B Championship and reached the league quarter-final in 1992. Hitting those marks, coupled with Maughan's tough training structure, strengthened Clare's resolve ahead of the showpiece with Kerry.
"Kerry have an aura and you'd never feel overly confident about beating Kerry in anything, especially in a final. I suppose we had won a number of league games and challenge games and we were used to winning, but we had respect for Kerry.
"They had legendary players like Pat Spillane, Jack O'Shea and Maurice Fitzgerald, but again, Noel Walsh fought hard for an open draw and it raised the profile of football in the so-called weaker counties.
"When you're playing teams in Division 4 and Division 3, there isn't much glory apart from your own motivation to play for pride of parish. Things have changed now but provincials were very important that time."
Clare's four-point victory saw them win their first Munster SFC crown since 1917, with McInerney lifting the trophy to the backdrop of Marty Morrissey's famous "There won't be a cow milked…" phrase that summed up the meaning of the day for the county.
And yes, that training session in Croke Park did help soften nerves for the Clare players ahead of the semi-final. But when it came to the big day, Dublin mounted a challenge that Clare just couldn't match, and their epic journey ended at the penultimate stage. They fell to a five-point defeat, but they didn't head home with nothing.
"Travelling from the hotel to Croke Park and looking out from the bus and getting the garda escort, you were seeing the saffron and blue out on the streets on the way in. That really brought it home that this was a big occasion and then you saw the big Martin Donnelly flag rise up when you ran out onto the pitch.
"Even seeing the Dublin supporters on the Hill singing their chants was something we'll never forget.
"They took their chances but I suppose everyone looks back on ifs and buts. One or two decisions didn't go our way and maybe we were the underdog not getting a rub of the green. Or maybe it was Dublin's experience but they had quality players like Charlie Redmond and Keith Barr – they're all legends of Dublin football."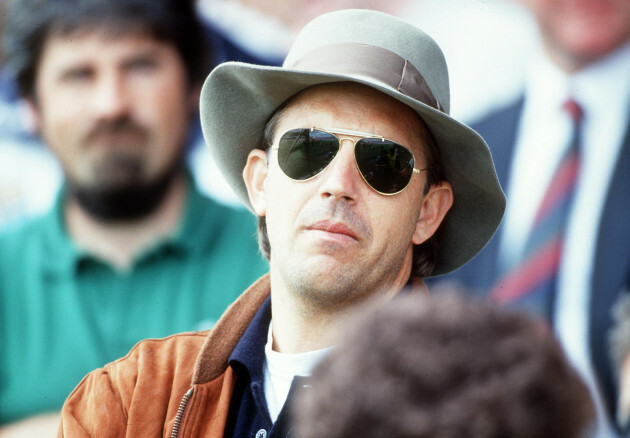 INPHO Actor Kevin Costner looking at Dublin v Clare in 1992. INPHO
Clare and Dublin will collide in Croke Park once again later this evening. There won't be any championship stakes in the air but there are precious league points on offer. Dublin are three wins from three in their Division 2 campaign, while Clare have lost back-t0-back ties after prevailing in their opener against Louth.
League standings will help dictate the framework for the All-Ireland championship, and separate teams into either the Sam Maguire and Tailteann Cup competitions. Every result carries huge weight for the remainder of the season.
"I know for sure that the Clare lads want to play in the Sam Maguire [championship]," says McInerney. "I don't think they're thinking of the Tailteann Cup but it is there in the background.
"With Dublin and Derry being in the division, I suppose it's really more like Division 1 and a half. Colm [Collins] has been amazing for Clare. He took over 10 years ago to bring Clare from Division 4 to Division 2 and they've been regulars in Division 2 for the last seven years.
"He has the trick of producing new teams every now and again so there's big enthusiasm in Clare football."
Get instant updates on the Allianz Football and Hurling Leagues on The42 app. Brought to you by Allianz Insurance, proud sponsors of the Allianz Leagues for over 30 years.