LAST UPDATE | Jul 30th 2018, 5:04 PM
CLARE'S ALL-IRELAND semi-final draw with Galway on Saturday was a thoroughly enjoyable game from start to finish. Up until yesterday's classic between Cork and Limerick, it was the game of the year for me so far.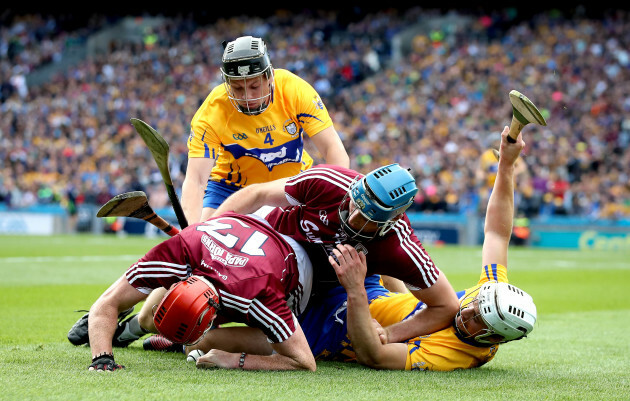 Ryan Byrne / INPHO Ryan Byrne / INPHO / INPHO
The levels of physicality, skill and intensity were all immense. The draw was a good result in that no team deserved to lose after the effort they put into it. Some of the score-taking was outrageous, not least Peter Duggan's point in the 63rd minute which was one of the highlights of the season.
The sideline cuts scored by Tony Kelly and Joe Canning, the dual between John Conlon and Daithi Burke, all demonstrated everything that's good about the game.
Joe Canning😲 pic.twitter.com/TEeCwyMhpI

— The GAA (@officialgaa) July 28, 2018
Let's take a closer look at the key aspects of the clash:
1. Galway's flying start
In the first 15 minutes, Clare were under enormous pressure off their own restarts. The Banner were wary of Galway's aerial ability on the half-back line and tried to mix-up their puck-outs between going long and short.
Galway would have expected that and they managed to intercept a lot of Donal Tuohy's short puck-outs. Executing short restarts in the cauldron of Croke Park is not an easy thing to do.
When Tuohy went long, Galway dropped their half-forwards and midfielders back, so the area the ball landed was extremely crowded. When the Tribesmen won the breaking ball, they had a huge amount of space to attack. Not alone were Clare not winning their own puck-outs, but they were not in a position to defend properly either.
1 minute 20 seconds— On his first puck-out, Tuohy tries to pick out Kelly in midfield but Canning anticipates. He intercepts and hits it over the bar.
1:58 — Tuohy's second restart is sent long into an area where Galway swarm Duggan and win the break.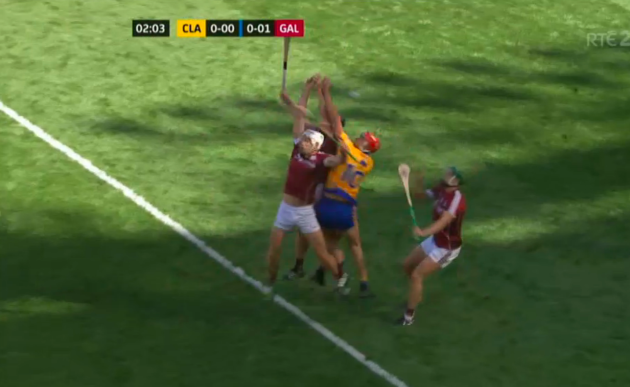 5:48 — Tuohy goes long again. Podge Collins should gather possession but Padraig Mannion clears downfield to Conor Cooney. The St Thomas' ace fields it over David McInerney and scores a great effort. Clare have now lost their first three puck-outs and Galway have scored from two of them.
6:34 — The restart comes to Morey on the sideline but it's too slow and he's too static. Cathal Mannion intercepts and sends in Jonathan Glynn for a goal chance that he misses.
7:19 — Clare's attack is ineffective at the far end. Notice how crowded their forwards are in the frame below. It suits the physicality of the Galway backs. In this kind of traffic, Clare are unlikely to emerge with possession.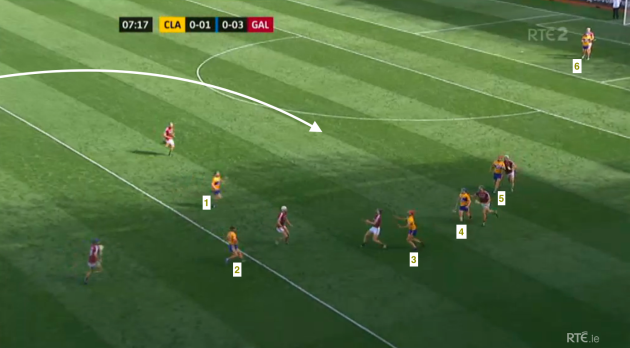 10:07 — Another Tuohy puck-out goes long and once again we can see how bunched the Clare attack is. Daithi Burke emerges from the ruck with the ball and clears.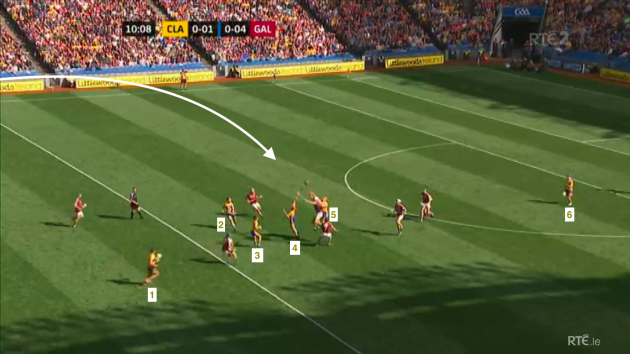 10:34 — On the other hand, the Galway forwards are enjoying plenty of legroom.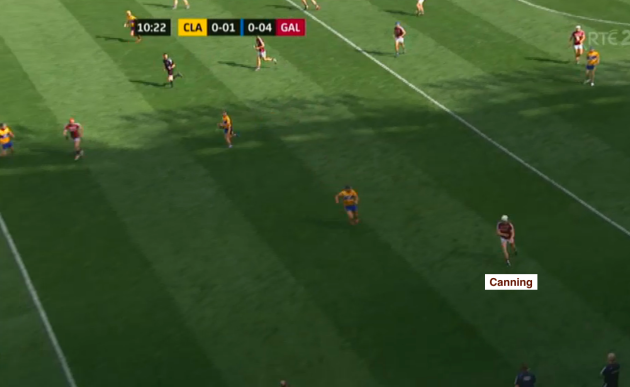 In this example, Canning is on the ball with oceans of space to deliver the ball inside.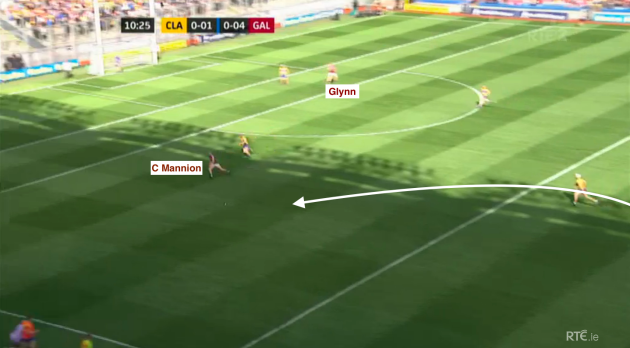 They're dictating the terms of engagement and it's one the reasons they're creating so many chances.
11:12 — The Clare restart goes long again. Galway mop up the break and counter-attack with a high delivery into Glynn. He wins it and feeds Padraic Mannion. The defender's touch lets him down and a goal chance goes astray. His point sends Galway 0-6 to 0-1 in front.
Even though Galway got into a commanding lead, they really should have been out of sight at half-time. They missed two goal chances (Glynn and Padraic Mannion) and shot 12 wides. They paid a heavy price in the wind-up.
2. Colm Galvin's sweeping masterclass
Donal Moloney and Gerry O'Connor recognised something needed to change. They dropped Colm Galvin into a dedicated sweeper role after the opening quarter and it effectively was the turning of the game.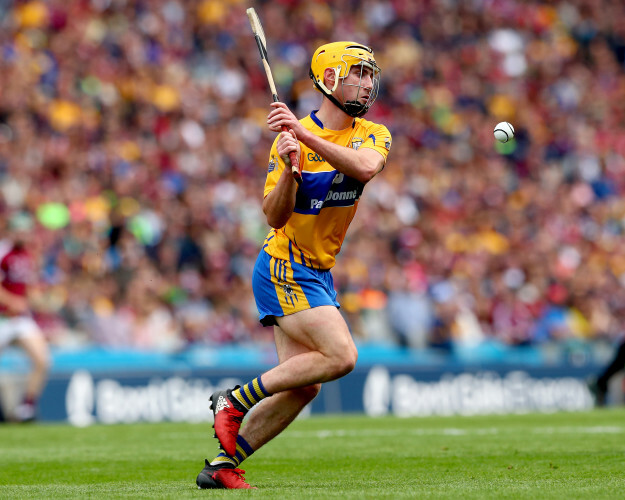 James Crombie / INPHO James Crombie / INPHO / INPHO
It gave Clare a platform to attack and allowed them to begin dictating matters. Galvin going back alleviated some of the pressure on their full-back line who were struggling to handle Glynn, Cathal Mannion, Canning and, to a certain degree Conor Cooney, in the one-on-one stakes.
The move also helped their forwards make an impact on the game and allowed Galvin bring Tony Kelly into the game with their good link-up play.
19:05 — This was a very significant play from a Clare perspective. They're 1-7 to 0-1 behind and on the brink. Galvin intercepts a ball and slips it to Pat O'Connor but Galway almost turn it over.
Galvin turns up with possession again and picks out Shane O'Donnell downfield.
O'Donnell wins a superb ball under intense pressure from John Hanbury.
The 24-year-old drives past him and scores a great point off his left side. It's the first time in the game a Clare forward has beaten a defender. Psychologically, it's a huge moment.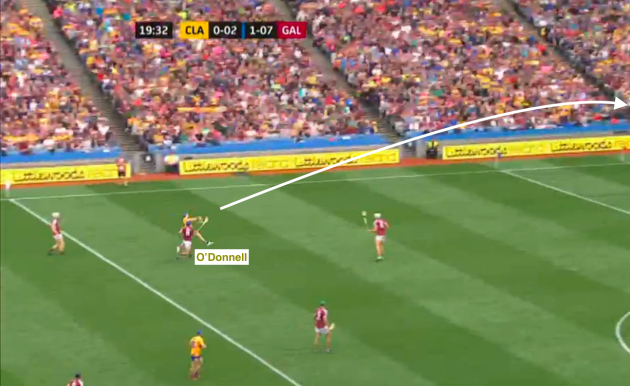 21:52 — Galvin is again in the right position to win the ball and he picks out Kelly with an excellent pass. Kelly launches it over from distance and Clare are just five behind, 1-7 to 0-5.
Monster point from Tony Kelly 💪. pic.twitter.com/DSU20HyAku

— The GAA (@officialgaa) July 28, 2018
27:20 — Padraic Mannion sends a clearance in between Joseph Cooney and Seadhna Morey. The sliotar breaks to the deck where Galvin is waiting. He feeds Kelly for another long-range score and the gap is down to four.
32:52 — Tuohy's long puck-out is won by Duggan who turns and scores. They repeat the trick a minute or so later. It's a brilliant passage of play. The Clare forwards are starting to make their mark and play with confidence.
Galvin's move helped Clare turn things around while the emergence of Kelly and Duggan into the game was key, along with Tuohy finding the range from his long and short restarts. Clare go in four behind at the break but are probably the happier team.
3. Clare turn the tables in the second-half
Clare continue to do well off their own puck-outs and James Skehill's ones at the far end. They've effectively turned the tables completely. There were 100 puck-outs taken over the 94-odd minutes and restarts remained a huge factor in the second period.
35:58 — Tuohy finds David Fitzgerald from a restart and Clare have an overlap.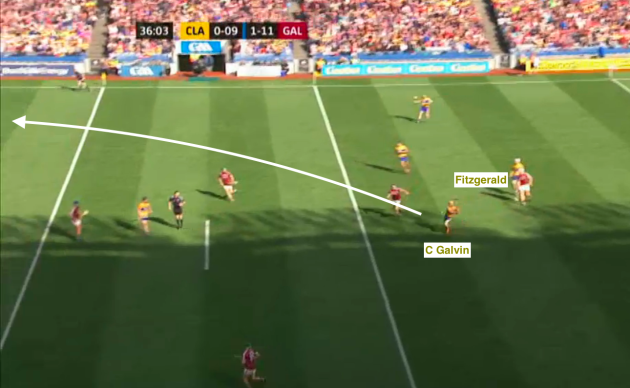 The substitute goes short to Galvin who hits a great diagonal ball that bounces in front of Conlon. Another point.
The overlap means the full-forward line know exactly where the ball is going and when it will be delivered. It's a textbook play that Clare are very comfortable with and one that helped them win a couple of U21 All-Irelands under the current management.
37:20 — Another Tuohy puck-out finds Kelly. His touch is excellent and he's fouled as he runs at Galway. Duggan's free is converted and Clare are really in their groove at this stage.
38:23 — A Galway puck-out goes to the deck where it's picked up by David Reidy. Another trademark attack sees the ball fed into Conlon for his second score. It's more opportunistic than structured but the end result is the same.
49:36 — Another Skehill restart is turned over by Clare. Reidy clips it down the line for Collins.
Collins sets-up the run of Fitzgerald who comes bursting through the middle of the Galway defence.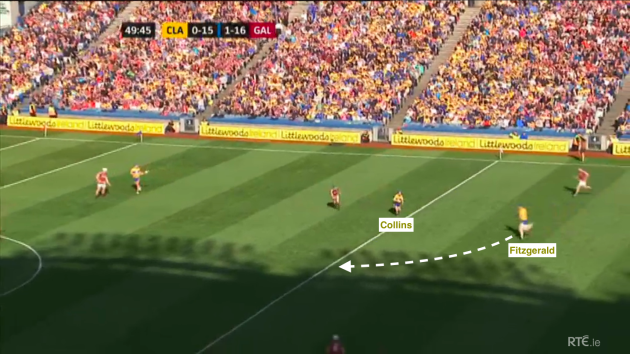 Fitzgerald rounds off a flowing move and scores a lovely point. He had a major impact after his introduction.
50:41 — Tuohy's puck-out is claimed by Kelly. The Ballyea man sees the run of Galvin, who splits the posts from way out the field.
50:58 — Duggan fetches Skehill's restart and he sends a bomb between the posts from a good 80 yards out. It's now a one-point game.
Great point from Peter Duggan. pic.twitter.com/lhnALfcKfX

— The GAA (@officialgaa) July 28, 2018
61:16 — Jamie Shanahan wins a long Skehill puck-out. Fitzgerald carries it downfield and lays it off to another sub Ian Galvin for a score to tie the game. Clare saw a huge contribution from their subs, particularly Fitzgerald and Galvin.
Conclusion
James Crombie / INPHO James Crombie / INPHO / INPHO
When the game opened up it descended into a shootout. Galway and Clare were well matched and will be glad to get another shot at it. The score-taking, tackling and general skill level under pressure was immense from both sets of players.
Extra-time was littered with a heap of mistakes and fatigue was a major factor, so there's little point in analysing it too much. Both sides hit wide after wide, while another Clare bench player Aron Shanagher had a huge impact with his goal.
Aron Shanagher with his side's first goal of the game in extra-time. pic.twitter.com/2iusl5yKWC

— The GAA (@officialgaa) July 28, 2018
I think Clare are in a great position going into the replay. Micheal Donoghue's men are under pressure because of injuries hanging over their key men Gearoid McInerney and Joe Canning, and question marks over whether Daithi Burke is fully fit.
Clare might have the upper hand heading into the replay, but it's still so tough to pick a winner. If the drawn game is anything to go by, the puck-out strategy from both teams will have an immense bearing on the outcome.
Galway finished with 22 wides and still didn't lose the game. The created a huge amount of scoring chances and could have been out of sight at the interval, so that's a huge positive for Donoghue heading to Semple Stadium.
The42 is on Instagram! Tap the button below on your phone to follow us!