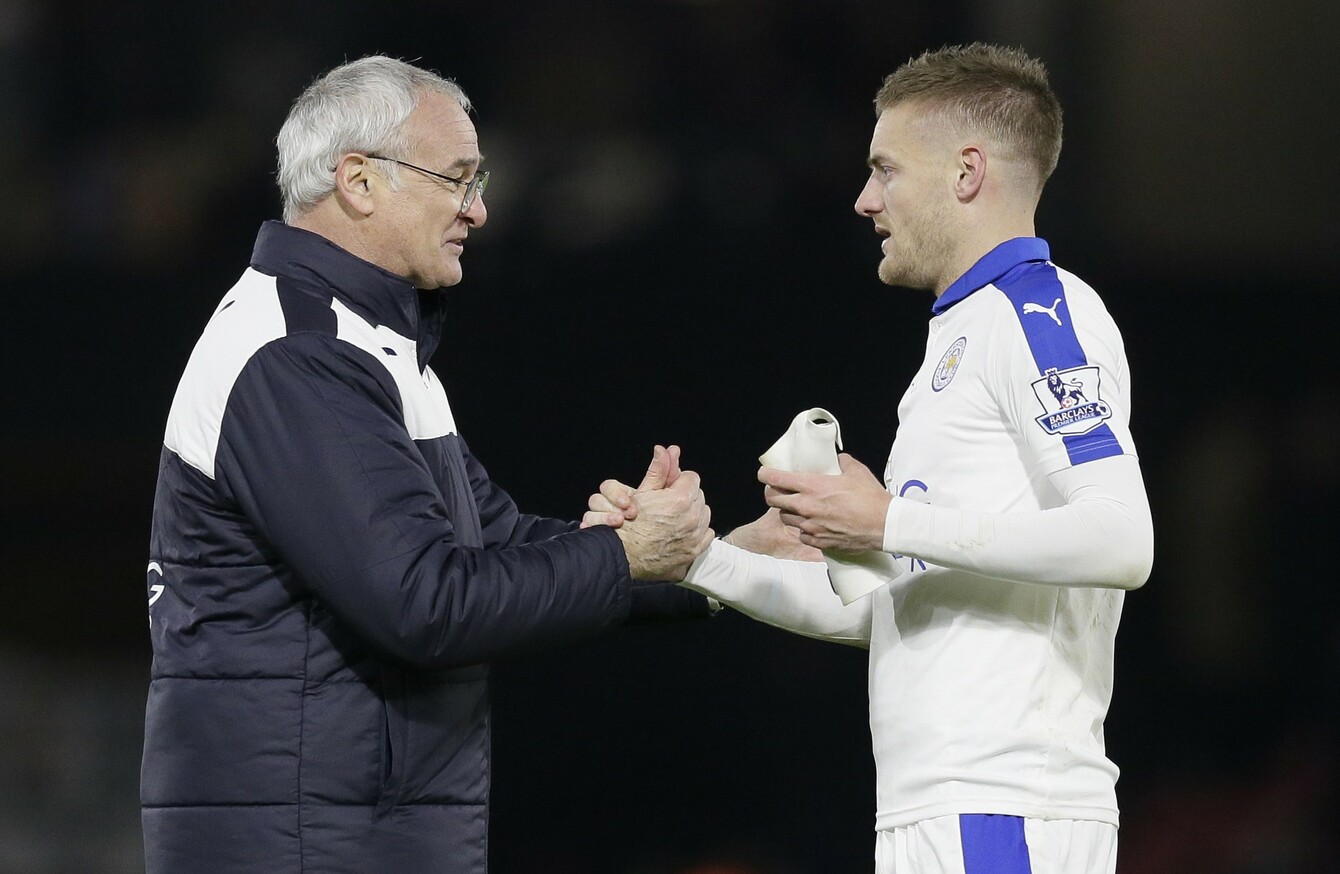 Image: Tim Ireland/AP/Press Association Images
Image: Tim Ireland/AP/Press Association Images
CLAUDIO RANIERI HAS reiterated that his initial objective upon taking over as Leicester City manager was to keep the side in the Premier League and that hard work has pushed them to the brink of an inexplicable top-flight triumph.
Writing a captivating contribution for The Players' Tribune, the Italian details how he was finding it impossible to motivate the team into keeping a clean sheet, until he promised them the bring them for pizza if they managed to shut out Crystal Palace last October.
They won the game 1-0 and Ranieri kept his promise. But with one caveat.
"So I stood by our deal and took my players to Peter Pizzeria in Leicester City Square", Ranieri writes.
But I had a surprise for them when we got there. I said, "You have to work for everything. You work for your pizza, too. We will make our own. So we went into the kitchen with the dough and the cheese and the sauce. We tossed our own pies. It was very good, too. I enjoyed many slices. What can I say? I'm an Italian man. I love my pizza and my pasta."
The veteran coach also praised the mentality, drive and work ethic of his players, singling out N'Golo Kante and Jamie Vardy for special praise.
Discussing the energetic and 'unbelievable' midfielder, Ranieri says:
"He (Kante) was running so hard that I thought he must have a pack full of batteries hidden in his shorts. He never stopped running in training."
Regarding Vardy, who is three goals behind Harry Kane in the race for the Premier League Golden Boot, the 64-year-old made an interesting comparison.
There are too many keys to name in this incredible season. Jamie Vardy, for example. This is not a footballer. This is a fantastic horse. He has a need to be free out there on the pitch. I say to him, "You are free to move however you want, but you must help us when we lose the ball. That's all I ask of you. If you start to press the opposition, all of your teammates will follow you."
You can read the full piece here.
The42 is on Snapchat! Tap the button below on your phone to add!