Clongowes Wood College 24
St Mary's College 14
– Ryan Bailey reports from Donnybrook 
IT'S SEVEN YEARS since Clongowes Wood last won this competition, but there is a growing belief that this could be their year to reign supreme again as they marched into the semi-finals of the Leinster Senior Schools Cup.
With heavyweights Belvedere and Blackrock already in the pot for the last four, this year's edition needs an underdog and even with a squad of this calibre, Clongowes — the eight-time winners — now go into the final stages with that status.
It's not a reflection of the Kildare school, but more so a measure of the strength of those previously mentioned sides who continue to set the bar higher year on year; but Clongowes deserve to be mentioned in the same breath and certainly deserve their place in the semi-finals.
After narrowly escaping a first round defeat to St Fintan's, we saw a different side to this Clongowes outfit at Donnybrook this afternoon as they established a three-try lead and then withstood a late St Mary's comeback in another thrilling quarter-final tie.
Tries from David Jeffares, Ben O'Shea and a second-half score from Matthew Martin put Brett Igoe's men into a commanding, and almost unassailable, lead but Mary's refused to surrender and pushed Clongowes all the way.
In the end, the Rathmines school left themselves with too much to do and despite their best efforts, were unable to pull off the most unlikely of comebacks.
It's a measure of the resources available to Clongowes that they could make five changes to their pack, and six overall, from that win over Fintan's in the first round and their hand not be weakened.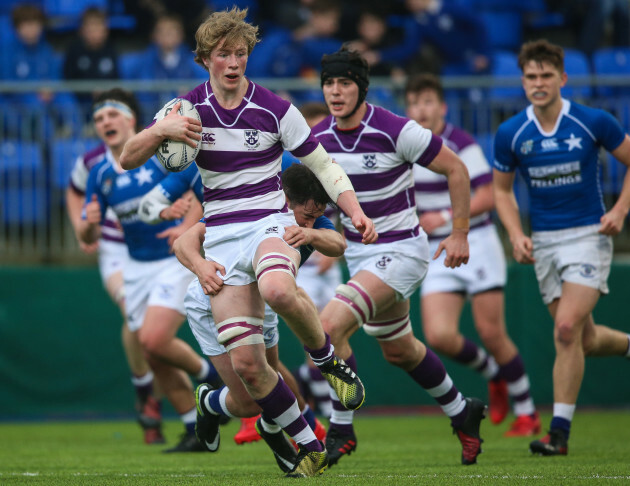 Gary Carr / INPHO Gary Carr / INPHO / INPHO
Even at first glance, it was clear the Clongowes forwards were far bigger than their Mary's counterparts and at this level it can make such a difference.
Indeed, they were largely dominant at the breakdown and their aggression told with the back row unit working tirelessly to prevent Mary's getting any quick ball.
It was a shame for Mary's that it only clicked for them after conceding the third try and while they can be proud of their efforts during the campaign, it's unlikely to be of much consolation given how close they came in the end.
After two tough encounters, Clongowes will know they'll need to up their game further when they return here for the semi-final tie but their credentials to go all the way cannot be questioned.
To a man, they were outstanding with the engine room providing the likes of O'Shea with the ball to cause serious damage and when they found themselves on the back foot, they had enough character to close the game out.
After Ruairi Shields spurned an early chance to get Mary's on the board from the tee, Clongowes hit the ground running after the five-time winners had been penalised inside their own half.
With the wind in their faces, Clongowes kicked for the corner and allowed their powerful pack do the rest. With Mary's stretched and scrambling, Jeffares saw the gap and put his head down with O'Shea making it 7-0 after as many minutes.
Mary's, to their credit, looked for an instant response but on more than one occasion their decision making and handling let them down.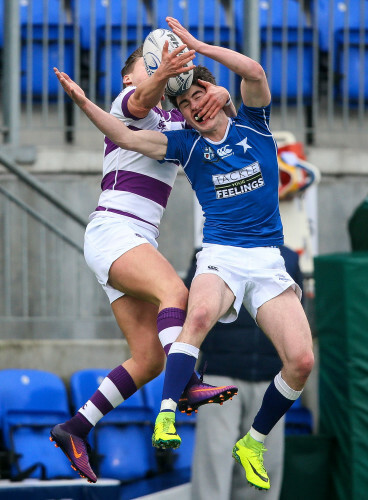 Gary Carr / INPHO Gary Carr / INPHO / INPHO
Myles Carey's explosive break through midfield put his side on the front foot and while Clongowes captain Sean McCrohan was sent to the bin for a high tackle, Mary's were unable to capitalise.
Shortly before the half hour mark, Clongowes extended their lead. Martin made the initial break before the ball was recycled and given to O'Shea to burst through the last line of defence.
While Clongowes were picking their lines and making hay at one end, Mary's were unable to convert promising positions into points at the other with a lack of conviction in the 22 contributing to their frustrations.
It went from bad to worse for Steven Hennessey's side as Clongowes stretched the lead to 21-0 shortly after the break as Martin came up from the bottom of a maul having applied the finishing touch.
With a mountain to climb and the game running away from them, Mary's unloaded their bench and fresh legs made all the difference as they embarked on an incredible comeback.
Firstly, a well-worked lineout saw Carey scythe through with a dazzling piece of footwork and minutes later, fullback Eamonn Byrne set-up a grandstand finale with a smart finish on the far side. Shields converted both to bring Mary's within seven points with 20 minutes remaining.
The whole complexion of the game had changed and with all the momentum, Mary's asked serious questions of the Clongowes rearguard but time was against them and O'Shea's penalty with four minutes remaining settled the tie.
Clongowes scorers:

Tries: David Jeffares, Ben O'Shea, Matthew Martin.

Penalties: Ben O'Shea [1 from 1]

Conversions: Ben O'Shea [3 from 3]

St Mary's scorers:

Tries: Myles Carey, Eamonn Byrne

Penalties: Ruairi Shields [0 from 1]Conversions: Ruairi Shields [2 from 2]
CLONGOWES WOOD COLLEGE: 15. Jack Gilheany, 14. Reinis Lemess, 13. Tim O'Brien (22. Joe Carroll 51′) 12. Ben O'Shea, 11. John Maher, 10. Thomas Monaghan; 9. Joe Murphy; 1. John Timmins, 2. Dan Sheehan, 3. Arthur Odlum, 4. Sean Phelan (19. Patrick Celebi 51′), 5. Matthew Martin, 6. David Jeffares (20. Tom Coghlan 51′), 7. Anthony Ryan, 8. Sean McCrohan (captain).
Replacements not used: 16. Bobby Sheehan, 17. Gavin Cheung, 18. Ronan Hannon, 21. Conrad Daly, 23. Connel Kennelly.
ST MARY'S COLLEGE: 15. Eamonn Byrne, 14. Hugo Conway (23. Alex Dix 35′), 13. Craig Kennedy, 12. Myles Carey, 11. Ruairi Shields, 10. Tom Murray, 9. Daragh McDonagh (21. Adam McEvoy 43′); 1. Niall McEniff (captain), 2. Richie Bergin, 3. James Coolican (17. Ciaran O'Meara 45′), 4. Conor McElearney, 5. Liam Corcoran (19. Ian Wickham 43′), 6. Sean Heeran (20. Niall Hurley 44′), 7. Harry McSweeney, 8. Ronan Watters.
Replacements not used: 16. Gavin O'Brien, 18. George Hassett, 22. Brian MacMahon.
Referee: Cillian Hogan.
Subscribe to The42 Rugby Show podcast here: