IRELAND HEAD COACH Joe Schmidt helped cut the ribbon as Clontarf Rugby Club officially opened their new state-of-the-art playing surface at Castle Avenue.
Ryan Byrne / INPHO Blaney Russell, President, Clontarf RFC, Ireland Head Coach Joe Schmidt, Kealan Feeney, Clontarf Under-9s player, Geoff Curran, Chairman, Clontarf RFC, Martin O'Sullivan, IRFU President and Norman Ginnelly, Director, Ulster Bank. Ryan Byrne / INPHO / INPHO
The new 4G pitch has been in use since September but this afternoon it hosted its first Ulster Bank League fixture as Clontarf maintained their position at the top of the table.
Schmidt was part of the opening committee, alongside Clontarf President Blaney Russell, chairman Geoff Curran and IRFU President Martin O'Sullivan.
The pitch is made up of a number of layers which consist of a hardcore rock foundation, a rubber shock pad and artificial grass carpet, which is then filled with a mix of rubber-crumb and sand that allows for optimal playing conditions.
The facility has an expected lifespan of 10 years and meets all World Rugby criteria and pitch standards.
Cian Healy, a member of Clontarf, was also in attendance and admitted the new playing surface – similar to the one at Donnybrook – will facilitate a brand of attacking, running rugby.
"The new pitch should really benefit the club long term, as it means there should be no more cancelled training sessions or matches and it will give kids and older players the chance to improve their skills and play a brand of running rugby – something I'm a big fan of," Healy said.
"I remember playing on the old back pitch during my minis and youths days with Clontarf, and in the very depths of winter you would struggle to find a blade of grass on it due to wear and tear and the usual Irish weather.
"I just wish that such a facility as this was available when I was younger."
On the pitch, Clontarf edged past Galwegians 16-9 as Matt D'Arcy scored the only try of a tight game.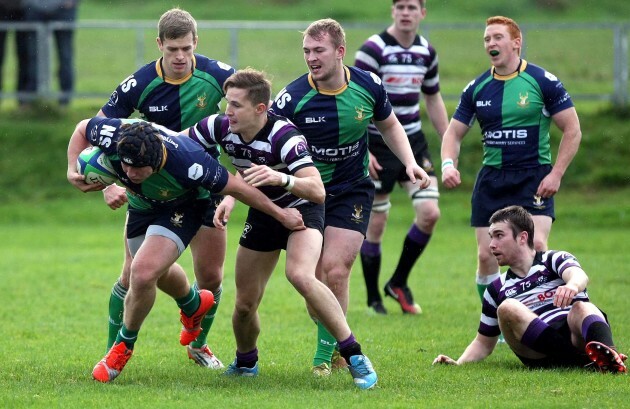 Presseye / Freddie Parkinson/INPHO Zack McCall of Ballynahinch tackled by Kevin O'Neill of Terenure. Presseye / Freddie Parkinson/INPHO / Freddie Parkinson/INPHO
Elsewhere, there were wins for Terenure College, Garryowen and UCD while Young Munster won the Munster derby, beating Cork Con 11-10 at Tom Clifford Park.
Saturday's Ulster Bank League Results:
Division 1A
Ballynahinch 6-30 Terenure College

Clontarf 16-9 Galwegians
Old Belvedere 13-28 Garryowen
UCD 39-10 Lansdowne
Young Munster 11-10 Cork Constitution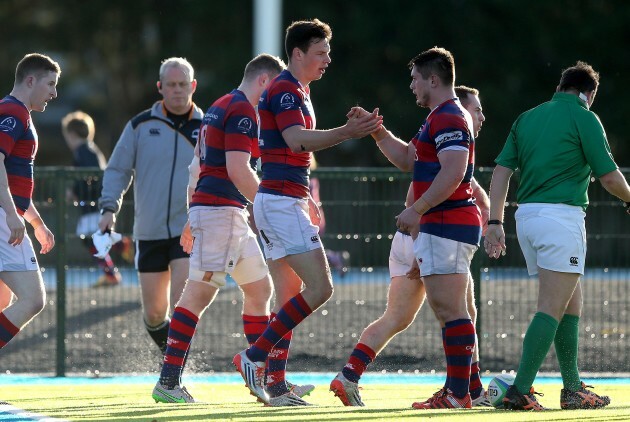 Ryan Byrne / INPHO Matt D'Arcy celebrates his try. Ryan Byrne / INPHO / INPHO
Division 1B
Belfast Harlequins 10-32 Shannon

Dolphin 3-44 Dublin University
Old Wesley 36-22 Blackrock College
UL Bohemians 24-27 St Mary's College
Division 2A
Cashel 23-26 Queen's University

Malone 47-10 Nenagh Ormond
Naas 41-14 Corinthians
Skerries 28-22 Thomond
UCC 27-26 Banbridge
Division 2B
Armagh 24-17 Bective Rangers

Dungannon 13-7 MU Barnhall
Greystones 27-23 Rainey Old Boys
Highfield 29-27 City of Derry
Seapoint 7-10 Sunday's Well
Division 2C
Dundalk 21-8 Kanturk

Midleton 6-14 Tullamore
Sligo 7-47 Old Crescent
Wanderers 19-21 Bruff
Boyne 13-16 Navan (Friday)