DEFENDING ULSTER BANK League champions Clontarf returned to winning ways at Castle Avenue where a second half scoring blitz helped to kill off the challenge of UCD – 28-5.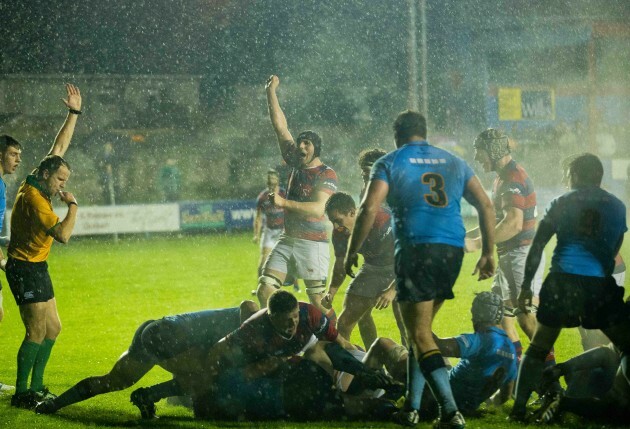 Morgan Treacy / INPHO Morgan Treacy / INPHO / INPHO
With out-half David Joyce controlling the game effectively, 'Tarf were always one step ahead of their students who were missing a number of players due to Leinster 'A' call-ups – including the likes of Adam Byrne, Gavin Thornbury and Jordan Coghlan.
The extremely wet conditions meant that both sides were concentrating on defence for much of the opening quarter, and although UCD made excellent inroads through Billy Dardis and Garry Ringrose early on, Clontarf eventually held firm to develop a series of attacking phases.
After a lengthy advantage was given by referee Mark Connolly following a Dardis knock-on, Joyce fired a 25-metre penalty between the posts in the 16th minute.
Classy centre Ringrose almost manufactured a try from the subsequent passage of play, creating a gap in the heart of the 'Tarf defence. He was eventually halted just inside the 22 but it was another sign of what UCD were capable of.
Although the visitors enjoyed a sustained spell of possession just past the 20-minute mark, Clontarf doubled their advantage with a second successful penalty from Joyce.
It was going according to plan for Andy Wood's men, however UCD threw a spanner in the work when right winger Andy Boyle crossed for an unconverted try following excellent combination play with Ringrose.
Morgan Treacy / INPHO Morgan Treacy / INPHO / INPHO
The students' out-half Liam Bourke missed the conversion and watched his 35th minute penalty effort dip under the crossbar from a tight angle on the right.
The reliable Joyce responded with another surefooted penalty at the other end, giving his side a 9-5 cushion to take into the second period.
With the rainfall increasing substantially, handling was becoming an issue for both sets of players. Clontarf created most of the chances during the third quarter, but heroic defensive work from UCD ensured that the game was still in the melting pot on the hour.
Difficulties
Their resistance was inevitably broken, though, and following strong work close to the posts, powerful prop Ivan Soroka drove over for his side's opening try of the night.
Joyce, who had difficulties off the kicking tee against Lansdowne last week, had no issues with his fourth place-kick of the game and he also added two points to centre Matt D'Arcy's try after 68 minutes. Replacement David Hegarty was close to crashing over on this occasion, before scrum half Sam Cronin spread the ball across to D'Arcy out on the left wing.
With the outcome beyond any doubt at 23-5, it was now a matter of Clontarf playing out the remaining minutes and when they developed a maul late on, second row Thomas Byrne touched down to complete a fine evening's work for the title holders.
Scorers
Clontarf:
Tries: Ivan Soroka, Matt D'Arcy, Thomas Byrne;
Cons: David Joyce 2;
Pens: David Joyce 3
UCD:
Try: Andrew Boyle
CLONTARF: Ariel Robles; Jimmy Hawkshaw, Evan Ryan, Matt D'Arcy, Dan Hanratty; David Joyce, Sam Cronin; Ivan Soroka, Jonathan Larbey, Royce Burke Flynn, Tom Byrne, Conor O'Keeffe, Liam Murphy, Adrian D'Arcy, Tony Ryan.
Replacements used: David Hegarty for Ryan (28 mins), Karl Moran for Burke Flynn (54), Cian Culleton for Murphy (74), Mark Sutton for Hanratty (81).
UCD: Billy Dardis; Andrew Boyle, Garry Ringrose, Stephen Murphy, Tom Fletcher; Liam Bourke, Bobby Holland; Gordon Frayne, Risteard Byrne, Liam Hyland, Michael Cawley, Emmet MacMahon, Josh Murphy, David Fortune, Donagh Lawler.
Replacements used: Andy Murphy for Cawley (49 mins), James Harrison for Byrne, Harry McNulty for Fletcher, Sean McNulty for Hyland (all 70).
Referee: Mark Connolly (IRFU)