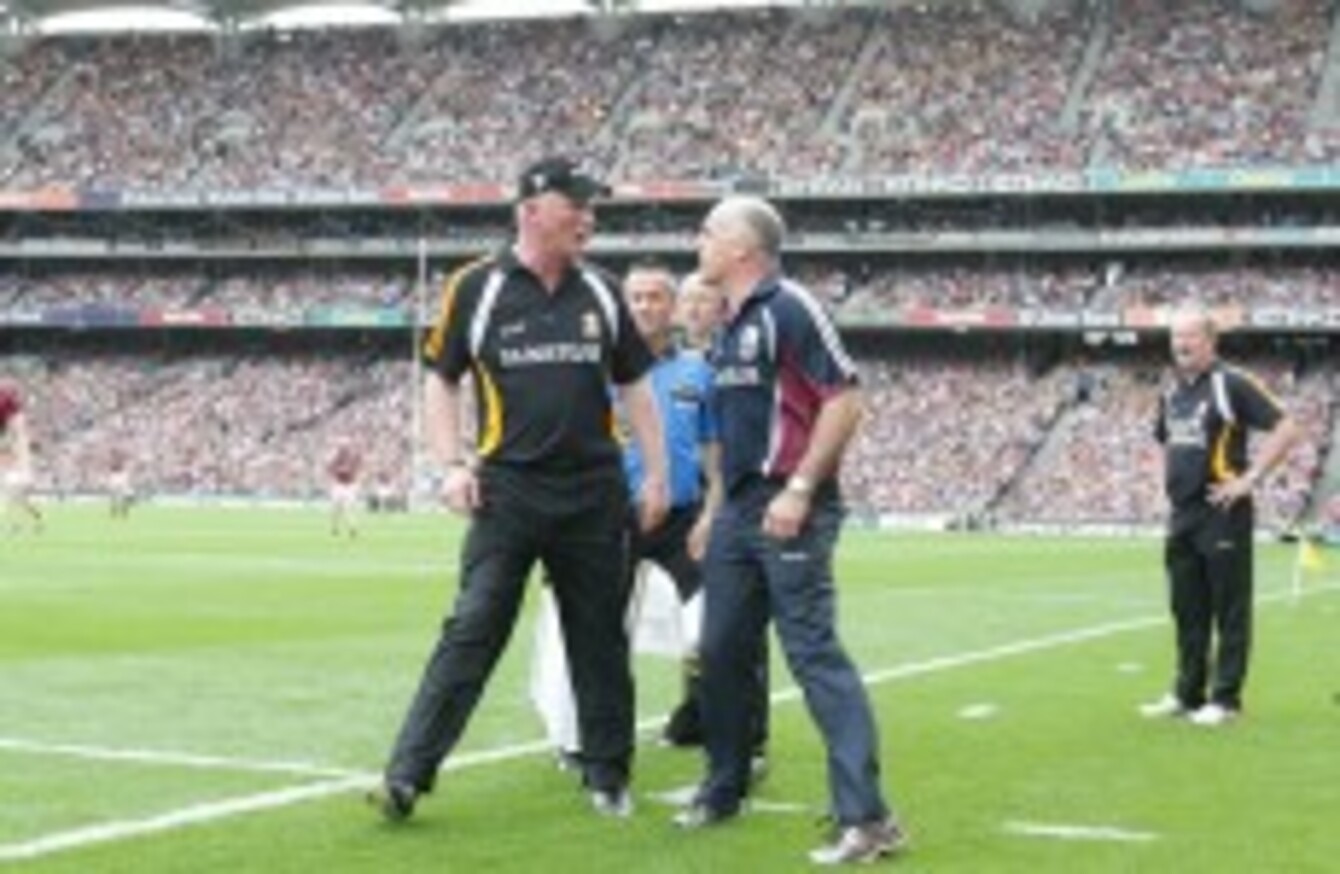 Brian Cody and Anthony Cunningham before the end of the drawn All-Ireland final.
Image: INPHO/Morgan Treacy
Brian Cody and Anthony Cunningham before the end of the drawn All-Ireland final.
Image: INPHO/Morgan Treacy
FOR THE THIRD time in the 2012 championship, Brian Cody and Anthony Cunningham will be patrolling the same sideline in Croke Park on Sunday.
Here are their thoughts on what unfolded in the last installment three weeks ago.
BRIAN CODY (Kilkenny)
More comfortable now with how Galway set up their team?
"I don't know. They're a very good team with very good players who are very adaptable. It's a balancing thing. We want to play as well as we possibly can but we'd be very stupid to think we can go out and ignore who we're playing against.
Still had faith in JJ Delaney and Brian Hogan despite their early defensive difficulties?
"Absolutely – you're talking about top players there. Our defence in the second half was exeptional and played really well. In the first half, taking the goal out of it, it wasn't as if they ran riot, either."
Where did it go wrong for Kilkenny in the first twenty minutes?
"It didn't exaclty go wrong. You go six or seven points ahead, that's not a huge thing. That said, all the play was with them but in every game each team gets a period of dominance. It's how you perform in that period which ultimately decides how you'll fare in the game. We hung on to an extent and we were under pressure and they were coming at us strongly but we stood up to it well.
"The fact that we went in five points down was hugely important. If we hadn't stayed competitive while they were dominating, then if they'd gone in with a big lead it would have been difficult – as it was in the Leinster final. We didn't get the start we wanted, but we worked our way back into it."
What are they
really like?
Rare insights on sport's biggest names from the writers who know them best. Listen to Behind the Lines podcast.
Become a Member
Was James Skehill's second-half save a huge moment?
"It was a big big moment. A goal at that stage would have been a big blow to them and obviously it was hugely important. Colin (Fennelly) is a good finisher normally, he's gotten a few goals in a career that hasn't been very long so far. We've seen those situations many times. It was a very good save."
ANTHONY CUNNINGHAM (Galway)
How much pressure was Joe under for that last free?
"The top-class free takers show no pressure really. He thought he hit it a bit low but he's an extremely modest guy and he'll always say things like that. We had got a free in the Leinster final of the club (with Garrycastle) and it was the last kick of the game really. It was a left footed kicker out in the right-hand corner and that was a pressure kick as well.
"In games like that you are always going to miss one or two, Henry (Shefflin) missed a good few in the first half. In the match against Limerick Richie Power missed the first two or three that day. But when you get the critical ones, you have to build your confidence from that."
Joe Canning fires over the leveling point. Pic: INPHO/Morgan Treacy
Have you rattled Kilkenny?
"I don't think you ever have Kilkenny beaten until the final whistle. Brian Cody is on record as saying any team can beat any other team on any given day. I think they realise we are a good team, but we certainly realise they are a great team."
How vital was Henry Shefflin's leadership?
"The leadership that he showed was tremendous and maybe wasn't there in the Leinster final. It is testament to the man after the seriousness of the operations he had, a lot of other players wouldn't even have togged out after them. But to be in the shape he is in now and his hurling to be back to where it's at, he's as good as ever.
"That leadership he brings to them was huge the last day. It was the same the year he went off against Tipperary, I think they probably missed him that day as much as a spiritual leader."
Was it an anti-climax at the final whistle?
"It wasn't so bad the last day as it was such a tense game that everybody was happy to get another crack of the whip really. I'd say if you were seven or eight years on the go with six or seven finals in a row you'd say 'Jaysus not another one' because you want the season to finish.
"But these lads just love playing in these matches now and they have got huge confidence from that. There's wasn't an anti-climax in our dressing-room really, we were lucky to have got the draw really and showed composure right at the death."