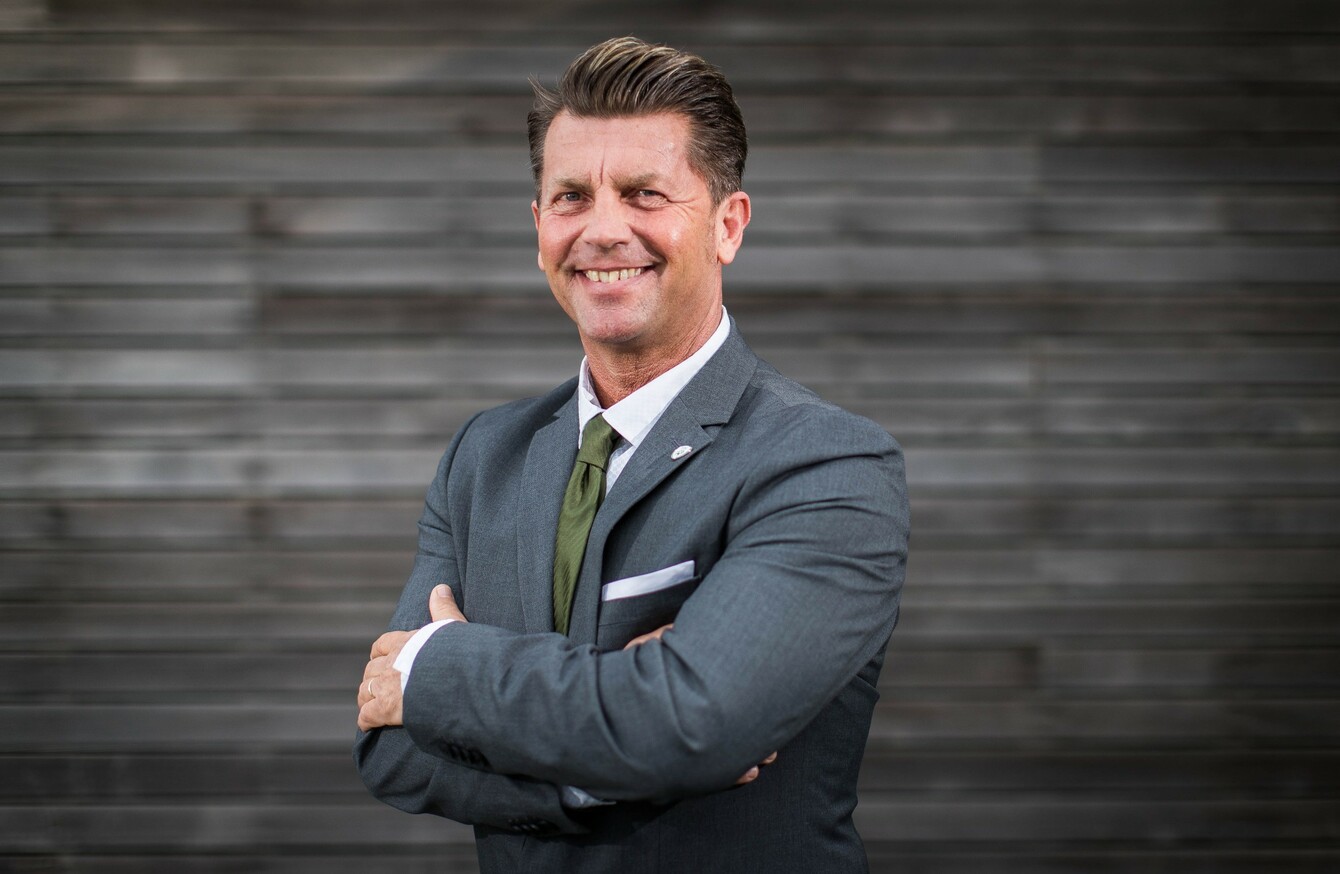 Republic of Ireland Women's Manager Colin Bell pictured outside FAI HQ today.
Image: Ryan Byrne/INPHO
Republic of Ireland Women's Manager Colin Bell pictured outside FAI HQ today.
Image: Ryan Byrne/INPHO
JUST IMAGINE, FOR a moment, if Luis Enrique suddenly decided to become manager of the Irish team.
Close to the equivalent of that scenario happened in women's football last week, when Colin Bell agreed to take charge of the Girls in Green.
Bell's CV is undoubtedly impressive. In 2015, around the same time Enrique's Barcelona beat Juventus 3-1 to conquer Europe, Bell's Frankfurt side beat Paris 2-1 in the Women's Champions League final.
In addition, the previous year he helped them win the DFB-Pokal der Frauen (German Women's Cup), just a year after taking over as manager.
Yet the English-born coach, who has spent nearly all his time in Germany since moving to VfL Hamm from Leicester in 1982 as a player, left Frankfurt soon after that European triumph.
He subsequently had short spells in Norway with Avaldsnes IL and back in Germany with Sand, before recently departing from the latter, after a clause in his contract was triggered, stating that he could join any international side that made an offer for his services.
With Ireland the fourth team he has managed over the past two years, Bell will be hoping his new role can offer some stability.
Frankfurt, he explains, were a team on the decline with dwindling resources when he left, just months after the Champions League triumph.
"I'd achieved everything I thought I'd achieve with them," he says.
I knew the club were unfortunately not in the position to hold onto top players. It was a situation where it was obvious the club would have to rebuild. I just wasn't in that stage of my career prepared to rebuild everything, especially having had so much success with the team.
"Frankfurt hadn't won a title for three years, even with the top players. Winning the cup and then winning the Champions League and knowing the club would be struggling to hold onto the top players (was difficult).
"I had the chance to go to Norway. I'd been in Germany a long time, over 30 years. I could have stayed, of course I could have stayed. I had a contract, but we had such a good relationship that my boss also understood.
Frankfurt were just two points ahead of Sand, where I've just left. Sand were very close to Frankfurt and a few years ago, they were miles away. It's not like Sand are getting closer, it's like Frankfurt coming towards Sand basically, so that was the reason I left Frankfurt."
Bell describes his new role with Ireland as a "dream". The 55-year-old has long had aspirations to be an international manager.
"I had written in all my contracts, if a national team comes in I can go.
"The moment Ruud informed me they'd like to give me the job, I'm not sure what my neighbours thought, but there was a big loud scream the moment I put my telephone down.
I didn't want to shock Ruud. But I was so happy. My family and friends were so proud that I got the chance. It's been a driving force, deep down in my heart. You hope one day it might come true, but you think 'is it going to happen?' All of a sudden it's become a reality and it's like floating on cloud nine. I know you've still got to win games, but to have the opportunity to be national team coach is just fantastic. It's the dream that's been driving me on. I have a few years to go still and I want to do as well as I can."
Despite his recent stints at club level being rather fleeting, Bell insists he is fully committed to the job. The coach will be based in Dublin, though there is one thing he can't commit to.
"I'm not going to promise that I'm going to be able to learn to speak Gaelic," he says. "I did learn to speak Norwegian.
"I've seen some of the words and was thinking 'that's going to be a tough one,' but I'm pleased everyone can speak English."
The new Irish coach has also gained insight from one of the best coaches in the game. Bell, a former Mainz player in the late 1980s, returned to the club as a reserve team manager in 2001 — an era that coincided with the start of Jurgen Klopp's managerial career there.
"We were together and talking every single day with each other," he says. "That was a fantastic time because it was Kloppo's start. 2001 he took over just before the end of the season when Mainz were on a relegation spot in the second division.
I came then in the summer and took over the U23s. It was his first full season, my first full season. We worked very closely together and Mainz developed this football philosophy that you can see in Liverpool, obviously now with more quality players.
"It was a thing that I also took to, to play more high quality football, kill the game of the opponents first of all and then bring your own game through. It was a very high intensity.
We had a lot of good memories together. I followed his career when he left Mainz and went to Dortmund — he had a great time there. For me, it was obvious he would be successful at Liverpool.
"So I'm really pleased. It's nice when you see someone (like Klopp) starting out, as I did in 2001."
Bell has employed the same high-energy approach that Klopp favours at the clubs he has managed, and he is hoping to transfer this style to the Irish set-up as well.
The Frankfurt team I had had 10 or 11 German internationals plus a couple of foreigners. So it was basically the German national team that I was coaching.
"I thought in Franfurt, they played a little too slow. Technically at a good level, but I wanted it to be played much faster.
Passing the ball much faster, more intensity against the ball. That took me a few weeks to get in, but then we beat Bayern Munich 4-1 at home, and previously, Frankfurt had lost the last five games against Bayern. We absolutely murdered them on that day. It was the signal for the girls to say we can do it and it's much more effective. I love that kind of football, but I also like to have the ball.
"Maybe it's a standard saying from me, but if I need three passes to score, then take three, not four. But if we need 30, take 30."
His predecessor, Sue Ronan, he says, left him with a "good foundation". And while it will take him a while to properly get to know the Irish players — with the exception of Diane Caldwell who played under him at Sand — Bell has taken little time to familiarise himself with the side. He has spent the past few days constantly watching previous Ireland matches, while confirming that the squad announced earlier today was selected by him rather than a more experienced member of the backroom team.
I don't think my eyes are square at the moment but they should be," he says. "I've been watching so much football, so I've been able to pick my own squad. Of course taking into account that (underage coach) Dave Connell has also got important matches coming up in April. If that hadn't been the case, I may have taken one or two more players from the U19s. There's a lot of young talent there but I didn't want to disturb his preparation too much.
"I obviously talk with (FAI High Performance Director) Ruud Dokter about players, getting the knowledge that he has gained, but basically it was from the matches I'd seen. I'd watched a couple of the games two or three times over, which I've been doing in the last few days as well. Now I've got more information with me being head coach. "
Bell would ideally like his players "staying in Ireland" and helping the national league to grow stronger, though he also understands the lure of playing football abroad with better wages and a more professional set-up in many instances.
The culmination of the work done by Bell and co in the coming years will hopefully be qualification for the 2019 Women's World Cup in France, a feat which the Ireland's women's team — currently ranked 34th in the world — have never achieved at senior level.
The first goal is to be able to compete with the top sides in the European Championships, in World Cups, so that we're on a good level to be able to compete with these teams," Bell adds. "If you are able to compete, then the next step would be to participate at a World Cup or a European Championship. We have these visions and dreams, but we have to be realistic.
"The first part is to get in and to see what we're capable of doing, work on a few things, get us fit and healthy and tactically aware, so that we're able to compete with other nations."
The42 is on Instagram! Tap the button below on your phone to follow us!