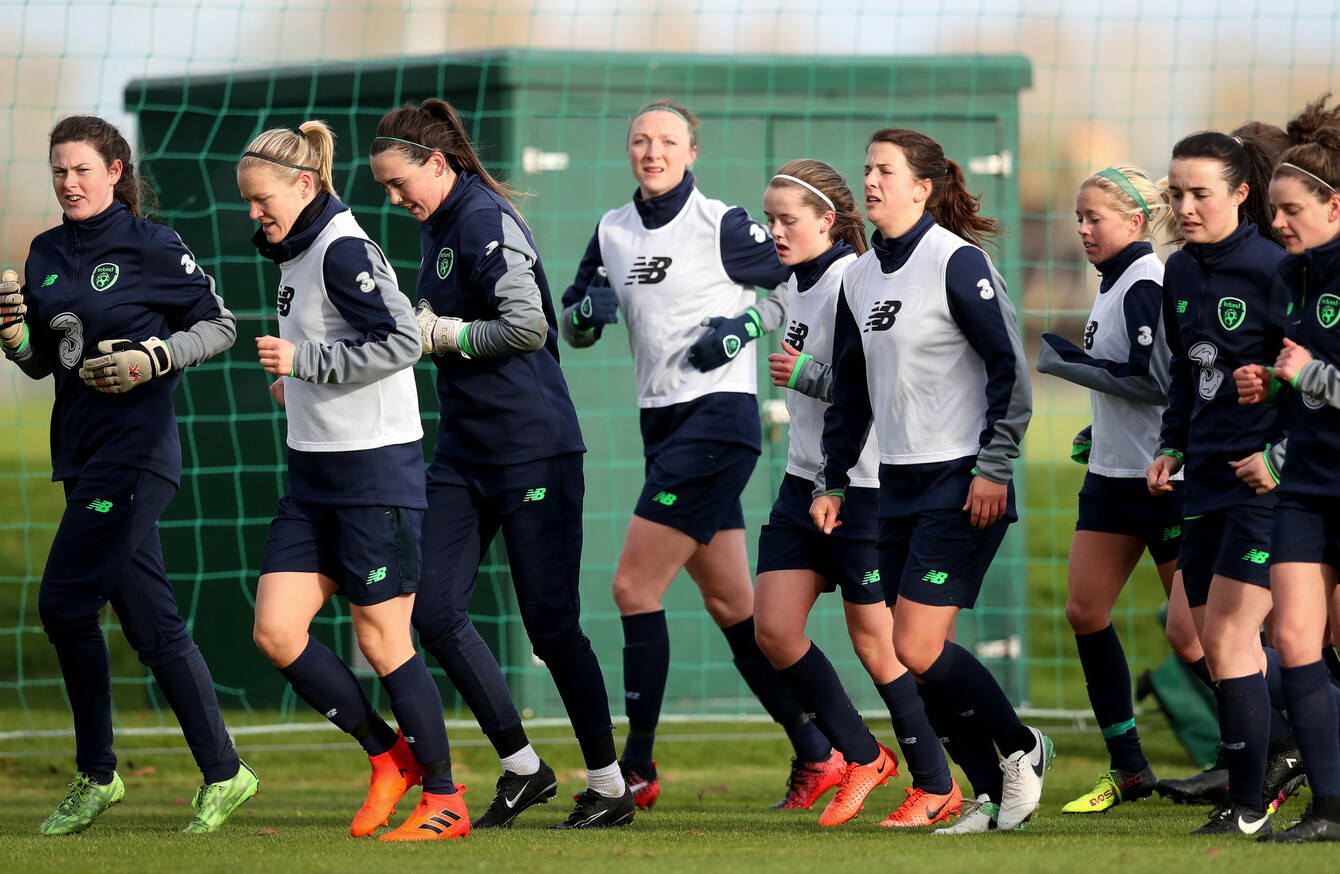 Image: Ryan Byrne/INPHO
Image: Ryan Byrne/INPHO
THE REPUBLIC OF Ireland's women's team understand the scale of the challenge awaiting them in their World Cup qualifier this evening.
Results-wise, they are in the best shape they can be, having already chalked up two consecutive victories in their opening Group 3 games of the campaign.
A 2-0 win over Northern Ireland was followed by another triumph by the same margin against Slovakia to get the ball rolling.
Those results, coupled with two clean sheets, leaves them in a healthy position ahead of their away clash against recently crowned European champions Holland.
The game is expected to be played in front of a sell-out crowd of 12,000. eir Sport 1 will be broadcasting the game on television, with coverage starting at 6.45pm. [Kick-off, 7pm Irish time], and will also be streaming the game live on Facebook.
And even if the majority of onlookers don't believe Ireland will able to live with the Netherlands this evening, manager Colin Bell is confident his team can bring the fight to the hosts.
"Logically speaking, the expectations are quite low," Bell told The42 at a recent press conference.
If you look at it as a football expert, you would more than likely say they've hardly a chance to get anything out of it. And that's fine, but we don't believe in that.
"That's the most important thing, but we have to prove that we don't believe that and that we are really on our game on Tuesday and that we make good decisions, and find a formula to stop this machine going forward.
"They didn't just win the Euros, they dominated it and when you see the game against England, they didn't have a chance against them.
"They've beaten Denmark twice, they've beaten Sweden, they've beaten Norway twice, who have world class players. So, we are really up against it, but that's exciting."
The task has been made all the more difficult given Ireland's recent losses in personnel. Key attackers Stephanie Roche and Áine O'Gorman have been sidelined since picking up injuries in the Northern Ireland game, while Claire Walsh is also missing out.
Ireland were dealt another injury blow earlier this month, when news came through that Man City defender Megan Campbell had ruptured ligaments in her right knee. She now faces surgery and months of recovery.
Bell reports that he has been in regular contact with Campbell since her devastating injury, and says that the other injured players still have an important role to play within the squad.
"We're in contact basically all the time but also in this camp, we had Áine and Steph in for meetings, a meal and a long chat.
"Claire Walsh was this time also there, so we want to take care of our injured players and give them that feeling they are part of it.
"Obviously they can't help on the pitch but they can really help off the pitch. All three of them have done really well in that respect, they;ve been in contact with the girls and that's also important, that that positivity is also coming into the camp from the girls outside of it.
"We're bringing them in to just give them the feeling that they're still part of it because they will be coming back
"Megan was very dominant the last few games, she's played very well for us and at Man City. She really has developed and put her injuries behind her really, or so we thought and so we hoped. She's an excellent player and within a really special skill (her long throws), which has really helped us.
"Those qualities will be missing for us throughout the whole campaign. It was bad enough with Áine and Stepn but we know they can be back in by April but obviously Megan's going to be out for the whole campaign so that is a blow for her and a blow for us of course but we have to compensate that.
"We have to spread it out a bit and everyone will have to do a little bit more."
He added that the team are planning a tribute for Campbell for tonight's fixture, but is withholding all details about what the gesture will be.
"Megan can't travel at the moment but the girls are going to do a little thing for Megan as well. It will be a surprise for her.
"I told her last night that we're missing her and we're thinking about her. I think it's important that she knows that.
"She's a great girl and the last couple of weeks have been tough for her emotionally with her grandfather passing away in the camp when we played Slovakia and now her injury, so she's had a couple of tough weeks."
A performance and a positive result are the key goals for Ireland, when they take to the pitch at De Goffert Stadion, Nijmegen tonight.
Their struggles appear to be behind them following their protest against the FAI earlier this year, and qualifying for the Republic of Ireland women's first appearance in a major tournament is the sole objective once again.
Bell has been in charge for some ten months now, and he's gradually getting closer to implementing what he calls 'the right formula' in the squad. Every possible situation that could arise in this game has been discussed in team meetings, and they are determined to cause some shocks along the way.
"I want to instill that mentality that we are able to beat everybody and anybody.
"This game is going to be really important for us to see how far we've come and how far we still have to go. And we know there's still a long distance to cover.
"We know that if we were to play Holland 10 times in the next few months, you'd probably have to take a few defeats in.
But we don't have to play them 10 times, but in those 10 games, we'd definitely beat them I'm sure of it."
The42 has just published its first book, Behind The Lines, a collection of some of the year's best sports stories. Pick up your copy in Eason's, or order it here today (€10):