COLIN DUNFORD IS one of the standout players of championship 2015. 
The Waterford star was earmarked as one The42′s eight young players to watch in this summer's campaign and he hasn't disappointed.
The two-time Harty Cup medallist and 2013 Croke Cup winner was also joint-captain of the IT Carlow team that won the All-Ireland League title against UCC in December 2013.
Last summer, Dunford became the first man from the Colligan Rockies club to play senior championship hurling for Waterford since 1996 when he made his debut against Cork.
He scored two goals against Wexford at Nowlan Park in last year's qualifier defeat and has lit up the 2015 season with a string of fine displays in a dynamic, roving role.
Dunford was a key member of the Waterford team that beat Cork in the Allianz League final and his pace and scoring touch are key weapons for the Déise ahead of Sunday's All-Ireland semi-final against Kilkenny.
The young star is living the dream as he prepares for his first outing at Croke Park.
"Aw it's a privilege to be hurling in this team, even to train with the panel because every player on the panel has their own special thing and we've a few hurlers there now who could just do anything with the ball. It's brilliant to be involved in it.
"With the school there would have been a massive rivalry there between Dungarvan CBS, Blackwater and De La Salle, so it's an honour to be playing with these lads rather than against them and look, we've had good battles coming up through, so it's great to be on the one team now."
Waterford's tactics and specifically the sweeper system employed has been one of the hot topics of hurling conversation this summer.
But with so many skilful players in their ranks, Dunford insists that boss Derek McGrath allows his men to express themselves.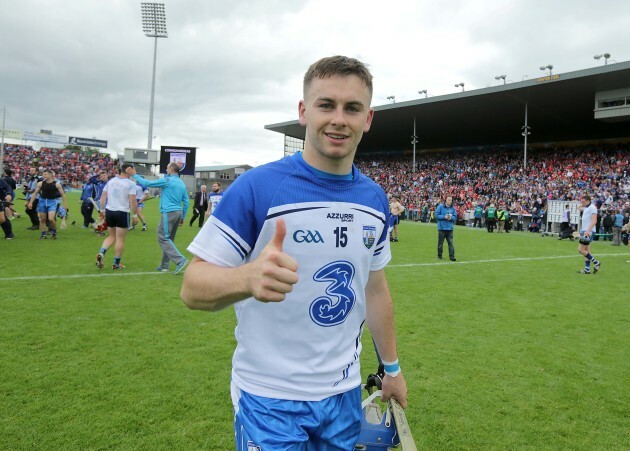 Colin Dunford celebrates All-Ireland quarter-final victory over Dublin.
"You just go out and play the game, if you're thinking tactics you're just going to be bogged down," Dunford said.
"As Derek says a lot, you're just going to be like a robot, so that's not the way that we want to be playing.
"We just want to go out and play free hurling, and thankfully we're getting a few wins with it this year."
Dunford accepts the magnitude of the Kilkenny challenge at GAA HQ, but is naturally relishing the prospect nonetheless.
"They are probably the best team in the country at the minute, if not it's between themselves and Tipperary.
"But where else would you want to be? You want to be playing against the best teams and to see where you're at, so it's great to have the opportunity to play against them and hopefully we can put up a show against them."
Originally published Friday at 18.30