IRELAND'S OLYMPIC WALKER Colin Griffin is to take an extended break from the sport in 2014.
The Leitrim athlete, who competed at London 2012 in the 50km event, made the announcement today [full statement below]. Griffin is to concentrate on his new business venture, The Altitude Centre Ireland, next year.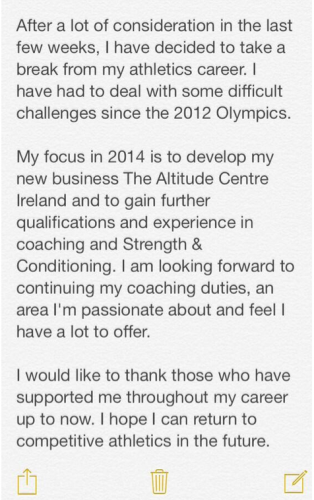 Credit: @colingriffin
The former national Men's 10km champion, who also represented his country at Beijing 2008, was omitted from the Irish Sports Council (ISC) grants scheme for 2013. Griffin was upset at the decision at the time and told TheScore.ie:
There's no shortage of money there. There's extra staff being appointed and there are so many officials who get generous expenses. I just don't think it has been channelled through in the right way."
Griffin had qualified for the Athletics World Championships in Moscow — the race that Rob Heffernan captured Gold in — but opted out of competing as he felt he was lacking in sufficient training and competitive races in advance of of the event.