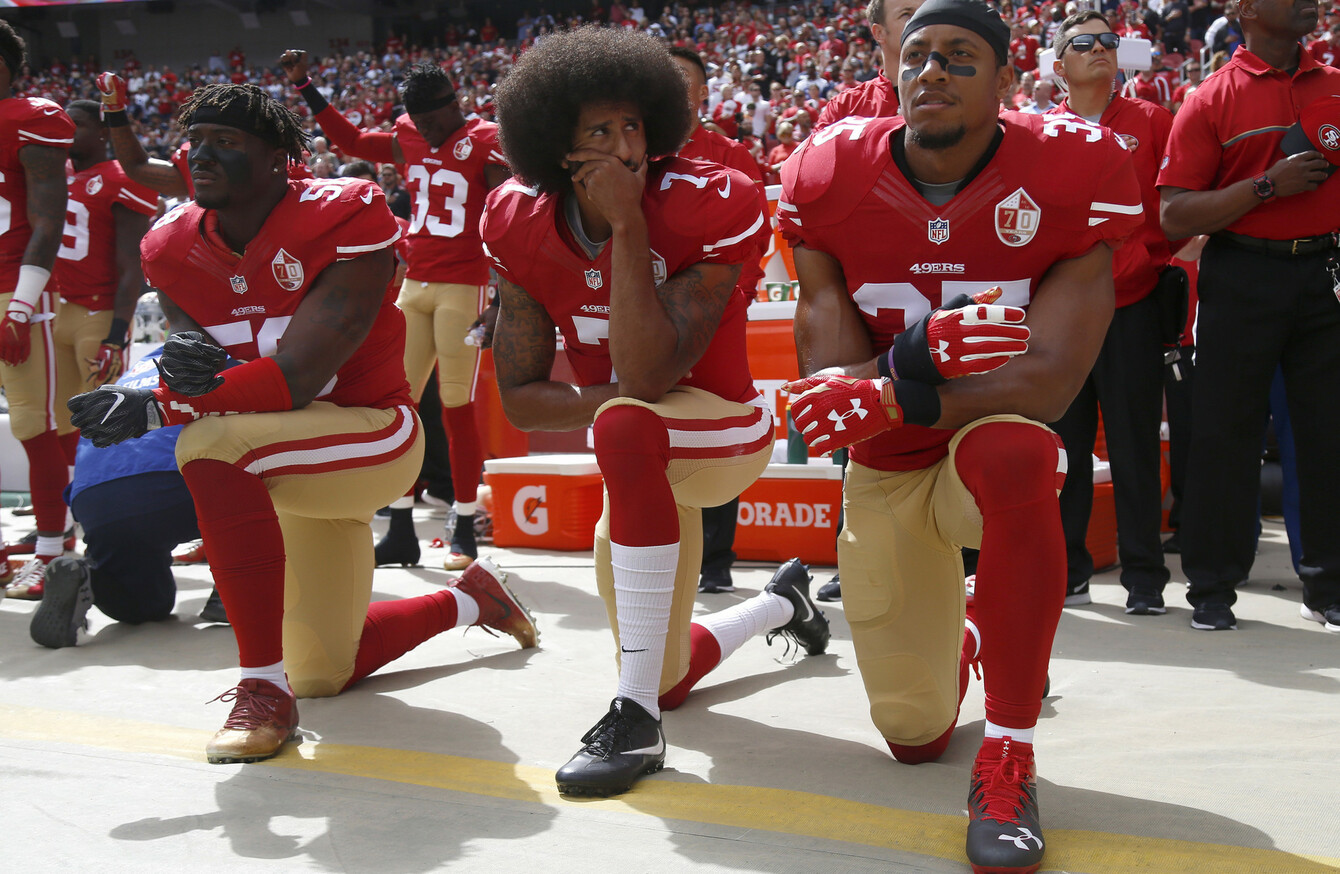 Colin Kaepernick kneeling during the national anthem.
Image: TNS/ABACA
Colin Kaepernick kneeling during the national anthem.
Image: TNS/ABACA
THE JACKSONVILLE JAGUARS are open to the idea of signing Colin Kaepernick to alleviate their quarterback conundrum, according to club owner Shad Khan.
Kaepernick attracted controversy last year, after refusing to stand for the national anthem in protest against social injustice in America.
Despite some interest coming from the Seattle Seahawks and the Baltimore Ravens, the former San Francisco 49ers player has yet to be signed.
Mike Dempsey of WJXL radio asked Khan if he would be happy to add Kaepernick to his squad, to which he replied, "absolutely."
That answer is not as conclusive as it sounds however. It seems that Khan would only be in a position to consider Kaepernick if the football people at the club supported the move.
Blake Bortles and Chad Henne are the current options to play the quarterback position for the Jaguars, but as the regular season approaches, coach Doug Marrone remains undecided as to who will get the nod for their opening game on 10 September.
Bortles was intended to be their number one after he was selected as the no. 3 pick in the 2014 draft. His performances however, have been poor throughout last season and during the training camp this year, meaning that Henne has been getting the chance to impress.
Henne is heading into his 10th season in the league, but has been afforded minimal game time. He has only started more than six games in a season three times, with his most recent start stretching back to 2013.
By contrast, Kaepernick is a superior player, throwing for 16 touchdowns to four interceptions last season for the 49ers.
His political stance however, seems to be holding him back in terms of selection.
Various key figures in American sports have come out in support of Kaepernick's cause, including baseball legend Hank Aaron. Earlier in the week, a dozen Cleveland Browns players knelt during the anthem before an exhibition game against the New York Giants.
Subscribe to The42 podcasts here: