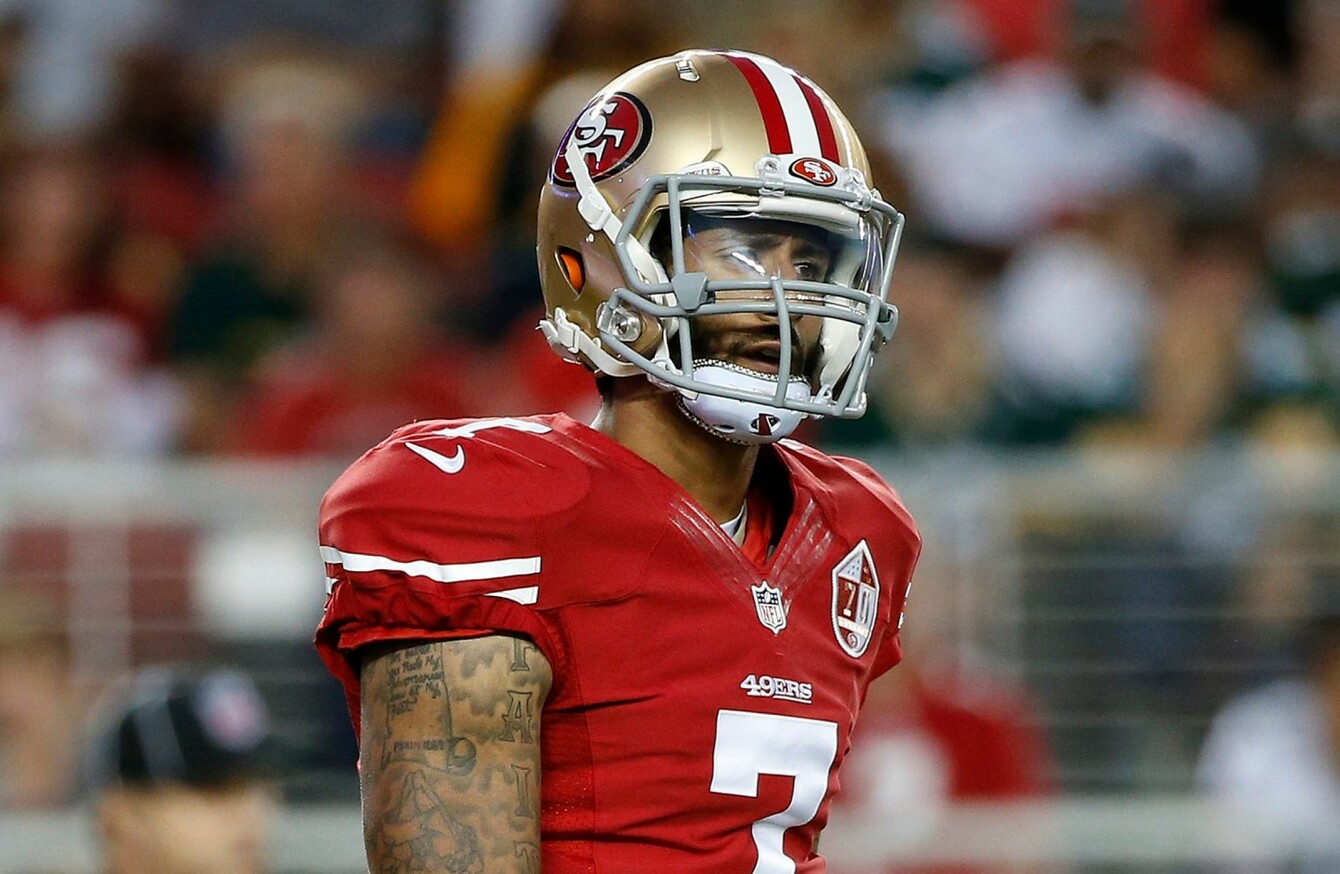 Most league insiders believe Colin Kaepernick will not play again.
Most league insiders believe Colin Kaepernick will not play again.
WHEN COLIN KAPERNICK explained why he sat during the national anthem, he added that he was aware of the repercussions that would come with such a protest.
"This is not something that I am going to run by anybody," Kaepernick said. "I am not looking for approval … If they take football away, my endorsements from me, I know that I stood up for what is right."
Now Kaepernick may be facing that situation.
Bleacher Report's Mike Freeman reports that he spoke to seven front-office executives about Kaepernick, and they all had the same reaction to Kaepernick's stance: He won't be allowed near their teams.
While Freeman says there are likely front offices that respect Kaepernick's protest, they are statistically outnumbered. The vitriolic reaction to Kaepernick may be such that his days in the NFL are numbered.
"There could be some executives who have no issue with Kaepernick, but I doubt there are many," Freeman wrote. "Each executive said he believes Kaepernick will likely get released by the 49ers — and never play in the NFL again."
Freeman continued:
"Their belief is that the team will wait a bit, maybe a week, for the controversy to quiet (a bit — it's only going to quiet so much in a week) and then release him.
"I've heard from people close to Kaepernick that he fully expected to be released by the 49ers once everyone became aware of his actions, and he also knew his football career would be in jeopardy."
Freeman adds that if Kaepernick is out of the NFL permanently, people expect him to dedicate his life to social activism.
While Fox's Jay Glazer reported that Kaepernick could be cut from the 49ers because of his regression as a passer and declining athleticism and not his political views, Freeman's sources offer a considerably different take on Kaepernick's stance.
"I don't want him anywhere near my team," one executive told Freeman. "He's a traitor."
"He has no respect for our country," said another. "Fuck that guy."
"In my career, I have never seen a guy so hated by front office guys as Kaepernick," a general manager said.
Kaepernick is only 28 and not far removed from being considered one of the most promising quarterbacks in the NFL. As seen with the Minnesota Vikings and Teddy Bridgewater's season-ending injury, the need for a competent quarterback can rise quickly and unexpectedly.
Compared with the typical journeymen backup options around the NFL, teams more open to Kaepernick's views may be willing to give a young, gifted quarterback a shot at on-field redemption.
However, it seems Kaepernick's stance may have had a more profound effect on the league than originally believed. Kaepernick has said he plans to continue sitting during the anthem and is working on other projects to promote social activism.
If his stance has caused this much anger among NFL teams, it's possible that the end of his NFL career is closer than expected.
– Scott Davis, Business Insider