IT WAS TADHG Kennelly who helped pave the way for Colin O'Riordan to embark on an Aussie Rules career and the Tipperary native now hopes the Kerry All-Ireland winner can help him make a senior breakthrough in 2018.
The new AFL season begins this weekend with Sydney Swans travelling to Perth for their opening game against West Coast Eagles on Sunday.
O'Riordan was upgraded to senior playing status from a rookie last November after he signed a new two-year contract which will keep him at the club until end of the 2019 campaign.
Kennelly took up a coaching position with the Sydney Swans last September and O'Riordan is hoping to be aided by the influence of the 2005 AFL Premiership winner.
"Tadhg is brutally honest with you. He tells it as it is and there's no bullshit with him either," says O'Riordan.
"If you play a bad game, he wouldn't sugar coat it and if you're not up to standards, he wouldn't give you any special treatment. I appreciate that an awful lot as a coach that he's up front with you.
"Tadhg obviously what he's achieved in the sport is phenomenal and I've nothing but praise and admiration for him. Him being on board for me is massive as well because he knows what it takes.
"He's been through everything, he's had the ups and downs. It's massive to have someone like that in your corner to have a chat with."
Kennelly's role in recruiting young Gaelic footballers for AFL teams may have sparked outcry from some sections of the GAA but O'Riordan doesn't believe the numbers stack up to justify that criticism.
"The way I look at it is that Tadhg gave me the chance to fulfil a childhood dream to become a professional sportsman. He gave me that opportunity which I probably wouldn't got at home playing GAA and I'll be forever grateful to him for giving me the opportunity.
"As for the bad press, I don't know what the stats are about the amount of people that come out or whatever, it's maximum maybe two a year for the last few years. Before that, there hadn't been many at all."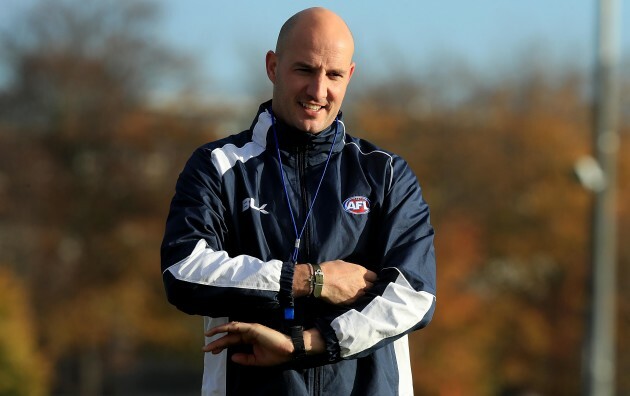 Donall Farmer / INPHO Sydney Swans coach Tadhg Kennelly at the 2016 AFL Combine in UCD. Donall Farmer / INPHO / INPHO
O'Riordan first joined the Sydney Swans as a teenager in October 2015 on an international rookie contract after impressing at the AFL's Draft Combine.
The 22-year-old regards his opening season as progressive – he was selected on the NEAFL team of the year for his displays for the Sydney Swans reserve team – but found his second year a frustrating experience as his progress stalled.
In August 2016 O'Riordan's development was derailed when sustained a broken bone in his back and a punctured lung in a reserve team game in Darwin. That sidelined him at the start of 2017 and when reviewing his form after returning to action, he feels he was 'too technical' in his approach last year.
"The first year was great. I suppose everything is new and you're just going at everything. I probably got a bit too technical last year in terms of trying to fix things instead of just playing on instinct and letting my football doing the talking. You get bogged down instead of going playing your natural game.
"This year the big aim from pre-season is to play on instinct and play my natural game which is getting the ball, going forward and breaking lines. I just want to get back to my roots and identify why they drafted me and that's the main focus.
"I suppose the end goal this year would be to play senior football. You'd have a few individual goals you want to achieve along the way in terms of getting to that.
"I'll do everything I can to play senior football and hopefully when the time comes and the coaches think I'm ready to play, I'll take the bull by the horns. There's a lot of steps involved to get there so trying to focus on all of them to get to the big one is the goal for me."
Donall Farmer / INPHO Colin O'Riordan in action for Tipperary against Kerry in 2015. Donall Farmer / INPHO / INPHO
The links with O'Riordan's GAA background have not been severed and he's been monitoring closely Tipperary's football progress this spring as they are challenging strongly for league promotion ahead of Sunday's meeting with Cavan.
"You hear people saying they should stay in Division 2 for another year of progression but I wouldn't agree with that at all to be honest. You want to be playing with the best teams, up there with the big shots.
"If someone told you five or six years ago that Tipp would have a chance to play Division 1 football, you'd bite their hand off. It's unbelievable what they're doing. The quality of players are there and they've obviously bought into the management.
"It's a great opportunity for the boys. That group of players have the belief that they can go out and match anyone in the country."
Tommy Dickson / INPHO Conor Sweeney and Liam McGrath have been key forwards for Tipperary this season. Tommy Dickson / INPHO / INPHO
O'Riordan is not immune to pangs of envy when he sees his home county in action but life in Sydney is good and he has embraced it.
"At times it can be hard looking in and thinking about what could have been but then again, you have to realise you've a good life here as well. I can't complain. Living in Sydney you're 800-900 metres from the beach and about a ten-minute drive to the club.
"It's a great lifestyle. When you're in the middle of the winter and it's 22 or 23 degrees, you kind of have to question why would you be anywhere else. The Beast from the East, we didn't have any of that here, so I sent a few pictures over to the lads at home!
"It's fantastic over here. I love everything about it. It's been a great experience so far for me and I hope it continues for as long as I can. I can't wait to get started now. You get sick of running around on the surface, in pre-season it can become a bit of a slog. But when the games are coming, it's a great feeling."
– First published 22.00, 21 March
The42 is on Instagram! Tap the button below on your phone to follow us!