AFTER 77 YEARS the drought was ended but the young Tipperary architects could be forgiven for not absorbing the significance of it.
Tipperary's 2011 All-Ireland minor win was a seismic achievement. They launched a dramatic comeback that day to storm Dublin and collect only the county's second ever national crown at that level.
Colin O'Riordan was a few weeks shy of his 16th birthday and freely admits it was difficult to appreciate the magnitude of that September feat.
"I don't think I understood it much at the time. It was great to be coming in to a team that was winning. The games kept coming and we kept winning them. You can't really savour it as much, you are there to do a job.
"You are not looking for taps on the back, you are there to win a medal. You do enjoy it, you enjoy playing football but the real enjoyment is when you win the cup."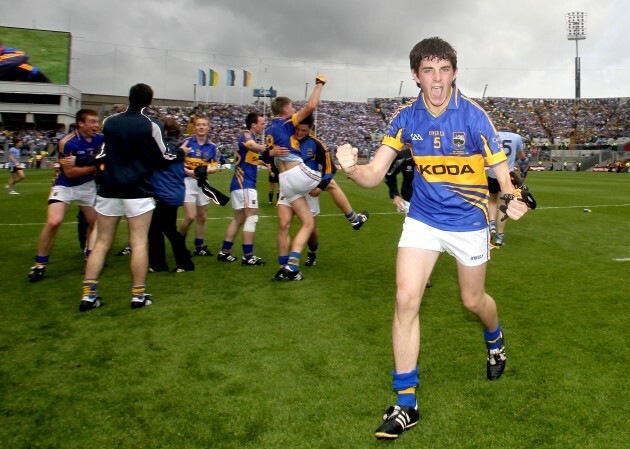 James Crombie Colin O'Riordan celebrates Tipperary's 2011 All-Ireland minor title win. James Crombie
If 2011 represented a dizzying high, 2012 brought about a shattering low. Tipperary may have got their business done in Munster but their All-Ireland hopes were scuppered at the quarter-final stage by Mayo.
Recent months have been joyous as they journeyed to next Saturday's EirGrid All-Ireland U21 football decider but the memories of that Mayo loss remain sobering.
"Going up on the bus to the Dublin game (in the All-Ireland semi-final) Steven (O'Brien) was talking to me about the special group of lads we have," recalls O'Riordan.
"I told him I had a nightmare there last night and he started laughing at me. I was after dreaming about the Mayo match and he said just make sure it doesn't happen today.
"I honestly still do get nightmares about it and it's not just a cliche. You wake up and you think if only, if only, if only. But we have a chance to rectify that now and hopefully we can do it."
Donall Farmer / INPHO Action from the 2012 All-Ireland minor quarter-final between Tipperary and Mayo. Donall Farmer / INPHO / INPHO
O'Riordan is captain and the heartbeat of the Tipperary U21 side but he feared he could be a bystander earlier this month for their Munster final date with Cork.
In late March, he was stretchered off after receiving a heavy tackle in a senior league game against Sligo. He endured an anxious wait after that concussion before receiving the green light to play in the U21 decider.
"It wasn't easy now. You had to pass all the protocols and it's usually a very slow process. All I wanted to do was to go out and play football but the doctors kept saying 'No you are not allowed. We can't let you out tonight.'
"The first day I passed it I drove down to the field and you let all your emotions out. It's a great feeling then but up to that there was serious doubts.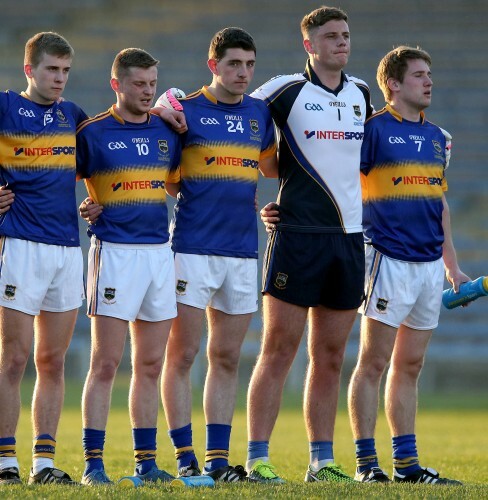 Ryan Byrne / INPHO Colin O'Riordan (centre) with his Tipperary teammates before the Munster U21 final. Ryan Byrne / INPHO / INPHO
"You get knocks on the head and I am sure that's not the first concussion I suffered but it's the first one that's after being diagnosed. Concussion is becoming a big topic now all over Ireland with the rugby. There is massive protocols gone in there and it is only right.
"At the end of the day it is a brain injury and your health is your wealth. It's an old cliche but that's it. And you're no good if your brain is hurt and you go playing it's only going to make it ten times worse."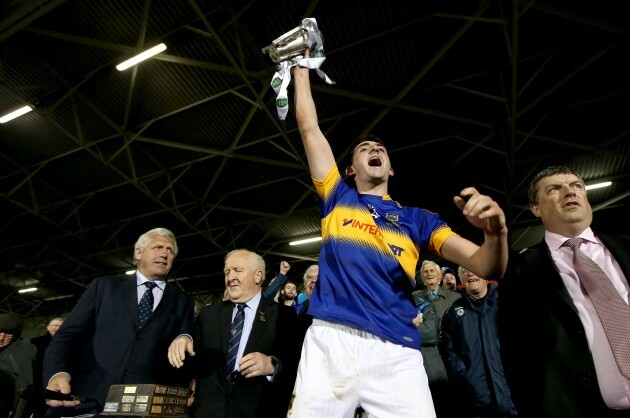 Ryan Byrne / INPHO Colin O'Riordan lifts the trophy after Tipperary's recent Munster U21 final win. Ryan Byrne / INPHO / INPHO
O'Riordan overcame that hurdle and is now on the brink of being part of another milestone for Tipperary football.
"At the start of the year if you tipped a Tipperay v Tyrone U21 final people would have laughed at you, people would have said you were mad. But we are there now and we always had the belief that this group was something special. This is another stepping stone in the pond and hopefully we can take this one."