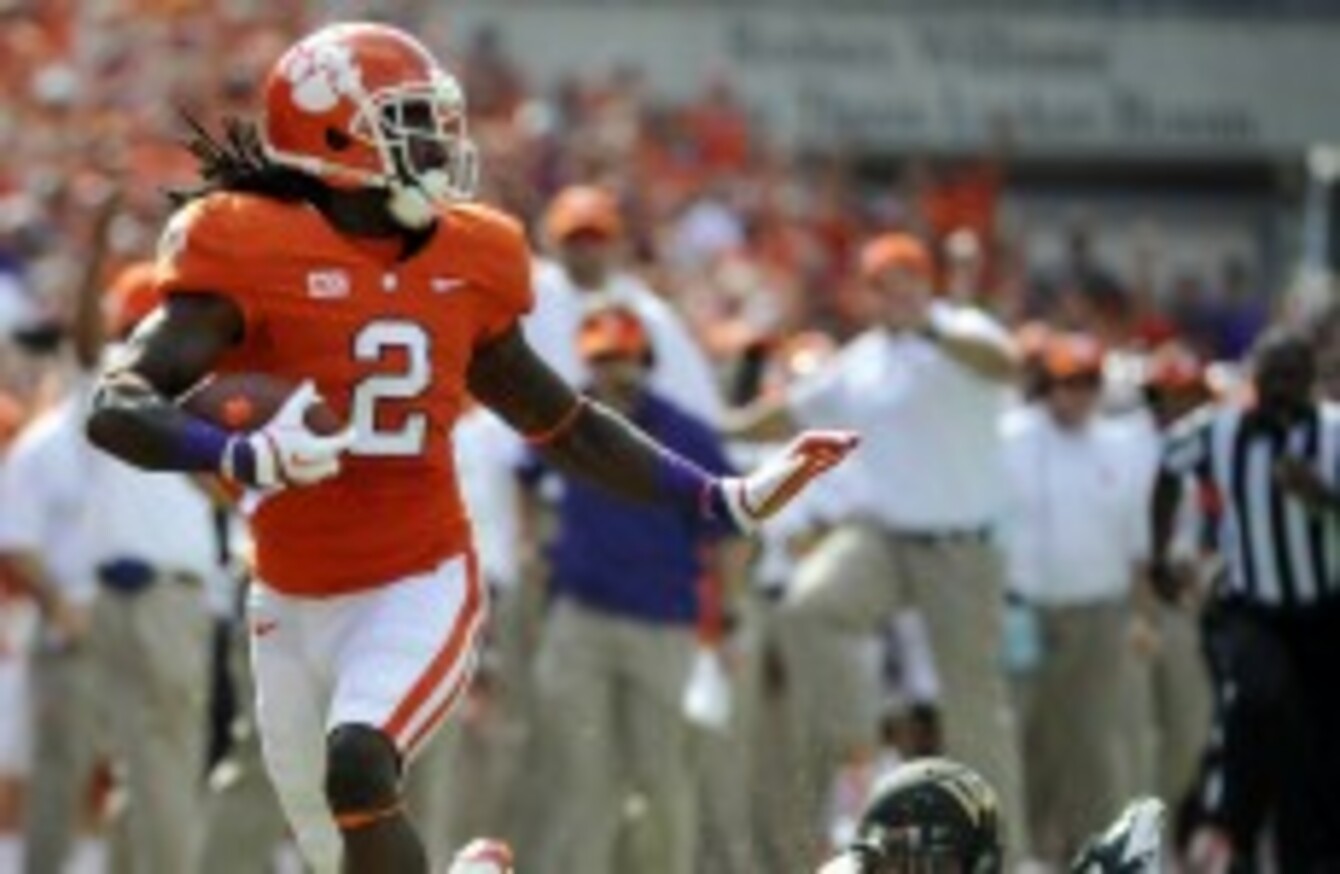 Sammy Watkins played his college football at Clemson.
Image: RAINIER EHRHARDT/AP/Press Association Images
Sammy Watkins played his college football at Clemson.
Image: RAINIER EHRHARDT/AP/Press Association Images
THE HEAD COACH of the Clemson Tigers — former home to NFL players such as CJ Spiller, Sammy Watkins and Byron Maxwell — has said it would be a "great experience" to bring his team to Ireland and follow in the footsteps of the likes of Notre Dame and Penn State.
Dabo Swinney's Atlantic Coast Conference (ACC) rivals Georgia Tech and Boston College will face off in the Aer Lingus College Football Classic at Dublin's Aviva Stadium on 3 September 2016 and the Clemson coach — whose side are favourites to win the ACC title this season — was asked on Wendesday if he would accept an invitation to play on this side of the Atlantic.
"Shoot yeah, man," he said.
"What a great experience and opportunity for your team.
"Some of these guys have never seen the mountains or the lake and things like that. I can only imagine what it'd be like to take your team to a place like Ireland."
The news is no surprise to Padraic O'Kane who was in North Carolina representing Irish American Events, the company putting on next year's Aviva game.
"Clemson is definitely a team we're looking at," he told The42 today.
"The ACC conference is looking at pushing their events globally, not just in football but in other sports too, and you can see the scope of their ambition with two teams from the same conference playing abroad next year for the first time.
"We also got to chat with the athletic directors of teams like Florida State and Virginia Tech. It was a very soft sell for them because they are looking at opportunities moving forward.
"We have the environment with Irish American Events to really promote Ireland as a destination and getting a window with athletic directors and the ACC commissioner John Swofford affords us the opportunity to plan ahead."
O'Kane — who also took the opportunity to unveil the Waterford Crystal trophy, shaped like an American football helmet, that will go to the winners of next year's game  – says that, while he welcomes the fact Notre Dame have expressed interest in a future game, the goal is to move away from just teams with a link to Ireland and onto the heavy hitters in the sport.
"There's a certain amount of discussion going on [with Notre Dame]. We will talk to them and they've said clearly they want to come back so you never know.
"But we want to reach outside of the likes of Boston College and Notre Dame and we really want the big teams to start thinking about this and I think they are."
Which teams would you like to see play in Ireland? Let us know in the comment section below.