COLM COOPER WILL this Friday attempt to land the one major honour that has eluded him in a highly successful Gaelic football career.
The Kerry senior will hope to win with his club Dr Crokes in the AIB All-Ireland senior club football final in Croke Park against Derry's Slaughtneil.
But how important are Cooper – and former Kerry senior forward Kieran O'Leary – to Dr Crokes chances of success? We take a closer look at their roles.
INPHO Dr Crokes Kieran O'Leary and Colm Cooper INPHO
***********************
DESPITE THE FINAL scoreline of 2-11 to 0-8, Dr Crokes went 16 minutes without scoring in their semi-final last month against Corofin in the Gaelic Grounds.
It really wasn't until the second goal went in that Crokes assumed control again and saw the game out.
In many ways Slaughtneil and Crokes play a similar style. Neither team plays with a permanent sweeper although both teams filter back when defending. In most cases they leave at least two men inside, so it's not a 15 man defence even when the game is all but over.
The Kieran O'Leary and Colm Cooper double act was in full swing against Corofin. O'Leary scored five of Dr Crokes 11 points and while Cooper scored just one point – from a free – he was largely the playmaker in much of what Crokes were forward.
Cooper had over 30 possessions in the game and was instrumental in the second goal that killed the game.
Kieran O'Leary
O'Leary plays a very deep role as full-forward and tends to hug that end line. Much of what he does happens inside the opposition's 13-yard line.
His second touch of the ball is a great example of just how deep he wants to play.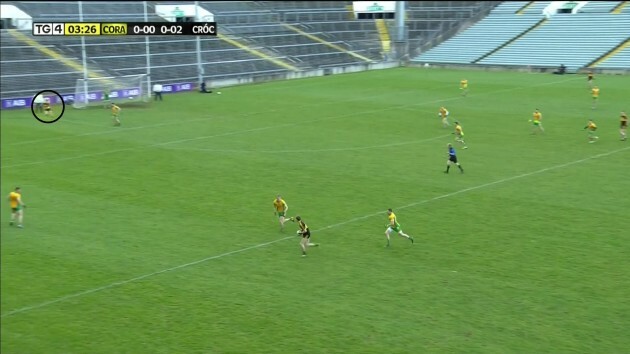 You can see him on the far left of the picture, almost marking the umpire. If the right ball is played this leaves him one v one, but it also creates a huge pocket of space between the full-back line and the half-back line.
Although O'Leary receives the ball quite wide here, Corofin just get back to cut off the goal chance.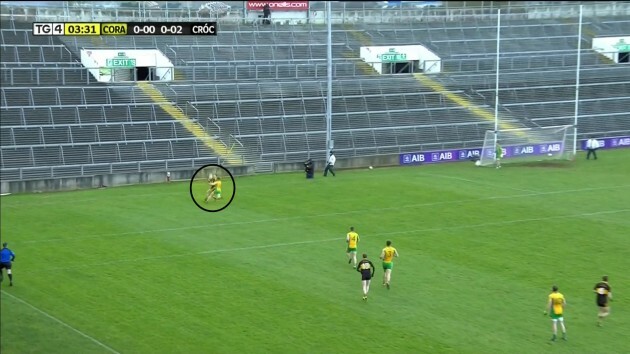 O'Leary has enough time and skill to create a chance from a tight enough angle.
His first score of the game, inside the first minute, was another example of him picking the ball up inside the Corofin 13-yard line and taking on his man.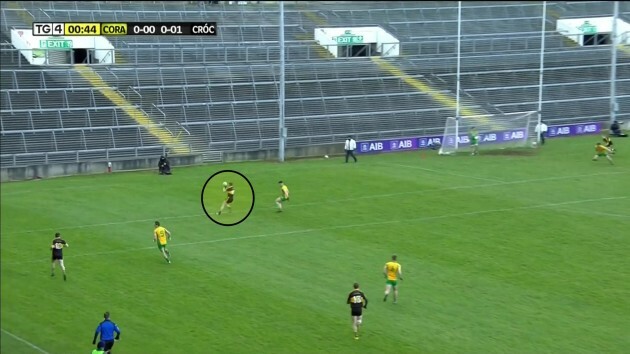 Again Corofin get a man back to stop an obvious goal chance but O'Leary easily taps the ball over the bar.
As Slaughtneil won't play with an out and out sweeper, Crokes could get a lot of joy if they get good deliveries to O'Leary. It will be important that they give him room and don't crowd the Slaughtneil '45 until he needs to lay it off.
Later in the half we could see Cooper and O'Leary link up and almost create a goal scoring opportunity. O'Leary drifts out the back and gets away from his man. Cooper plays a lovely cross field kick and lands it right on O'Leary.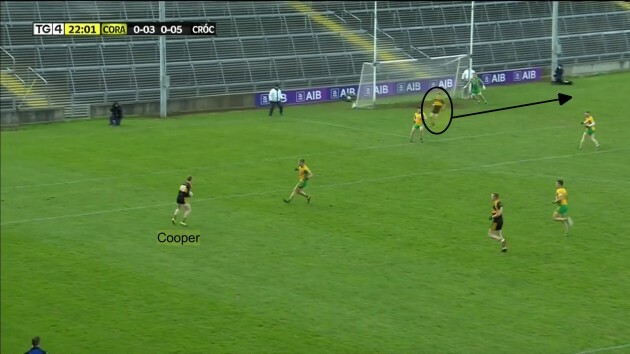 Corofin have extra bodies, something Slaughtneil have tended not to play with. This ball around the back and then laid off to a runner is an ideal opportunity to open up the Slaughtneil defence. With a player of Cooper's class this ball is always on.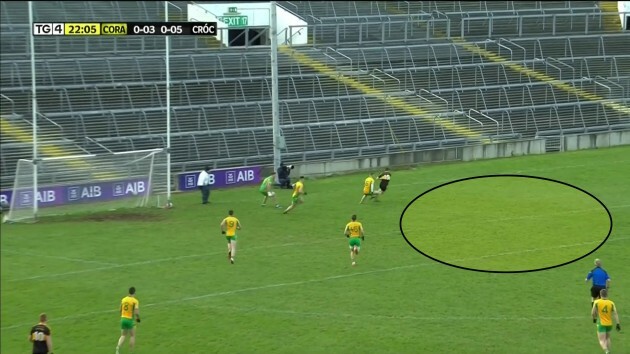 You can see above the sort of space that this allows a runner to come in to. In this case the final pass from O'Leary was just a fraction off and the move broke down.
But you only have to get this right once to completely turn a game.
They got a bit of luck for the first goal but it was an almost identical move. Cooper has what is probably a shot but it falls short.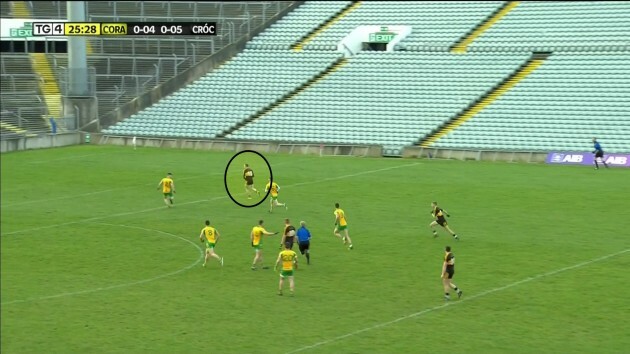 Because O'Leary is hugging the end line he is able to gather the ball.
With full backs and the sweeper being attracted so deep, it leaves a nice pocket of space around the 13-yard or 21-yard line.
There is a lot of luck required for this shot to end up in the back of the net but the space was created by playing so deep. And it means in this case Corofin struggled to get real pressure on Gavin O'Shea.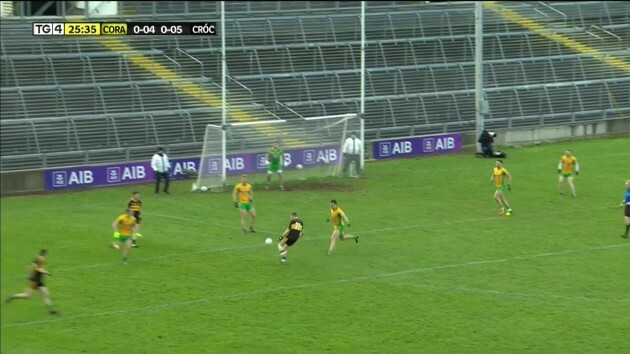 The best way for Slaughtneil to stop O'Leary is to cut off the delivery. The more pressure they can put on the likes of Cooper and Buckley out the field, the more frustrating things will get for O'Leary and force him to come out towards the '45.
In Corofin's purple patch they did this much better. O'Leary was only involved four times in the second half before being substituted and two of those plays were outside the scoring zone.
Colm Cooper
The Gooch was involved in over 30 plays in the semi-final and despite only picking up one score, his influence was stamped all over the Dr Crokes performance.
The second goal was a great example of his speed of thought, skill execution and something he wouldn't get the plaudits for, his tackling.
Dr Crokes were really struggling at this stage. They hadn't scored since before half-time and Corofin were within four points. Corofin attack down the right hand side of the pitch and Cooper finds himself back inside his own half.
The first good decision he makes is to put the brakes on. His man has beaten him out to the ball but rather than commit he can see the two runners and starts to retreat.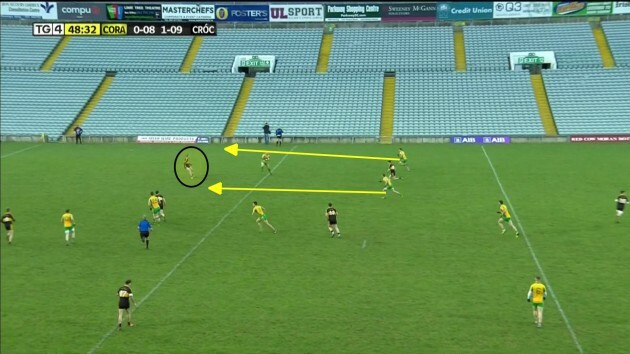 Cooper turns his back to the ball but seems to all the time be aware of what is around him.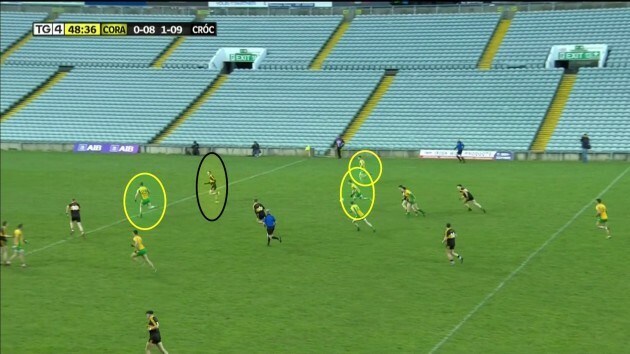 At just the right moment he turns and puts in a massive shoulder on the ball carrier. Although he attacks the ball, he has an awareness of where number 25 (Greg Higgins) is.
The tackle is enough to break the momentum of the move but doesn't turn the ball over. However as soon as the ball goes wide, Cooper immediately spots the danger and returns his attention to number 25.
As Buckley pushes towards the ball, Cooper makes 10 yards to meet the pass.
And this time he does enough to force the turnover.
Cooper has made some great defensive decisions throughout this move and has put in two tackles any defender would be proud of.
However he wasn't content to get his breath back and consider it job done.
The referee blows for afree on Fionn Fitzgerald for a high tackle. Even with the ball dead Cooper never takes his eyes off the game. Not once did he look away.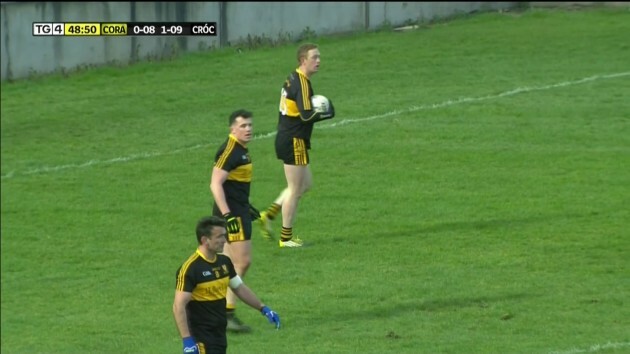 Scanning what was in front of him he spotted an opening. Corofin had committed forward and left the opportunity for a counter.
How often do you see a player in this case just drop the ball and slow the game down? Not Cooper. Immediately he spots a long kick pass and deliveries with the utmost precision.
Daithi Casey picks the ball up and eats up the ground in front of him. He soloed the whole way to the 13-yard line out pacing everyone before laying it off and Jordan Kiely scores their second goal.
Corofin did leave themselves open but Slaughtneil like to push up on the opposition and if they are not careful, could leave similar gaps.
Someone of Cooper's ability with the foot will exploit that, given the opportunity. Cooper and Johnny Buckley are the Dr Crokes playmakers. If they can get good service in to Kieran O'Leary, I suspect he will do enough damage to win the game.
The key for Slaughtneil will be getting pressure on the ball carrier out around the '45 and stop that supply.
It's likely that Chrissy McKaigue will pick up Cooper for a period and that battle will be key.
The42 GAA / SoundCloud