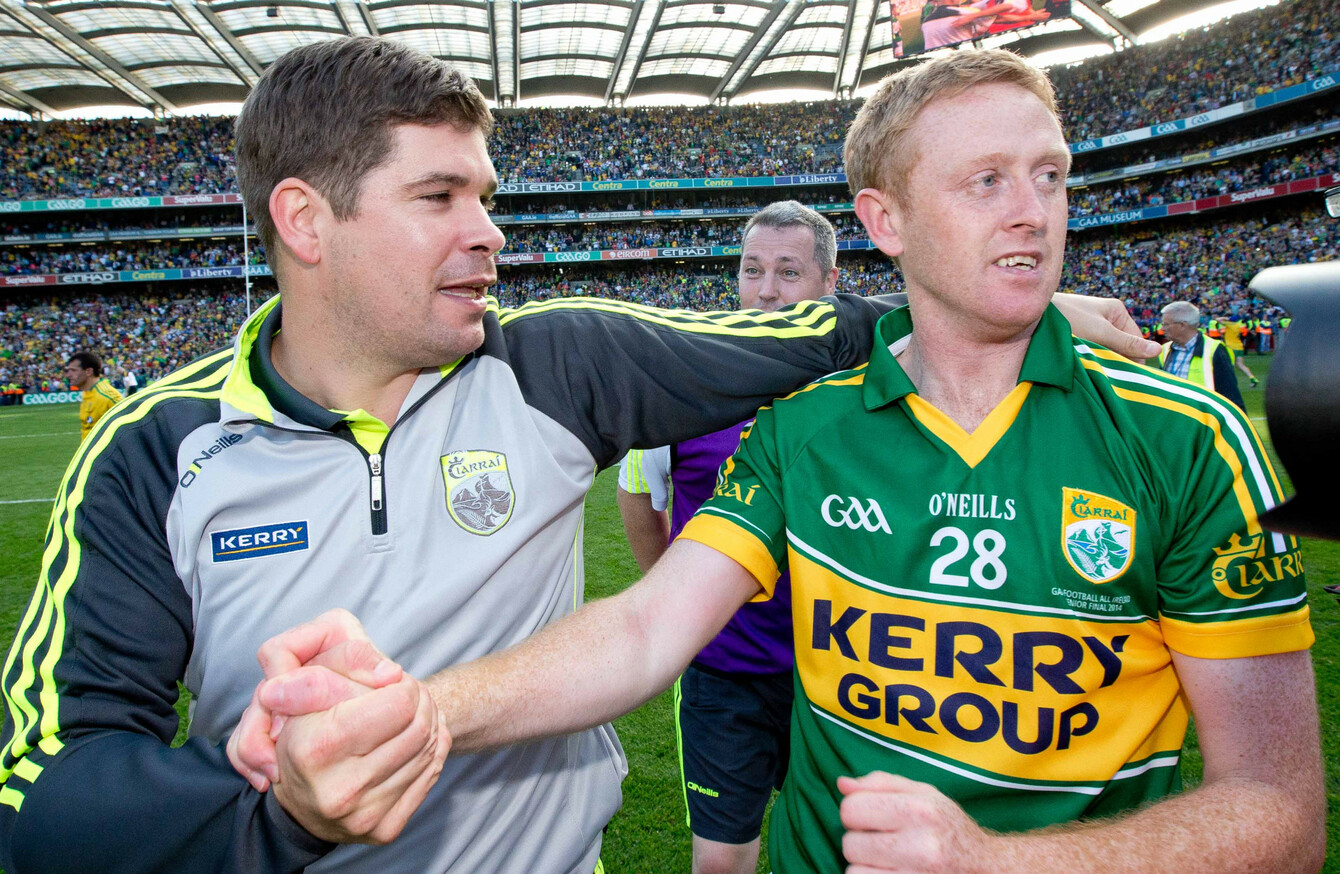 Éamonn Fitzmaurice and Colm Cooper after the 2014 All-Ireland final.
Image: Morgan Treacy/INPHO
Éamonn Fitzmaurice and Colm Cooper after the 2014 All-Ireland final.
Image: Morgan Treacy/INPHO
COLM COOPER LISTENED all summer to the talk swirling around Kerry about the need to push youngsters into the senior arena.
The Kerry production line has been churning out players of talent of late with Hogan Cup and All-Ireland minor medals.
Cooper was one of the old stagers who slipped away into retirement before the summer, leaving a void after Marc Ó Sé and Aidan O'Mahony had also called time.
The 2017 campaign ended in disappointment at the hands of Mayo last month but Cooper believes Éamonn Fitzmaurice is right to take time over deciding his managerial future.
And the Dr Crokes man trusts Fitzmaurice's judgement when it came to the decision about pressing those young players into action.
"Do I think Eamonn Fitzmaurice will stay on? I think he will, to be honest," said Cooper, speaking at yesterday's launch of his testimonial dinner in Dublin in October.
"I think he's the right man to make the decision because only Eamonn knows how much energy he has. He has got a young child now and that kind of comes into the equation a little bit more.
"We all know, look, in the Kerry job September is what you're going to be judged on, whether we're in Croke Park or not, and winning.
"So there's probably a lot of soul searching going on at the minute but he's right to take his time. Questions have been asked as to why those young fellahs aren't coming through, but it takes time.
"James O'Donoghue was on the Kerry panel for two or three years before he got a match, it takes time and so it may take more than a year.
"The word in Kerry was that Sean (O'Shea) was actually going really well and we played them last week in a club championship match, Crokes versus Kenmare, and he kicked twelve points against us so I know him a little bit better after that.
Be part
of the team
Access exclusive podcasts, interviews and analysis with a monthly or annual membership.
Become a Member
"Nine frees now to be fair but he is a really good player. It is very difficult to come straight out of minor with Kerry or with any team and it is easy for people to say that youth should have been given its chance but you have to trust the management.
"They are the people who are there day in and day out but I do think we will see an influx of a lot more young players over the next 12 months based on a couple of more retirements.
"Myself, Aidan and Marc went before this year and I would imagine there will be a couple more in the next few months. That will give fellas opportunity in the league."
Cooper reckons the best two sides in the country will be facing off in next Sunday's All-Ireland decider and with that in mind, there is a rebuilding project ahead in Kerry to improve to that level.
"There's a year left on Eamonn's contract, I understand, it might take longer to get Kerry back to winning All-Irelands.
Will it take two years or three years? Quite possibly, albeit Kerry are going for four in a row in the Minor this weekend, it's going to take time for those players to come through.
"Eamonn has been clever, and the county board have been clever, just to give him space to make that right decision and I'm sure we'll hear pretty soon about that too.
"For me, it will be very hard to rebuild the Kerry team in 12 months, from now. Does Éamonn have the energy for another three years? I think it will take a bit of time and if he is going to do it it might take a couple of years.
"Kerry will be competitive next year but will it be enough to stop a Mayo ior a Dublin? The jury is out on that. It is a golden generation for Dublin.
Subscribe to The42 podcasts here: