BIZARRELY, HE IS even introduced on Clare FM as "Darach Honan's father".
It is obviously to give context to the new hurling supporter, but you'd think Colm Honan had made little or no contribution to the county hurling scene.
While he doesn't have the All-Ireland medals his son possesses, Honan is a former All Star, who played for 11 championship seasons with Clare.
He was part of a stellar squad including Sean Stack, Seamus Durack, Ger Loughnane, Johnny Callinan, Sean Hehir and Johnny McMahon that won back-to-back National League titles in 1977 and 1978.
He went on to manage the only Clare team to win an All-Ireland minor hurling title in 1997 and has overseen the U21s subsequently. He also led Truagh/Clonlara to county and provincial honours at intermediate level in 2012.
Yet it seems that none of that really matters when it comes to pecking order in his house.
"I keep telling him not to be cheeky!" laughs Honan senior.
"But he's a great kid, he's very committed. He's had a tough couple of years with injuries but he's beginning to come back and hopefully we'll see the best of him in the summer."
It is a good time for Cú Chulainn's preferred sport in the Banner County but as Honan points out, it's not just his family that is providing a link.
"[Inter-county referee] Seanie McMahon's two daughters [Laura and Róisín] are playing for us, Conor McGrath's sister [Máire] is playing for us. Our captain, Kate Lynch is a first cousin of the hurling captain, Pat Donnellan.
"You have the girls going to the lads' matches, and the lads going to the girls' matches. They see how hard they're working and that it brings success. The fact that Clare have been successful has given it all a lift."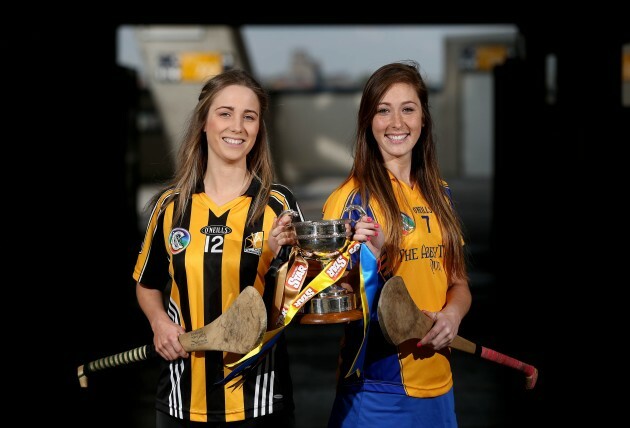 Cathal Noonan / INPHO Leanne Fennelly of Kilkenny with Clare's Eimear Considine. Cathal Noonan / INPHO / INPHO
Honan has continued to develop on the foundations laid by his predecessor, John Carmody, as well as the prodigious underage endeavours that have seen a slew of young talents come through the ranks.
Tomorrow, Clare will appear in their first ever national final in the top tier, when they take on Kilkenny in the Irish Daily Star Camogie League Division 1 decider in Thurles.
"We have been building over the last couple of years" says Honan. "We were very close last year and we just needed a run this year. We got the breaks I suppose.
"We had very good games. We had a tough game against Kilkenny in the first round, we had a tough game against Galway, we beat Limerick.
"The extra two games [in the play-off] was a great break for us because it gave the girls more competitive games to try to implement the way we were trying to coach them to play, as we changed it a little bit. They gave them the confidence to play with a little more freedom.
"Cork got a couple of goal chances [in the semi-final] and didn't take them. We had a couple and took one.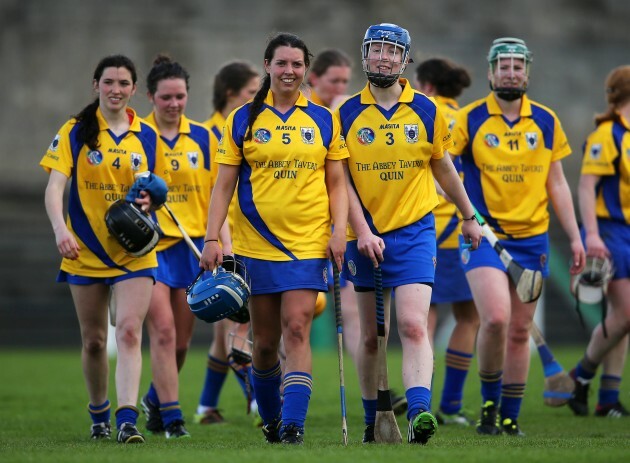 Cathal Noonan / INPHO Roisin McMahon leads a happy Clare team off after their semi-final win over Cork. Cathal Noonan / INPHO / INPHO
"There was very little between the two teams but we just got the break and were strong enough and confident enough to hold that to the end.
"I was impressed that they didn't fall back on top of themselves. They played the game solid through the air, took the chances that came their way, attacked the ball, came out of defence strong and continued to play — the Cork way I suppose, the way you win matches.
"You play right to the 60th minute and you play the same way, with the same system you always did, with confidence."