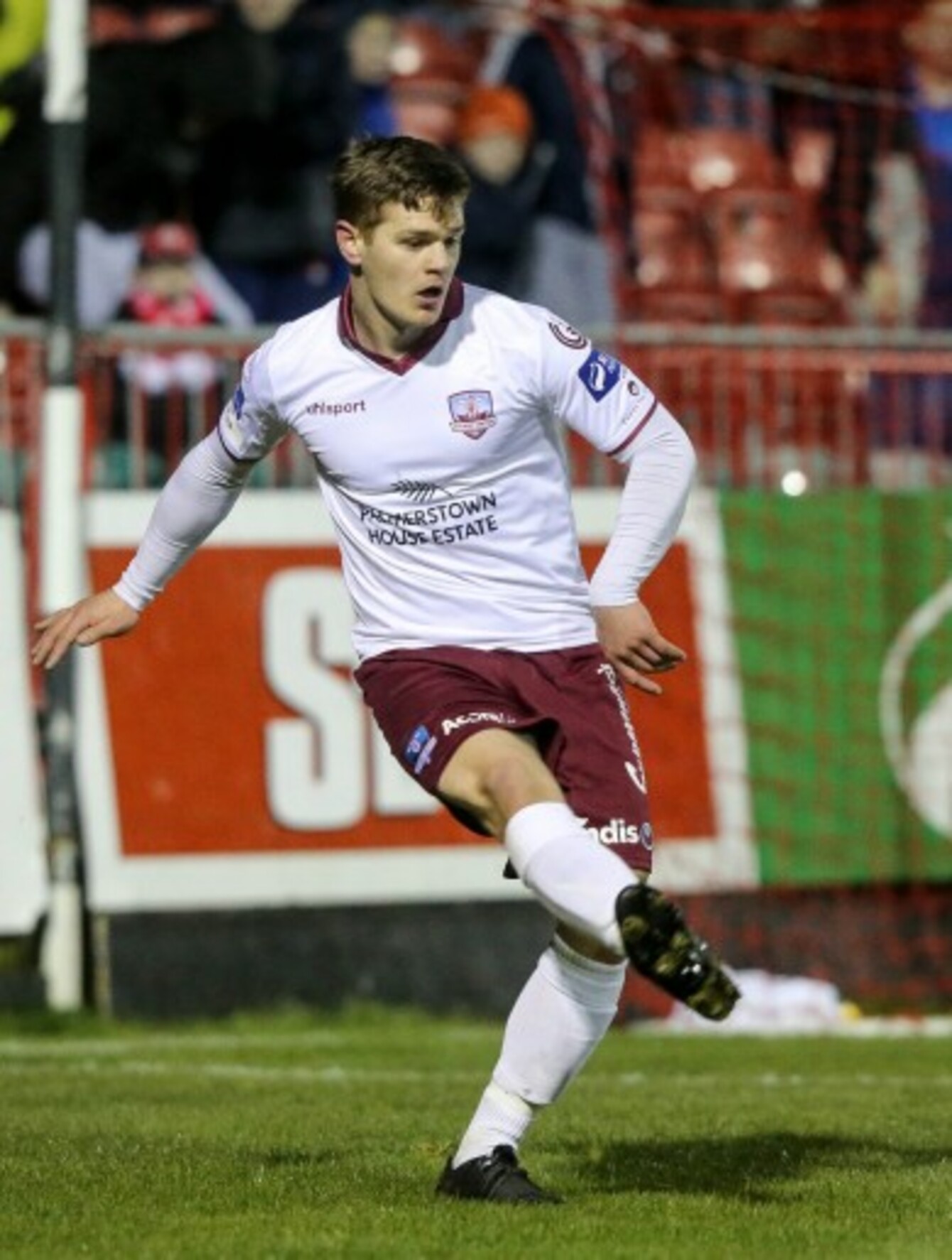 Tribesmen defender Colm Horgan.
Image: Gary Carr/INPHO
Tribesmen defender Colm Horgan.
Image: Gary Carr/INPHO
COLM HORGAN DOESN'T see quite as much of his brothers these days as he did growing up in Galway.
With four siblings all carving out their own careers in the game, meeting up during the season can often prove difficult due to club commitments.
Father Tom coached at Salthill Devon for a number of years, so it is no surprise that's where they got their starts.
Daryl led the way — lining out for them in the SSE Airtricity League First Division before enjoying spells at Sligo Rovers, Cork City and Dundalk.
Developing into the league's top player during three incredibly successful seasons with the Lilywhites, the 24-year-old winger has since moved to Preston North End and, just last month, won his first senior international cap for Ireland.
Colm, two years Daryl's junior, made his debut for Devon at the age of 16. The full-back joined Galway United at the end of 2013 and he has since gone on to play over 100 times for the Tribesmen.
19-year-old goalkeeper Kevin took the same path but signed for Shamrock Rovers back in December. Then there's promising midfielder Christopher, who was added to Galway's U19 ranks at the start of this year.
Despite their busy schedules, the Horgans remain in close contact, as Colm explains.
"I'd be on the phone to them regularly enough," he told The42 this week. "Daryl will ring me either Thursday or Friday and I'd call him before his games for a chat. I usually talk to Kevin before and after games as well."
28 March was a proud day for the whole family, as Daryl came on as second-half substitute in Ireland's 1-0 defeat to Iceland at the Aviva Stadium.
I missed the first 15 minutes of that game just watching him warming up!" says Colm. "It was unbelievable and he deserves everything that he has got. He's worked exceptionally hard, not just last season as he was doing when he was at Cork City too.
"He's got consistency now thanks to the hard work that has been put in so it's not really a surprise, but it's unbelievable to see."
There was also a recent trip over to Ewood Park to catch him play for North End away to Blackburn Rovers, but the lads didn't stay long as they had games of their own.
"That was lovely but it was a quick trip because we played Bohs the Friday and Kevin had a game at home (to Cork City) too. We went on the Saturday morning and came back that evening. It was nice to get over and see where he lives."
This season has been a particularly tough one for Colm so far. Having finished ninth in the Premier Division last year, Shane Keegan was brought in to replace the sacked Tommy Dunne.
After seven matches played, however, Galway are rooted to the bottom of the table with just three points and no wins to their name.
"It's been very disappointing that we haven't got a win in seven games so far," the defender admits. "It's not ideal, to put it lightly.
"We've fancied ourselves to get results every time we go out to play and some weeks we've actually played quite well without getting the three points. I'd say some of the teams that have beaten us have come away saying 'Jesus, they're actually not a half-bad team'.
"So in that sense, it's almost a surprise that we haven't got anything out of the games. We might just need a little bit more before we get the right results. We don't expect to be in this position come the end of the year so we just have to keep working hard."
Galway host second from bottom St Patrick's Athletic at Eamonn Deacy Park tomorrow night, and the home side will undoubtedly be targeting a victory.
"It's very competitive this year as anyone can be beaten on any given week and I'd put ourselves in that category," he adds. "On our day, we can beat anyone. Granted it hasn't gone our way yet, but there's no reason why we can't turn it around this Friday.
I think we will be okay once we get a win under our belts — hopefully against Pat's. Then we can go on a bit of run and start to show people what we're really about."
At 22, Horgan has been handed the captain's armband to replace Ryan Connolly — who is now at Shamrock Rovers.
"It's my hometown club and it's a great honour," he says. "Hopefully I'm captain of a club that does well as I don't want to be in and around the bottom come the end of the season.
"Ryan was a brilliant captain for us last year so I'm trying to pick up where he left off. Before that, it was Paul Sinnott who is still with us.
"There are senior characters at the club who are there to lean on if you need anything. So it's not just myself, it's the group."
The results may not be going their way at the moment, but Horgan insists that their manager has been exceptional since arriving from Wexford FC.
"Shane has been brilliant so far and he's brought in a lot of changes behind the scenes. Training has been excellent and he hasn't left any stone unturned when it comes to analysis of the opposition.
"It's probably frustrating for him as we can see how hard he's working and yet he's probably under a bit of pressure because we haven't got the win. We probably owe him the result as much as we owe ourselves it."
The Premier Division has seen two managerial casualties in recent weeks as Limerick parted company with Martin Russell days before Sligo Rovers announced that they were severing ties with Dave Robertson.
As three clubs are set to go down, it has made staying in the top flight an even tougher task but Horgan is hopeful that Galway stick with their man.
"As I said, Shane has brought a lot of new things in training in terms of analytics. He's been top notch and I'm not just saying that.
"You could ring anyone in the squad and they'd only have good things to say about him. I'd be really disappointed if Galway were to get rid of him, but you never know in football.
"I think the club know that it's a transitional period for him and the lads and I don't think anyone is panicking yet."
The42 is on Instagram! Tap the button below on your phone to follow us!