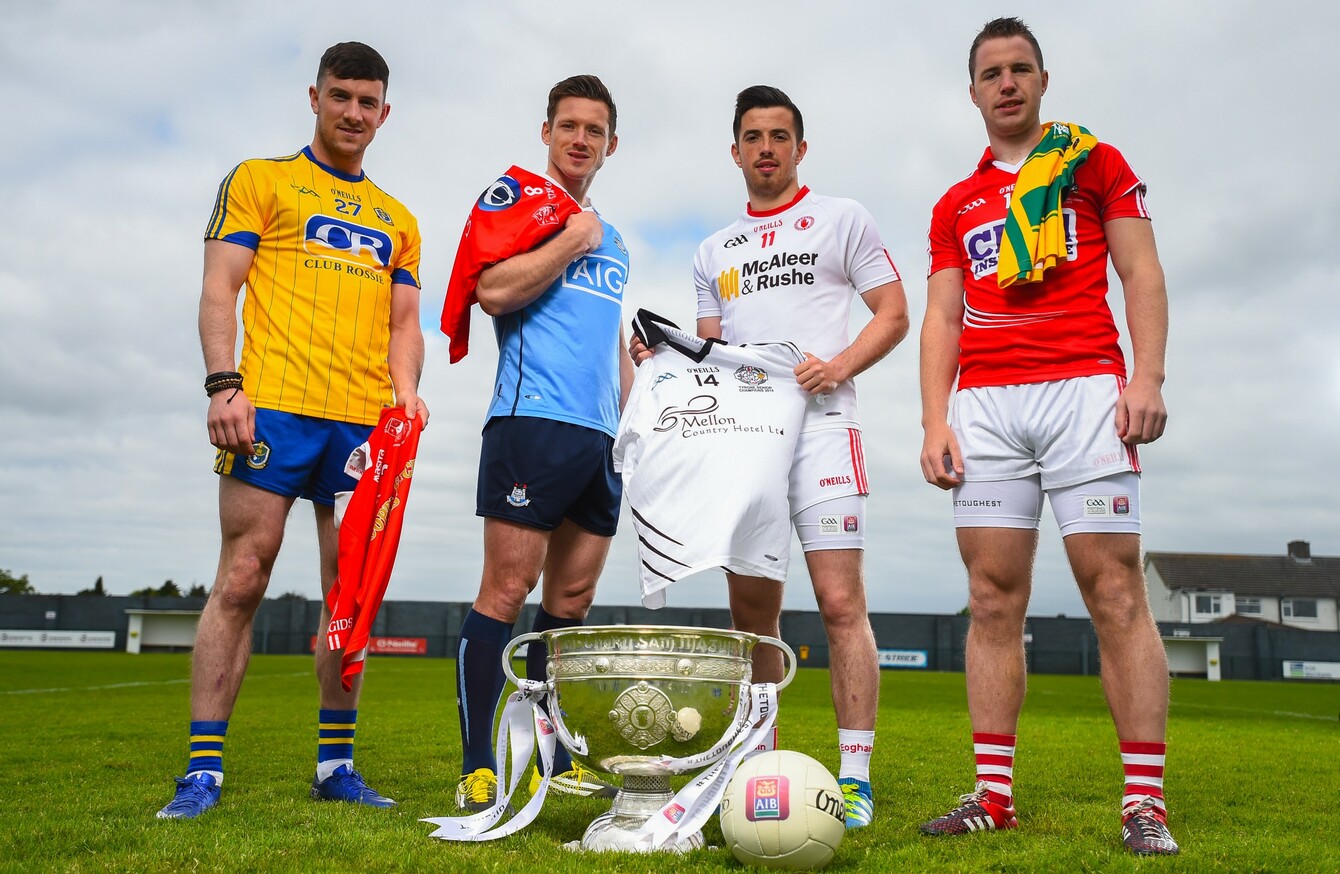 Roscommon's Neil Collins, Dublin's Paul Flynn, Tyrone's Ronan O'Neill and Cork's Colm O'Neill at yesterday's AIB launch.
Image: Stephen McCarthy/SPORTSFILE
Roscommon's Neil Collins, Dublin's Paul Flynn, Tyrone's Ronan O'Neill and Cork's Colm O'Neill at yesterday's AIB launch.
Image: Stephen McCarthy/SPORTSFILE
CORK FOOTBALLER COLM O'Neill has revealed the common denominator running between the three separate career-threatening cruciate knee ligament injuries that he has suffered — the month of March.
Nobody has racked their brains more than the talented Rebels forward for a reason for the terrible run of luck that came his way in his early 20s, knocking him out of the game for long periods on each occasion.
The most recent setback occurred in 2013 and having thought about it long and hard since then, he has concluded that it was all down to bad luck. He does find it a little odd all the same that each of the injuries occurred at a similar time of the season — early spring — which is an experience many top GAA players have also had.
Asked about any common links between how he suffered the injuries, O'Neill responded: "Nothing I can think of. People are always asking me, 'Was it the boots? Was it the ground? Was it that I did too much weights?'
"But the only common denominator that I could come up with is that all three were done around March. They have been within a two or three-week window of each other which is quite strange.
"Whether that's something significant, it's hard to say. I asked numerous surgeons around the times it happened. I asked, 'Why does it keep happening? Is it just bad luck or what?'
I don't know. I do remember they said when I walked out the door after getting over the last one, 'Look, just because you did it three times before, there's no guarantee that you won't be back here again'.
"The guy said, 'I definitely don't want to see you again but that's the way it is, it's down to bad luck'. So that's what I'm putting it down to really."
Despite suffering the three setbacks by the time he was 25, O'Neill surprisingly views himself as fortunate in many ways. The way he sees it, he's been a Cork footballer since 19, which isn't a bad thing to be able to say.
It's the sort of glass-half-full optimism that allowed the Ballyclough man to overcome his difficulties and which has helped him to return to the summit of the game.
Results, of course, haven't been kind to Cork just recently, with relegation from Division 1 of the Allianz League recently confirmed, while last year's Championship ended with a surprise qualifier defeat to Kildare.
Flash Sale
50% OFF
Use promo code: FLASH50 at checkout to access exclusive analysis, insight and debate for only €21.
Become a Member
But the fact that O'Neill is still Cork's top forward, and one of the best in the game overall, as evidenced by his first-half performance against Dublin in this year's League tie at Croke Park, is a considerable feat in itself.
"You couldn't say I've been lucky, but because of the injuries I have had one or two years out where I could kind of push back from the whole thing a bit, that it's not every year in with Cork constantly going at it," said O'Neill.
"So I've kind of tried to view it from both sides, that there's an element of freshness after being off as much as I have been but also that it gives you the drive and determination to keep getting back.
To be honest, it's not something I really dwell on any more. I've tried to just accept it as things that happened to me and to move on from them. Hopefully we've seen the back of it."
O'Neill was speaking at the launch of AIB's sponsorship of the GAA All-Ireland Senior Football Championship. He's looking to the summer with optimism — despite what happened in the League — and he doesn't give much thought to the cruciates anymore.
"We'd obviously be disappointed with the way the League finished up for us," said O'Neill. "But at the start of the League, if you'd said we'd get six points and that we'd try out 30 to 35 players, then you might have taken that.
"Some games we performed well, others not so well. I think Donegal and ourselves finished on six points and they got to a semi-final and we got relegated so it just shows the small margins that were in it this year."
The42 is on Snapchat! Tap the button below on your phone to add!