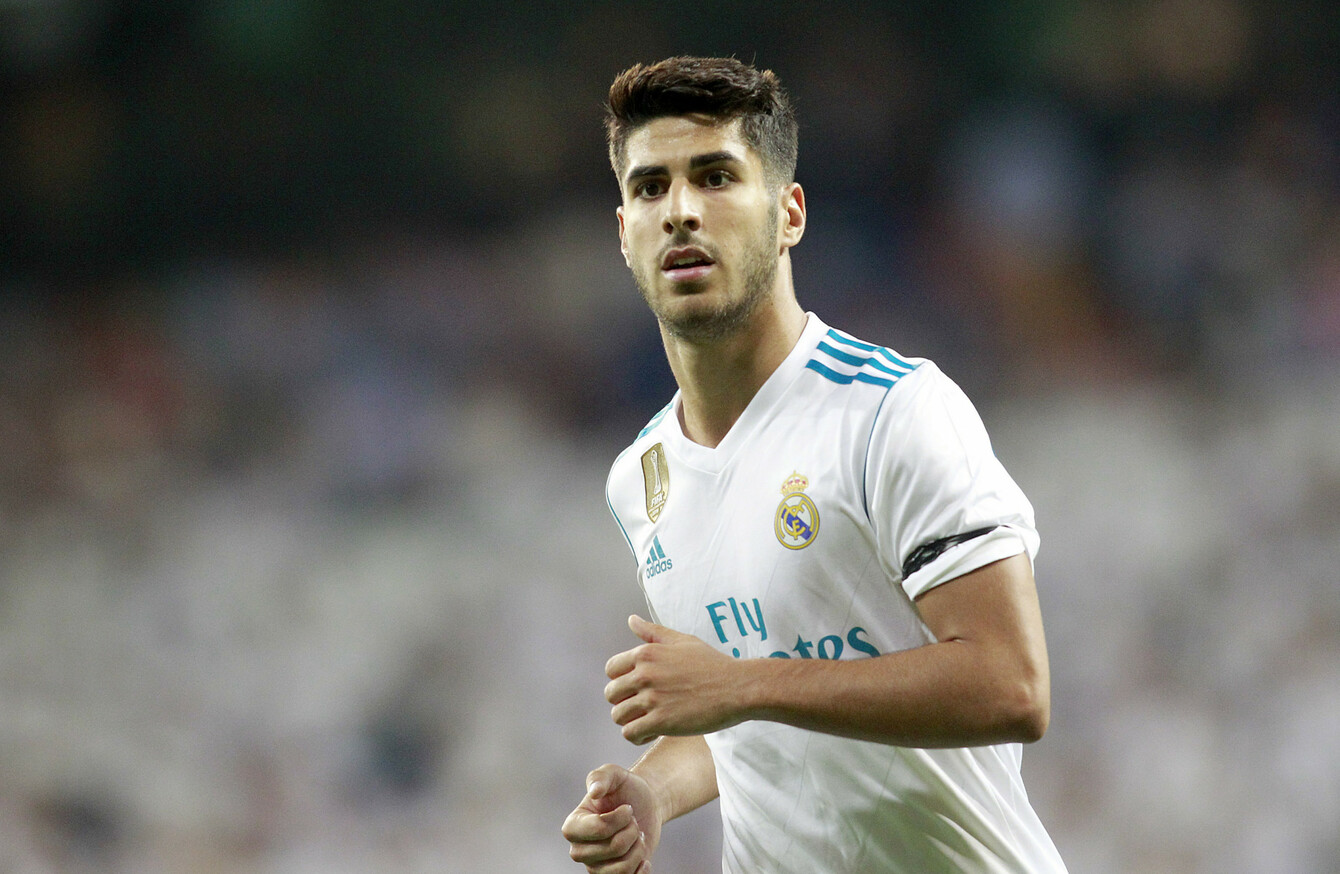 Real Madrid's Marco Asensio.
Image: SIPA USA/PA Images
Real Madrid's Marco Asensio.
Image: SIPA USA/PA Images
WHAT A POIGNANT moment it was, late in Real Madrid's victory over Borussia Dortmund on Tuesday night, when Marco Asensio stepped off the substitutes' bench to make his first Champions League appearance of the season.
Asensio, you may remember, had missed Real's opener against Apoel Nicosia, struck down with an infected pimple he'd gotten while shaving his legs.
Terrible business.
But Asensio made his return with the quiet dignity with which he had borne his debilitating condition, demanding no ovation for his courageous battle, happy that he had done his bit to raise pimple infection awareness.
Sadly he had to deal with outdated attitudes to his struggle, with many saying he should 'man up' and play on, ignorant to the harrowing reality of depilation-related injury.
Nowhere was this cruel scepticism more prevalent than here in Ireland, where some pointed to Jonathan Sexton playing the third Lions Test against the All Blacks with a broken wrist, others to the resolutely hard-ass world of GAA where leg-shaving carries a 12-week CCCC ban.
The general take was that Asensio, like most of his soccer playing ilk, was — at the risk of coming over a bit Neil Francis — a big girls' blouse.
This was a reminder that, while soccer is undoubtedly huge in Ireland, it is still regarded with suspicion, on a par with fast food and pornography, consumed enthusiastically even though we suspect it is bad for us.
For many Irish, soccer is like divorce: an imported concept that gained popularity in the 1990s, carrying a whiff of illicit glamour, but ultimately morally questionable.
True, there are stylistic criticisms. Some find soccer boring in comparison to, say, hurling, not realising that the boring bits are when soccer fans come up with hilarious songs about oversized appendages.
But the main objections to soccer are moral: its mercenary nature, the diving and a fundamental physical wussiness. These misgivings are magnified by the fact that GAA and, latterly, rugby are seen to embody the opposite.
In this sense, as in so many others, we have followed the teachings of Eamon De Valera. De Valera, looking into that always-on-the-money heart of his, believed hurling and rugby to be the sports most suited to the Irish spirit.
While I like to imagine Dev as perfect material for The Sunday Game panel, decrying the sweeper system and applauding the manliness of the fare, rugby was actually his sport of choice. "There is no football game to match rugby," the former Blackrock and Munster full-back once said.
But soccer wasn't in keeping with the Ireland of Dev's romping children, athletic youths and comely maidens, as the likes of Johnny Giles found out.
"There was an anti-soccer feeling… there would have been a divide between the Gaelic and the soccer people," Giles said of his 1940s childhood in a recent RTÉ documentary. "I didn't consider myself Irish really going to school… because of the influence of lay teachers and Christian Brothers."
All that changed with Match of the Day, Jackie's Army and Super Sunday, yet traces of Dev's disdain remained even if playing soccer no longer earned six of the best from a sadistic Brother.
But are the days of soccer being pissed on from the high moral ground coming to an end?
It certainly seems that way. Not that soccer is dragging itself upwards. It is more rampantly materialistic than ever; diving is so ingrained that players who don't do it are chastised for being "if anything, too honest"; and, y'know, infected pimples.
It's more that the others are coming down from their ivory towers. Okay, so the obscenities of transfer deadline day are some way off, but the controversies over Dublin's All-Ireland business breakfasts, the Gooch testimonial and the tearing up of the Croke Park pitch for every passing supergroup are evidence of the GAA's increasing commercialism.
Nor will slagging soccer for its physical delicacy be in good taste much longer given increasing fears about the long-term impact of head injuries in rugby. While the Rugby Will Kill Your Children hysteria has gone too far with calls for a ban on scrums and tackling in schools, the sport may be faced with a fundamental re-imagining away from muscle-bound machismo and back towards guile and grace.
And now we move onto the cheats, as Father Ted might say. Rugby has always had the 'dark arts', but the scourge of 'cynicism' looks set to be, like simulation in soccer, the big test of the GAA's moral scruples. The last two minutes of the All-Ireland football final have become more talked about than any of the dramatic seventy-odd that preceded them, a flying GPS unit and Dublin's formation fouling display ending the showpiece on a sour note.
"Kill or be killed" was the reaction of Kerry's Paul Geaney to the All-Ireland endgame when asked about this win-at-all-costs mentality, an acknowledgement that diving soccer players no longer have the copyright on moral relativism in sport. It turns out that players in most sports will do whatever it is the authorities will let them get away with in order to win, as Lee Keegan found to his benefit this week when the GAA washed its hands of his skullduggery.
This levelling out of the moral high ground isn't all bad news, because it can be hard to see properly from up there. As a teenager, Marco Asensio lost his mother to cancer, while at the same time suffering a developmental dysfunction which left him with such chronic leg pain that he had to be carried home from games.
Take a closer look at the Real Madrid youngster and there is character and courage aplenty, making him well-equipped to deal with his infected pimple hell.
Originally published at 10.28
Subscribe to The42 podcasts here: