GIVEN HOW THINGS have gone for them in recent seasons, it can be easy to forget that St Patrick's Athletic were the last SSE Airtricity League Premier Division champions before Dundalk began their run of three-in-a-row dominance.
Ahead of the 2017 season, which kicks off for Pat's tomorrow night at home to Bray Wanderers, Liam Buckley's side haven't been mentioned as potential participants in this year's title race. Conan Byrne admits that's frustrating, but also justifiable.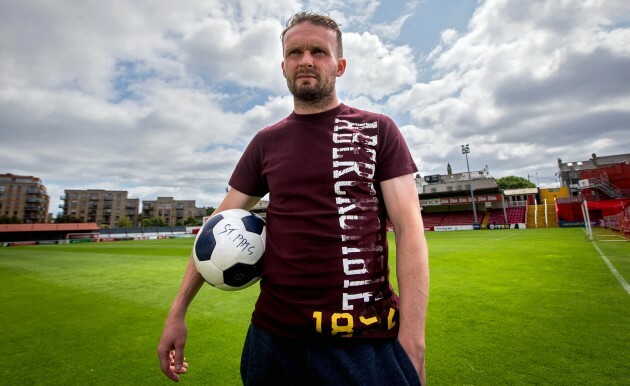 Ryan Byrne / INPHO Conan Byrne is ready for his fifth season with St Patrick's Athletic. Ryan Byrne / INPHO / INPHO
The Saints have gradually drifted further away from the summit of the table since their 2013 triumph — third place, nine points behind in 2014; fourth and 20 points behind the year after; seventh and 22 points behind in 2016.
Since he left Shelbourne to move to Richmond Park four years ago, Byrne has won silverware in every season with Pat's. However, while the FAI Cup success of 2014 and back-to-back EA Sports Cups have been satisfying, they've merely "papered over the cracks", according to the 31-year-old winger.
"People are right not to be mentioning us because last year we weren't in the same league as Cork or Dundalk," he says. "That's where the frustrating part comes in. We were the last team to win the league before Dundalk but the fact that we've struggled in the league since then has been very frustrating and very disappointing.
"We want to be challenging, we have the players to do it, including the best striker in the league — Christy Fagan — as far as I'm concerned. But the key thing here is consistency. We have been so inconsistent with our performances over the last number of years. If we got rid of that aspect of our game and played with the confidence and determination that I know we have, I think we have a serious chance of making Europe.
"I think that's as far as we can look this year. I don't think it's possible to say that we'll be challenging for the league — that's not to say that we won't be trying — and that's just being realistic. If we can get into Europe, anything after that will be a bonus."
Byrne is full of praise for the fresh impetus Ger O'Brien's coaching has provided, but a key issue Pat's have sought to address in a bid to resolve their problems with inconsistency is their fitness.
Tommy Dickson / INPHO Byrne celebrates after scoring for Pat's in last season's EA Sports Cup final win over Limerick. Tommy Dickson / INPHO / INPHO
"In some instances after the games, the players would be complaining about not being able to get around the pitch as much as they would have liked," he says. "We're also a team that likes to dominate possession, so when we had possession and lost the ball, we probably found it difficult to get it back.
"Hopefully now if we have that balance, when we don't have it we're able to get it back and we have that technical ability within the team to keep hold of the ball for longer and create chances for our attacking players. It all bodes well.
"We're a young team — I think I might be the oldest now in the squad — but Liam [Buckley] has brought in some experienced players in the shape of Gavin Peers, Barry Murphy and Patrick Cregg, which has been vital for us, especially in terms of communication on the pitch. Last year we could nearly go an entire game without even talking to each other. Those lads bring a lot to the dressing room, as well as the pitch."
The man who has been drafted in to eliminate the fitness concerns in the Pat's squad is Mark Kenneally, who competed in the marathon for Ireland at the 2012 Olympics in London.
"Mark has been excellent with us," Byrne says. "If he's not going to get us fit I don't think anybody could. He's been a breath of fresh air around the place. Because he's an athlete as well, he knows what we need and what we don't need.
"The training has been very, very good, but very tough. Mark is running our performances along the same lines as the elite Premier League clubs in England. Getting up to that level of fitness is what we're aiming for. I don't know if we're at that stage yet after one pre-season, but that's the target."
Morgan Treacy / INPHO Mark Kenneally en route to finishing 57th in the marathon at the 2012 Olympics in London. Morgan Treacy / INPHO / INPHO
Conan Byrne has already won every major honour in the domestic game with Pat's. But the hunger to succeed remains, perhaps even more so given that he's starting to see the finish line on the horizon. He'll turn 32 in July, during what will be his 13th League of Ireland season.
Byrne: "I know that I don't have many years left. I have won everything — but I want to win more. Even for my daughters; they're six and three now and they're starting to come to the games. For them to see their dad out on the pitch, that'll drive me on.
"I don't think that hunger will ever go, whether it's a pre-season friendly against a non-league team or a league decider at Richmond Park, Turner's Cross or Oriel Park."
Byrne has had a hectic schedule in the build-up to the 2017 season. A full-time teacher at Rush National School, he faces a dash across Dublin after the bell rings in order to make it to Crumlin in time for training. It's been tough, but rewarding.
"It can be hard to balance it," he admits. "Getting to training after finishing school was quite challenging. I've always looked after my nutrition and I think I'd be in big trouble now if I hadn't.
"I need to prepare my meals because I have a meal in school and then I don't have much time between when school ends and training starts, so I need to fuel up during those times and have something ready for that too.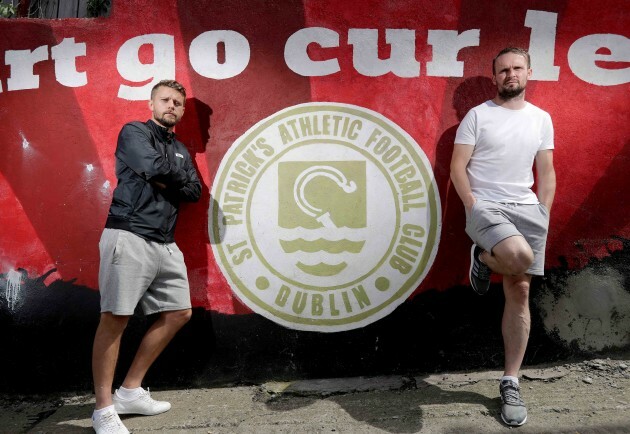 Morgan Treacy / INPHO Ger O'Brien and Conan Byrne at Richmond Park. Morgan Treacy / INPHO / INPHO
"It is difficult but I'm really enjoying both aspects. It's like a breath of fresh air to go training after school. I'm enjoying my football more now than I did before."
St Patrick's Athletic believe they're ready to start moving in the right direction again. If they can rediscover the consistency they've been lacking, there's enough quality in the team to pose problems for the likes of Dundalk and Cork City, even if Byrne is playing down their title prospects. The pre-season indications have been promising, but tomorrow they must start to deliver against a Bray Wanderers side with great expectations.
"It has probably been the best pre-season since I've been at the club and this is my fifth," Byrne says. "Of course, it's the old cliché of thinking that everything is going well, but we do feel that bit fitter and sharper than previous years. Hopefully that will stand to us come Friday and beyond."