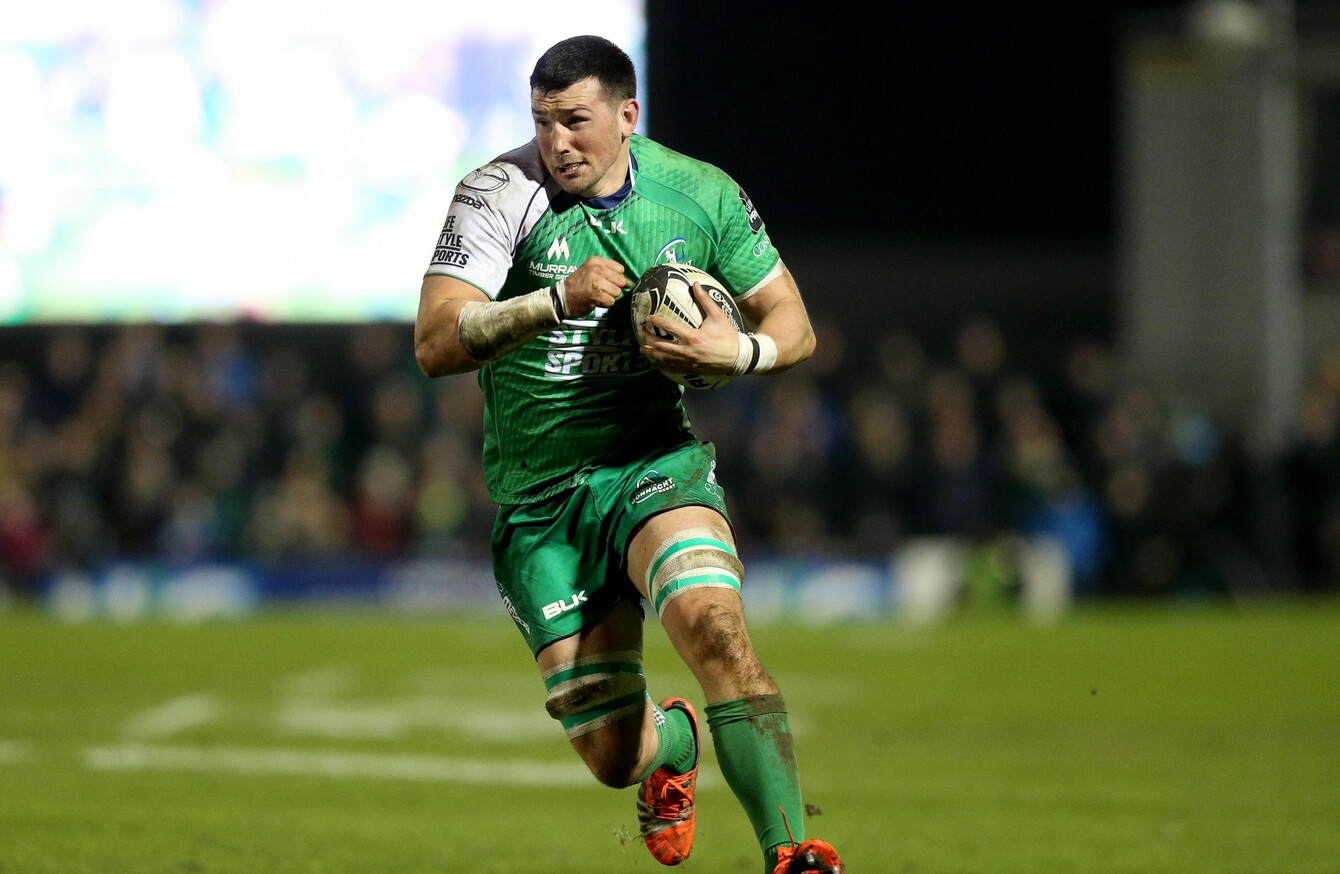 Ben Marshall was forced to retire from rugby earlier this year because of concussion.
Image: Ryan Byrne/INPHO
Ben Marshall was forced to retire from rugby earlier this year because of concussion.
Image: Ryan Byrne/INPHO
HERE'S WHAT WE do know: A concussion is a mild traumatic brain injury.
Here's what we don't: Pretty much everything else.
Why do some people show symptoms straight away while, for others, their onset is delayed or may not arrive at all? We don't know.
Why are some people seemingly more predisposed to concussion than others? Not a breeze, though the science is pointing in a particular direction.
What is the relationship between multiple concussions and long-term brain damage? We know there is a link, we just don't fully understand how it works.
For those reasons,Dr Colin Doherty, a consultant neurologist at St James's Hospital, describes the area of concussion as a "fact-free zone" ahead of a major conference on concussive brain injuries tomorrow (Friday) in Trinity College Dublin.
Doherty is part of the concussion research interest group (CRIG) — which was established between the Department of Genetics at Trinity College Dublin and the Clinical Research Centre in St James's Hospital in 2015 — with "the primary aim of understanding, at the molecular level, the underlying pathology associated with concussions."
From their work, Doherty says it is clear a national strategy needs to be implemented to recognise and manage concussions across not just sporting disciplines, but for anyone treating a patient with mild traumatic brain injury.
"This is really a fact-free zone at the moment," he told The42 this week.
"There's just no idea, when a person goes out and gets a bang to the head, what has actually happened to the brain and there's an increasing fear that there's a small cohort of people who are susceptible to acute damage and long-term damage.
"So the question is, who are those people and how can we identify them? But we're years away from finding that out unfortunately.
"The most telling thing about concussion at an elite sporting level is that we all know the players who are maybe more susceptible to it and what we're asking is if that is because they play in a certain way, putting themselves at increased risk, or is there some constitutional, genetic reason they are at risk?
"It could well be a combination of all those issues."
But concussion, says Doherty, is not just an issue in elite sport. Indeed, it's not just an issue for sportspeople.
"There's been a fairly massive change over the past five years," he says.
"I think what happened is that people used to just put up with concussions. If they went to the A&E at all, they had a scan but, by definition, the scans don't show up anything.
"They had symptoms, and they were treated and the patient was handed a sheet of paper and told 'look, if you get worse, come back in, otherwise you'll just get better.'
"As neurologists, we just didn't see that many concussions then unless they had very bad, persistent, symptoms but it was much less than it would be now.
"What has changed is that I think there is a heightened awareness of what is going on nationally and internationally in sport and one of the reasons for this symposium is that we are pushing for a national referral center.
"We feel we have the expertise to run that, both from a primary care and research point of view.
"Now, obviously, we can't see every sportsperson in the country who has a concussion but we can at least develop guidelines and see particularly difficult cases.
"That requires substantial funding and it won't all come from philanthropic sources, it has to be backed by the Government. They need to understand that this is public health problem.
"Sport is now the most common cause of mild traumatic brain injuries, but it does happen in lots of other places so we're also advocating for guidelines for how to deal with what happens when a child falls over in the playground and the teacher is wondering 'what do I do with this guy?'
SEE SPORT
DIFFERENTLY
Get closer to the stories that matter with exclusive analysis, insight and debate in The42 Membership.
Become a Member
"Or what happens in a minor road traffic accident where one of those involved has banged their head off the back of the seat. How should the A&E guys treat them?
"None of this has been established yet in any sort of systematic protocol so our intention is to at least start the process this weekend."
As with so much in this area, it's not known how many concussions happen every year.
They're not tracked like the flu or measles.
But watching American football, rugby or hurling on TV at the weekend, we can see concussions happening in front of our eyes says Doherty; even if some sporting bodies and teams are loath to admit what has actually occurred.
"I'm going to include this as part of my presentation on Friday but, if I dropped a can of tomatoes from a height and it hit the ground, we could all agree the tomatoes in the can were probably damaged in some way without seeing them.
"You've seen the can hit the ground at a certain speed — and you can't ask the tomatoes how they feel, whether they're concussed or not — but we seem to ignore this notion even though we can see these high-velocity impacts on the pitch and, when we ask the player, he or she says they have no symptoms.
"Now, there may be many reasons the player is not showing or admitting symptoms — including their own professionalism and desire to stay on the field — but that's what we rely on rather than the multiple camera angles showing us that a person has suffered a high-velocity impact.
"We seem happy to just wait to see if they have any symptoms but you wouldn't open a can of Coke if it fell at speed because you'd know it has taken a ban.
"I find that fascinating."